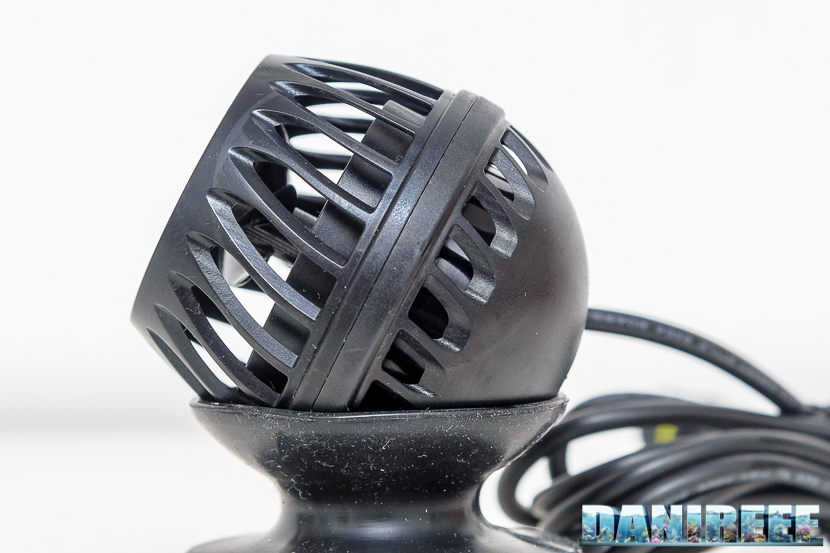 After handling the small KPS, today we have the next step in its evolution, Aqamai KPM.
Aqamai KPM is born from the same revolutionary project of its little sister KPS. It is an extremely small pump, with fully adjustable direction thanks to the fantastic insight of the magneto-suction cup. It is electronic and settable through an app for smartphone or tablet.
The pump surprises when we consider its flow rate in relation to its size.
Technical features of Aqamai KPM
| | |
| --- | --- |
|  Maximum flow |  10,500 l/h |
|  Consumption |  12-25 w |
|  Tank |  200-500 l |
|  Lenght |  6.7 cm |
|  Width |  6.5 cm |
|  Height |  6.5 cm |
|  Maximum efficiency (lxw) |  420 l/w |
|  Price | 189 euro |
Aqamai KPM again improves the efficiency value. KPS had excelled with a great 415 liters per watt, but here we reach 420. The pump is a little bit longer but much wider, taking a dumpy shape.
To set the pump you need an app for smartphone, and it works with both Android and Apple. Through the app you can set the pump, I dare say, in a comprehensive manner. You can find the app in the Aqamai app store. But to make it work you need one of these pumps, or one of the  LRM ceiling lights.
The controller is small and circular shaped; one side links to the pump, and the other to the power source. Inside this controller lies the WiFi controller that interfaces between the pump and the app.
In the following picture we can appreciate the resin and the nice three-bladed propeller. The top cover is interlocking and protects fish, shellfish, and so on, from the impeller itself.
The propeller is well structured, and the three blades are amazingly symmetrical. The shaft is made of steel and is fixed on the pump, so the impeller is free to spin around it.

As we mentioned at the beginning, one of the characteristic features of this pump is the presence of the magneto-suction cup. A Hydor patent, let me say brilliant, that allows the matching between a suction cup and a magneto for fixing the pump on the glass. The result is, in my humble opinion, amazing.
The pump itself is fixed on the magneto-suction cup in a… magnetic way. All for a captivating aesthetic, and the chance to rotate almost fully on itself.
Prices
Aqamai KPM has a public price of 189,00 euro ($229 USD). The economic efficiency is 55 liters per euro, almost three times the value of the small KPS that was 20,75 l/€. A really good value that places it in direct competition with tunze, Ecotech Marine, and Rossmont.
[Translated by Federico Lavezzi]