In late 2015 I had a great opportunity to visit the Mexican Caribbean as part of a commission for a scuba magazine, while there, I had the chance to dive with a couple of heroes of mine: Doctor Sylvia Earle and Jean-Michel Cousteau. I was covering something called ScubaFest in Cozumel, a small island with amazing diving, off the Yucatan Peninsula.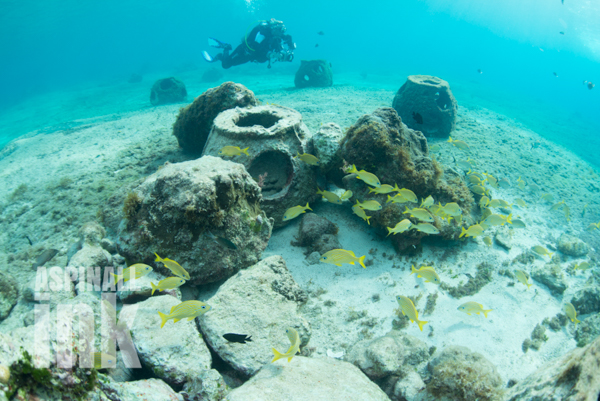 Doctor Earle's lifelong commitment to ocean conservation was being celebrated and recognized with the unveiling of an underwater statue that would be placed near a similar one of Jean-Michel's father, Jacques-Yves Cousteau.
Diving with both of them was a privilege, and I can honestly say that Doctor Earle was one of the most patient photography subjects I have ever encountered. And, of course, she was a very inspirational speaker.
What I particularly liked was the various structures that had been created close to the diving center for fish and other marine life to colonize and shelter within. JM and Dr. Earle both seemed to find them fascinating.
I've had a long fascination with artificial reefs and I'm very pleased to come across dive centers creating them and locating them in otherwise barren areas of the ocean. They create excellent training areas for novice divers and of course new habitat for marine creatures.
I'm honestly not sure if either of these marine conservation champions would be supportive of some of the practices of the marine aquarium hobby and I think they'd urge hobbyists and the trade to continue to consider captive breeding as the way forward.  I'd also think they'd suggest to hobbyists that they consider themselves as champions for ocean conservation and seek to further protect reefs so that they can continue to enjoy their hobby well into a more sustainable future.
I am aware though that not every one would share my personal view and I may get some comments on this one, but that's good right?  Debate 'n' all.
Read more about Dr Earle and Mission Blue:
Read more about Jean Michel Cousteau and Ocean Futures: