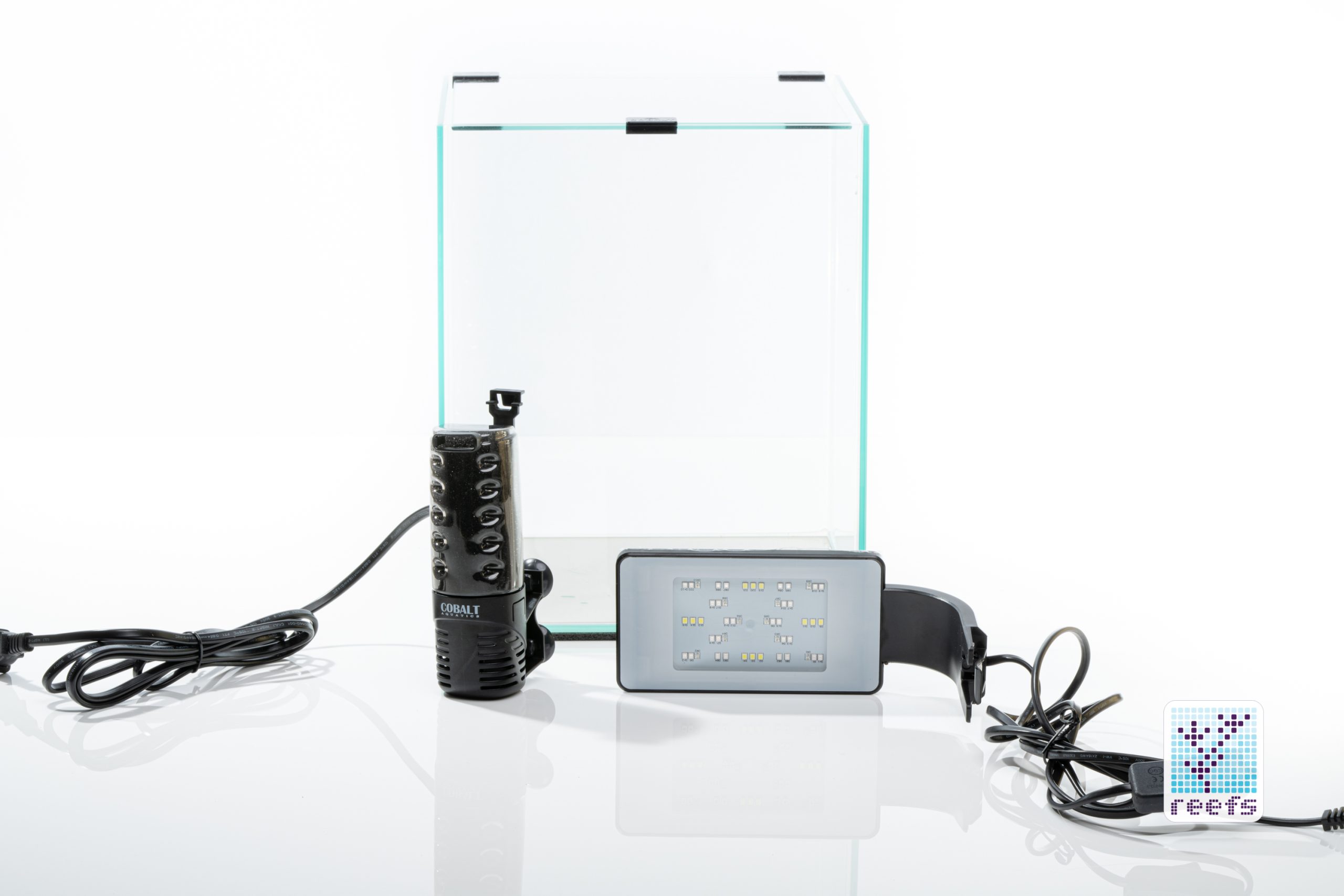 It's April 3, 2020 and I am currently in Brooklyn, NY. Some day in the future, when you read this and follow that timestamp and location on the map you'll probably deduce that I had a lot of free time on my hands. Let me tell you something, I do. Stuck home during a virus pandemic is not what I imagined writing as a foreword merely three weeks ago, but well, here I am. With that extra time, besides the daily routine of eating too many calories and trying to burn them on my bike, I am working on some updates to the products I've been evaluating in the last weeks or months.
In the case of today's item, it was months. Months I've spent on planning and deciding how to utilize it. I picked it for today's Definitive Review because A) it's one thing I've had constant fun with since I got it and B) it's a perfect thing to have in a time of (almost) national lockdown to keep one's sanity and artistic expression stimulated. I'm talking about the Cobalt Aquatics MicroVue3 aquarium kit that is my new desktop attention grabber and one hell of a nano tank.
OK, I already spoiled the review, but I also assume people who want to learn more about this aquarium kit would like to know why I like it. First of all, I like the concept. I've never had a desktop tank before, which is sad because it turns out nano tanks are awesome. They provide a much-needed distraction from whatever you are doing in your [home] office while being relatively easy to set up and maintain, plus they cost way less to fill with whatever you want to keep in them.
NANO TANK MANIA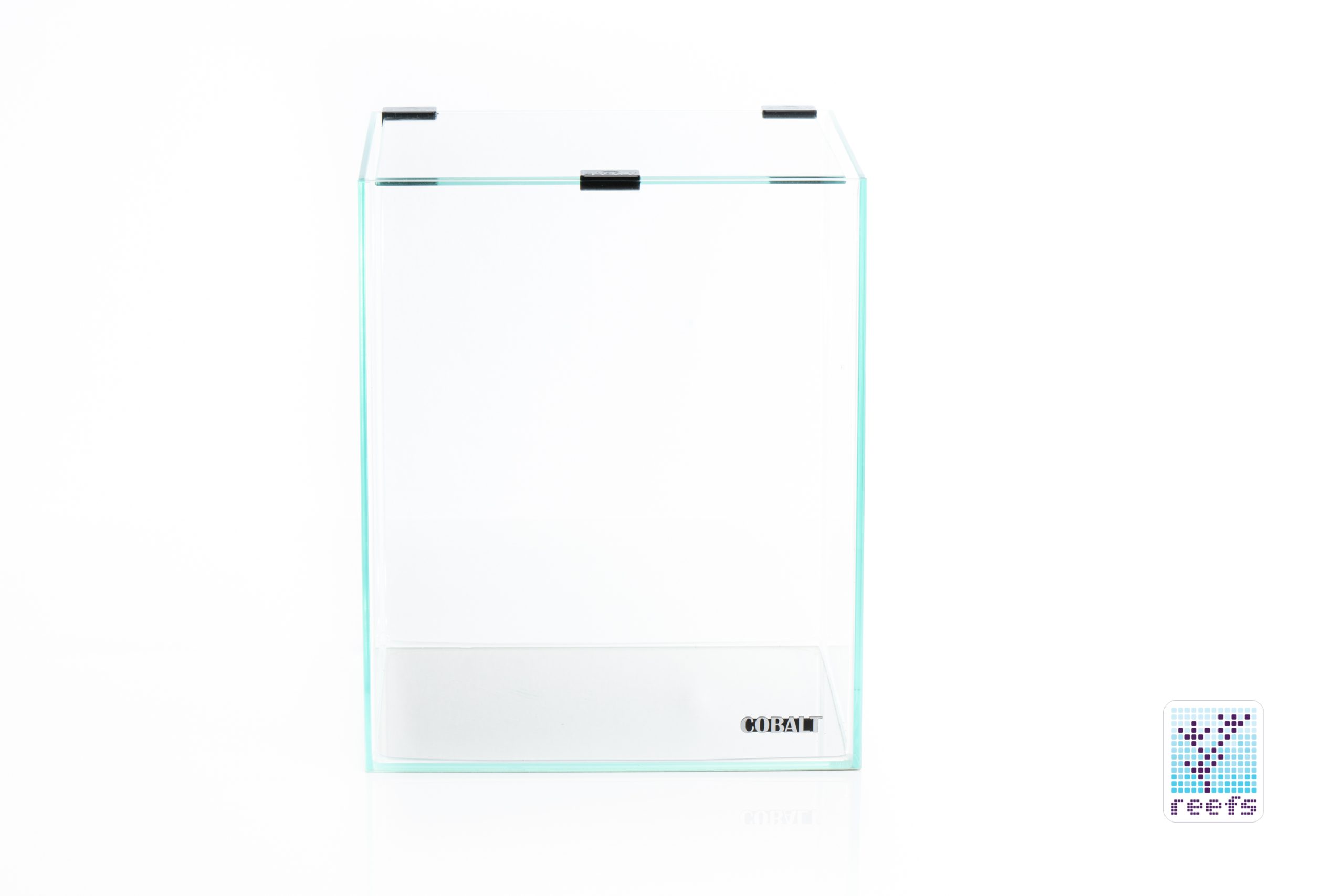 Before I go into details of what  Cobalt Aquatics MicroVue3 has to offer, let me first tell you what I did with it during the months I've had it in my house. Although I am a saltwater-oriented aquarist by design, I used to keep and cherish planted tanks before (see below) and I was (successfully to this point) trying to keep my nostalgia to underwater gardens in check. So I placed the tank in the corner of my kitchen table- turned to -a computer desk with a plan to convert it to a micro reef.
That idea failed instantly because I quickly realized how intense and maintenance-heavy that could end up. Saltwater tanks need a lot of equipment to function plus they aren't travel-proof without even more devices to keep them running unchecked. I needed to do something else with this micro cube and settled on doing the exact opposite maintenance-wise. I spent a night building sophisticated rockwork using dirt-colored silicone, coconut fibers, and actual dirt to create my first vivarium. Some boggy terrestrial plants, a nice waterfall in the middle, near-zero upkeep and a little jungle to look at as the outcome.
Yeah, that was cool but also boring in the long run. Fortunately, the stars aligned for me perfectly to mess with it again and start over. As I mentioned before, I'm in a lockdown situation with this deadly virus wreaking havoc in my home state, and so I reached out to a couple of friends to get some materials and livestock to once again convert my tank into a nano planted tank. That, in turn, created a perfect opportunity to do this Definitive Review. It's quite unusual indeed, given the fact that reefs.com, as domain name suggests, is a saltwater oriented aquarium blog, but hey, we can all have some variety in our lives right? Plus, I'm not saying it can't be a saltwater aquarium. Even mine, someday…
EQUIPMENT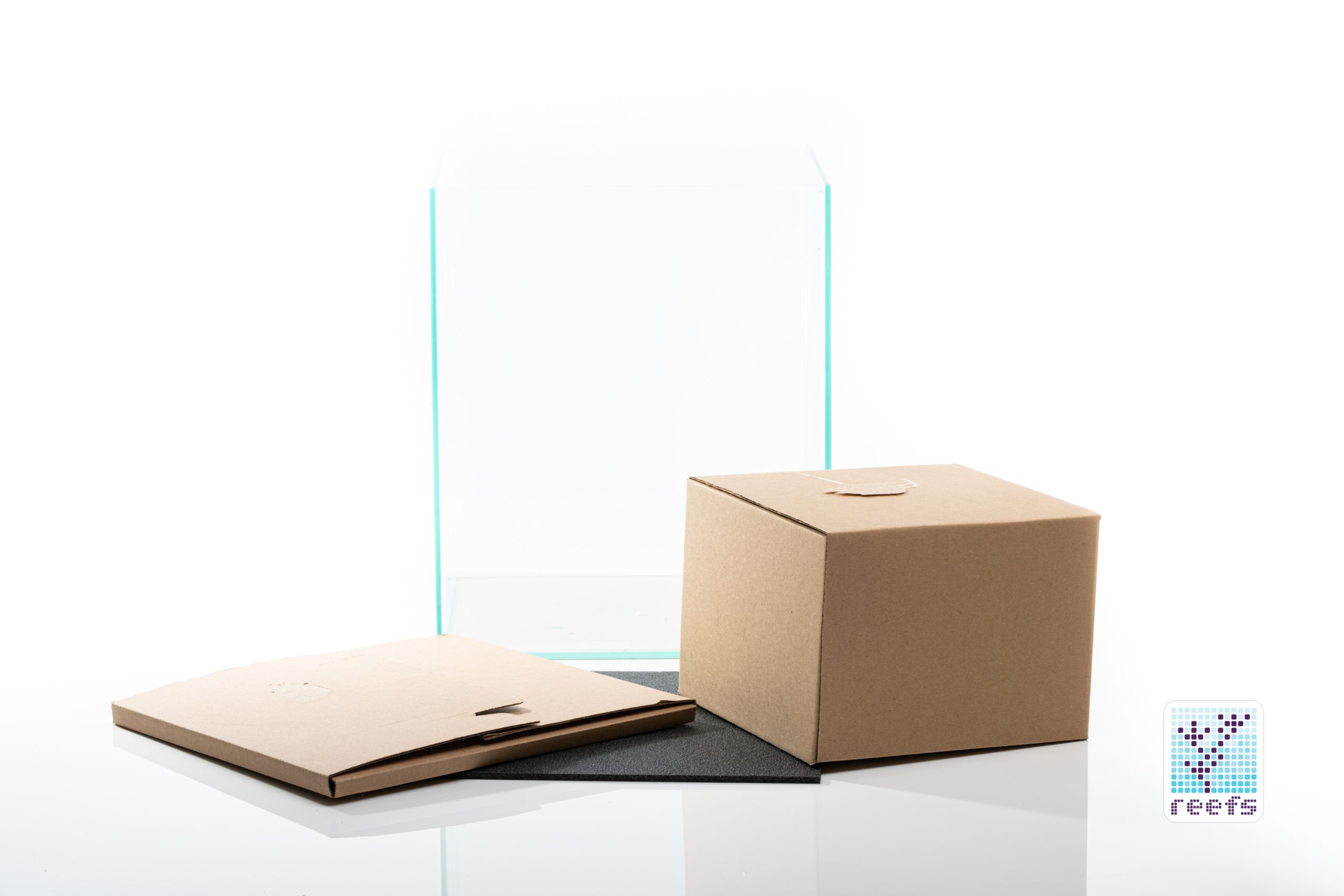 Cobalt Aquatics MicroVue3 is an all-glass aquarium kit that comes with everything you need to set up a low maintenance nanosystem. Whether you are looking to set up a small saltwater tank or a mini freshwater jungle, this aquarium kit serves both sides of the aisle.
The kit comes in three size varieties:
Microvue3 10 (2.6 gal, 10L) 9″x9″x9″
Microvue3 20 (5.3 gal, 20L) 10″x10″x11″
Microvue3 30 (8 gal, 30L) 11.5″x11.5″x14″
But the equipment is identical between them. It consists of:
– all glass aquarium built of low iron glass and glued together using clear silicone
– a glass cover with integrated brackets
– 6W Cobalt Mini LED with a built-in arm that clips on the back panel
– ClearVue 20 internal filter
– foam base to put under the tank
Ok, let's break it down to its individual components.
THE TANK & THE TOP
The tank is very well made. Machine polished edges to the low iron glass, clear silicone lines, and a matching top made of the same glass and designed to be flush with the top edge of the vertical panels. The top is slightly undersized to allow for some evaporation and to cut down on fogging. The additional foam underpad is a welcome addition too.
THE LIGHT
It's 6W, made of SMD LEDs of various colors combined to achieve full spectrum output (oriented more towards a freshwater planted tank look rather than reef) and sealed behind a secondary lens cover to make it splashproof. Can you grow corals with it? Yes, some. Can you create an underwater garden using this light? Yes, depending on the plants you use. Listen, it's not a powerhouse of an LED panel and it won't turn your tiny SPS frags into full-blown colonies, but it does grow plants well and it sure will be sufficient for a low light corals such as Xenia or leathers. It's a very minimalistic light with a simple on/off inline switch and an integrated arm that clips securely to the side panel at a fixed height. I personally thought that is going to be one piece of equipment I would replace right away, but then I realized I wanted a low maintenance tank and this light fits the bill.
There are two versions of the light but the kit only comes with the 8000K grow light meant to use in planted tanks. The other version is a 6500K light that can be purchased separately. A hint of criticism here, I would like to see the aquarium kit being sold in two versions so that you don't have to spend extra money switching LEDs. I haven't seen that being an option in the Cobalt Aquatics store, but I may be wrong here.
THE FILTER
My favorite piece of gear that comes with MicroVue3, ClearVue 20 (that's the name of the filter and it can be purchased as a standalone item too) is an internal filter with some neat features. It consists of two main parts, the impeller assembly with the power cord and the semi-transparent filtration cartridge complete with black sponge filter media. The whole filter is held by a hybrid bracket made of four suction cups and an over-the-tank adjustable hanger. It's adjustable to the extreme and the fact that ClearVue 20 can be used in as little as 2" of water, it opens up a wide range of possibilities when it comes to the type of setup one wants to create. You can, for example, have a paludarium with a waterfall using this filter. In a more traditional setup, where the entirety of the filter is submersed, ClearVue 20 creates a good amount of flow throughout the tank while making absolutely no noise. In other words, the filter is bedroom-proof.
Besides, it's also really easy to clean. The filter assembly fits loosely yet securely in the hanging bracket's "basket" and can be removed without unplugging the whole thing. To get to the filter media, a simple twist and pull mechanism comes handy. You can obviously stuff your own media in the filtering chamber should you need to.
WHY I LIKE IT
There's no plot twist from what I stated at the beginning of this article; I like Cobalt Aquatics MicroVue 3 Aquarium Kit. I started liking the whole idea of a very small aquarium sitting next to my [temporary] workplace only recently and MicroVue 3 was a joy to set up. Perhaps there are better looking or better spec'd all-in-one aquariums out there, but Cobalt's little tank does everything just the way I want- from its clean form and factor (disagree with me all you want, but when I see a curve in aquarium glass, I scream), the simple to install and maintain filter, and the no-nonsense slim LED light, it's truly a plug & play system. The only thing you may need to add is a heater (which in my case was unnecessary, the LED light and glass lid keep the temperature in check) and maybe some different media specific to the type of setup you want to create.
And the price? The  MicroVue 3 20 model I received for this review costs around $115. You could probably cut some corners in going the DIY route, but from what I've seen online, it would be $15 max, so it's really up to you to determine if it's worth the hassle.
Who is this tank for? Everyone that likes the idea of an easy to set up small tank that has almost everything included to be operational. Just a few ideas off the top of my head- a Betta tank, a sexy shrimp aquarium with easy soft corals, a micro rasbora planted tank or, what I am doing currently, a red cherry shrimp low-light planted tank.
I just filled it with water and I'm waiting for my plants and shrimp to come. I'm going to copy my friend's tank, pictured below (he has the smaller version of MicroVue3.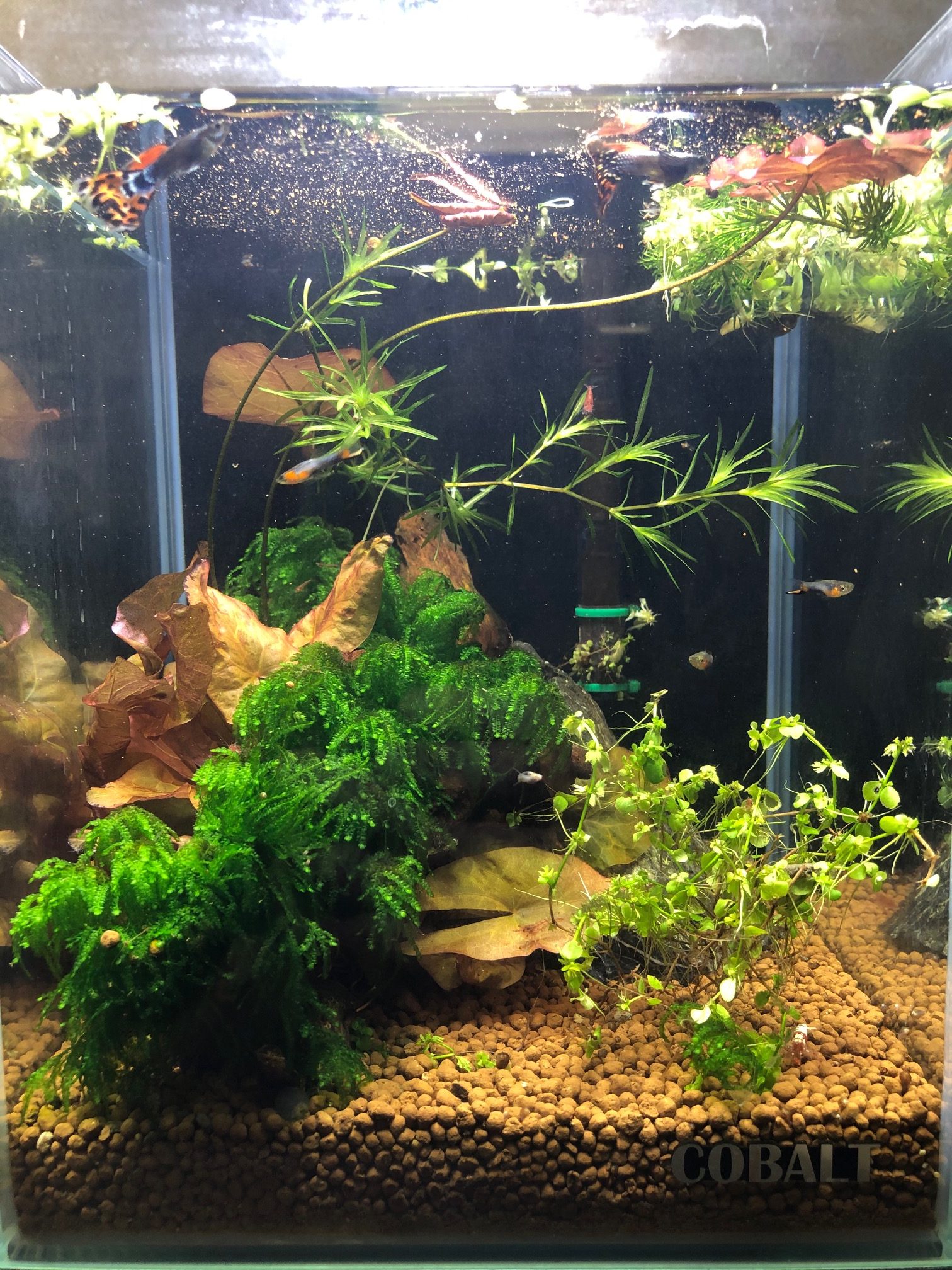 Check out Cobalt Aquatic line of nano-size tanks here and as always, thanks for reading.
GALLERY