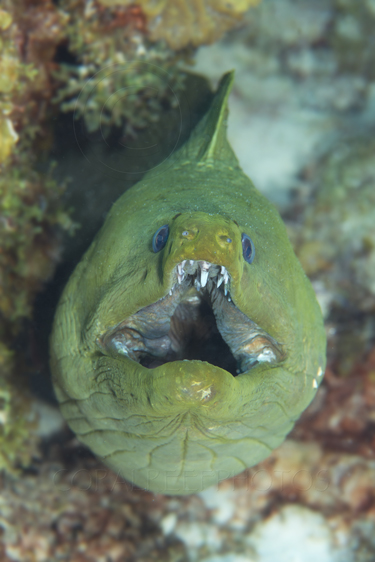 Good morning from overcast Curacao! We have had a few days of much cooler weather but almost no rain, it's just teasing us like it always does!
Our dog Indi is doing better, her two large crop circles are pretty dried up, but now the hair needs to grow back in the places that they shaved her, she's not quite show dog material at the moment.
I have a giant green moray eel for you all today that I found a few weeks back in Klein Curacao. Some of the eels I run into can be very shy and will immediately back into a cave and hide while others, like this one, just want to eat you! This guy here swam straight up to the camera without any fear (maybe he saw his reflection) and pretty much convinced me to leave and, because I have the utmost respect for these green monsters, I did just that! It's pretty typical to find these guys out hunting during the day while most of the other eel species we have here only come out at night, must be his enormous size that makes him unafraid!