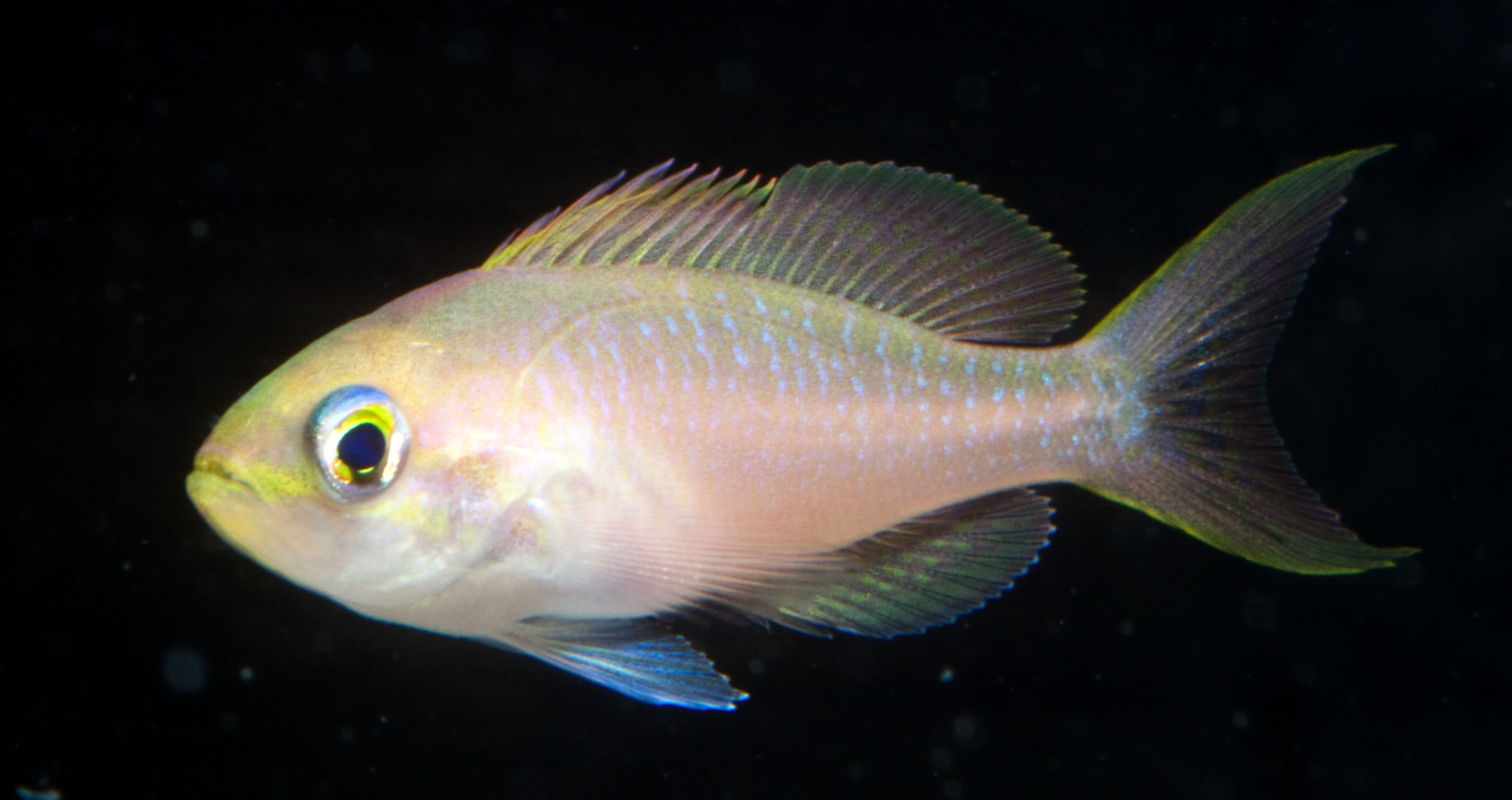 Two years ago I posted here about a deep-water anthiine caught in 3 feet of water in Shinnecock Bay, by my friend, Bob Jankie. From photos of the specimen, Smithsonian ichthyologist and deep-water serranid expert, Carole Baldwin tentatively identified it as either Hemanthias vivanus (red barbier) or Choranthius tenuis (threadnose bass). Six months later when the specimen perished in our holding tank, I sent it to her for more detailed examination and DNA sequencing. After nearly a year, the DNA results came back and showed our fish to be a close match to a genus named for Carole, specifically, Baldwinella aureorubens (streamer bass).  This catch and subsequent ID is big news for two reasons: 1.) It is a considerable range extension for the species, which has not been recorded north of Florida; and 2.) the streamer bass is normally found in 400-2000 feet of water, and since this specimen was found at a depth of 3 feet, it is also a depth record.
After two more years of obsessive diving, snorkeling, and seine netting in Shinnecock Bay, I was beginning to think that Bob's find was merely a fluke and that I had no chance of finding one myself. Then, one summer morning while at the beach with my family, I got a text from Bob, who was snorkeling around a dock, only about 200 yards from where we were sitting, telling me he had something I needed to see. A few minutes later, I met him in the parking lot and was stunned to see a second B. aureorubens in his bucket!
I've spent a lot of time puzzling over why I haven't found a streamer bass, myself with all the diving I do in the area. I'm pretty sure I spend more time in the water than Bob does. Most of my collecting efforts consist of diving at a maximum of about 20 feet, whereas Bob spends most of his time snorkeling in much shallower water. Ironically, my problem might be that I am not looking in shallow enough water for this deep-water anthiine.
Check out the Fall, 2015 issue of Reefs Magazine for more on the Serranids of New York.