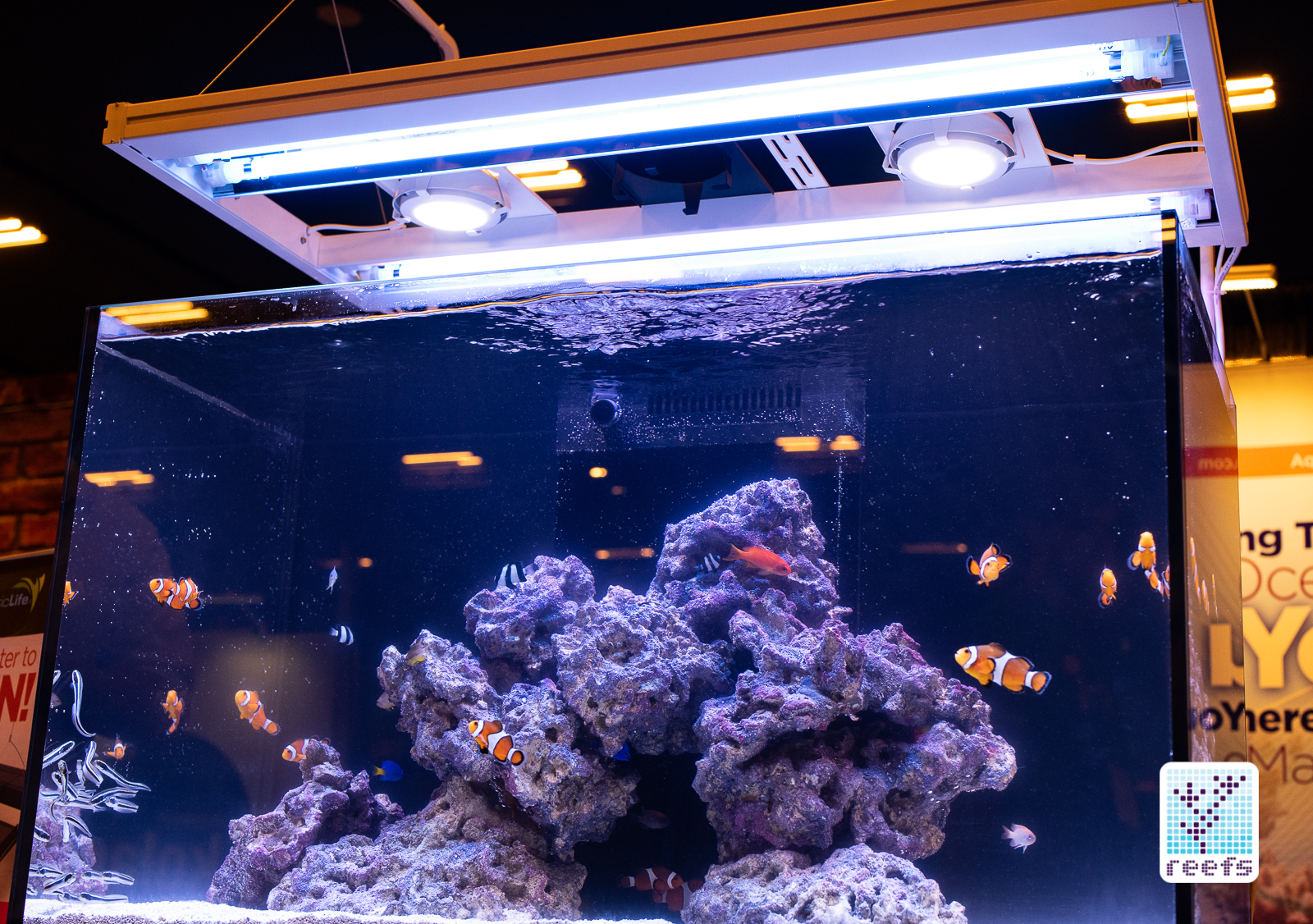 When AquaticLife came out with their Hybrid Mounting Fixture about a year ago, I proclaimed it to be one of the most innovative aquarium lighting products of recent years and for me, that still holds true to this day. After all, it is the simplest and most affordable solution for those of us looking with nostalgia (read: whining about old times) at T5 lit reefs that used to dominate the market. LEDs may be king, but it's no secret they lack that distinct soft glow squeezing the amazing color pallette out of hard corals only T5 tubes can render. We've seen LED-T5 hybrid fixtures coming out through the years, but none were as customizable as AquaticLife solution. The premise is simple- Hybrid Mounting Fixture provides a scaffolding for your current LED fixture, plus hardware backbone to put in 4 T5 bulbs of your choice. This way, you can modify your existing lighting without the need to invest a whole lot of money for a new hybrid fixture.
What's new for the 2018/2019 reefing season? Well, AquaticLife is now offering their four models- the 24", 36", 48" and 61" long mounts, in white. But that's not all. With the new color scheme, the company addresses some comments users of the existing mounts had put forward while adding a few extra tweaks to the new models to sweeten the deal.
All new models of the white Hybrid Mounting Fixtures now include the decorative end caps, complete with cable channels, which renders the fixture as more of a finished product rather than support frame for other lighting. Nothing changed in terms of compatibility- the fixture still accepts a wide range of the most popular LED lamps, like Ecotech radion, Aquaillumination, Kessil, and other fixtures, plus there are now matching white brackets for these LEDs (except Kessil and Ecotech radion, as they only make their lights in black version). It's worth noting that the end caps are now also available in black as an accessory.
In addition to that, AquaticLife released wide and narrow accessory brackets and end caps for their black units, following suggestions from users that wanted to modify their setups. You can now make the fixture either 16" wide or as wide as 24".
With the white mount comes a white mounting hanger, complete with an adjustable pole, a stand mounting hardware, and matching white arm.
Aquaticlife Hybrid Mounting Fixture is an excellent solution for a T5- LED Hybrid aquarium lighting and the white option, as well as new bracket options, will work with almost any home aquarium. Please check it out and I will try to get one for an in-depth review in the future.
Please stay tuned for more news from MACNA 2018, thanks for reading!