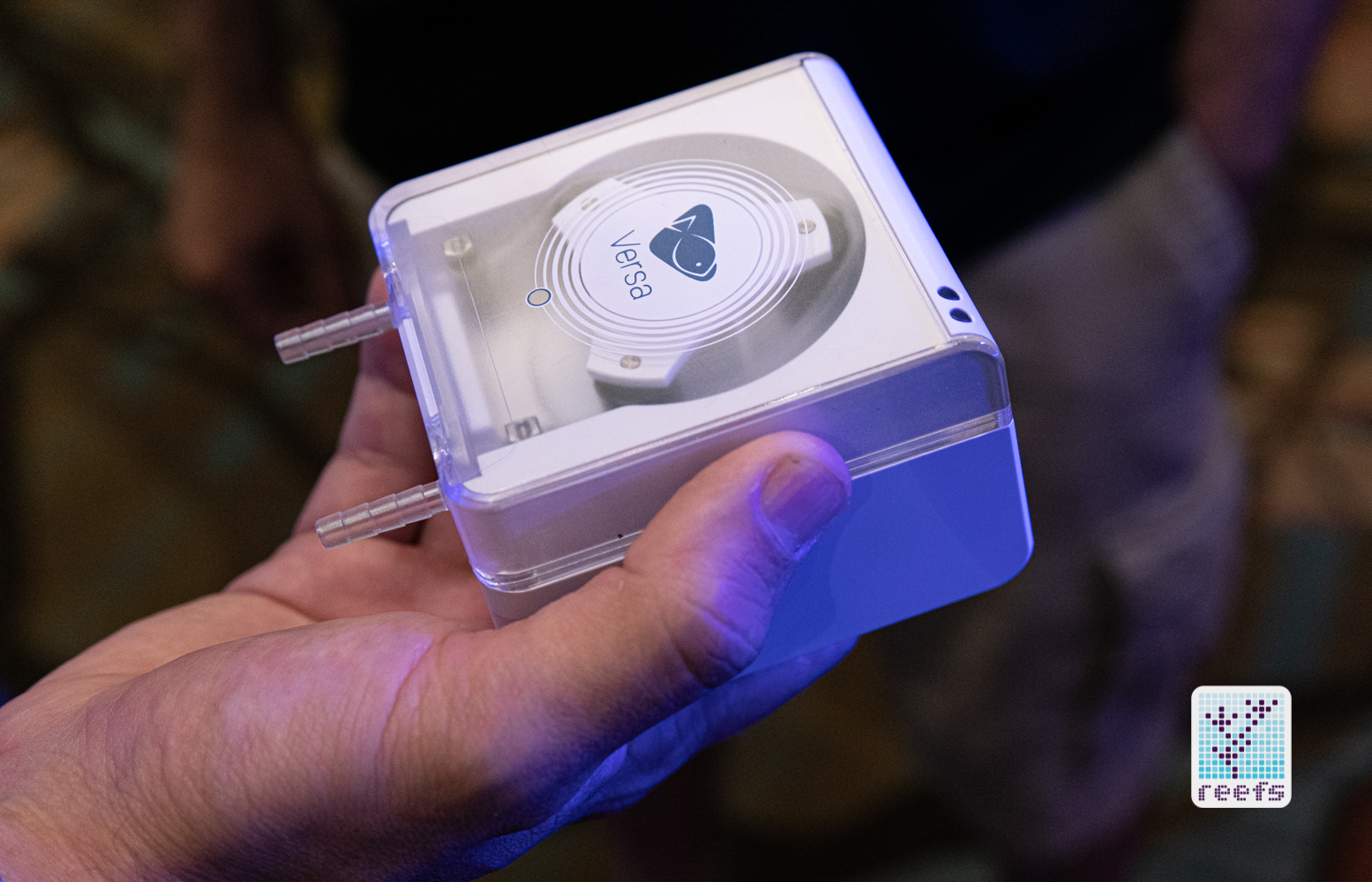 I've been waiting for some major Ecotech news for quite some time now and we finally got something. The company was indeed working hard on a brand new piece of equipment and we got a sneak-peak of a pre-production model at MACNA. Versa is its name and it is a highly versatile (hence the name) dosing pump capable of handling any dosing job you throw at it- from a 2ml/day additive dosing regime to a 10 gallons a day water change.
This tiny workhorse can be used as a dosing pump, an automatic water changer, an ATO pump, or even a Calcium or Kalkwasser reactor effluent pump.
Versa is Ecotech's longest product in development- over the span of the 5 years since its inception, the pump has been designed, engineered, built, and meticulously tested from the ground up in- house.
The pump is very compact, light, and minimalistic in its design, something Ecotech is known for with its Vortech, Vectra, and radion product lines. It comes with a concealed mount and can be used individually or grouped together with an optional docking station that eliminates the need for individual power supplies. The front cover of the unit is easily accessible for maintenance and parts replacement when needed.
Versa will be coming out by the end of the year with a retail price of $150 and we've also been told that an optional accessory, a brand new, battery-operated, Bluetooth LE enabled liquid level sensor, will debut alongside it. This will allow the user to transform Versa into an ATO pump or a water changing device. Following Ecotech's tradition, a number of different presets will be available to utilize the pump for the earlier mentioned tasks.

Versa has a built-in Bluetooth LE module and is based upon Ecotech's new control platform and app Mobius, currently in beta and expected to be released to the public later this year. Speaking of Mobius, I was quite confused and skeptical over Ecotech's choice to build the platform around Bluetooth LE connectivity instead of WiFi, but it turns out I didn't fully understand the concept and now that I know how Mobius works (thanks to the good people of MACNA Ecotech booth that explained it to me), it makes much more sense.
As explained to me, Mobius, being a Bluetooth connected platform, can be controlled locally from the get-go. However, if you have any Ecotech product that has Wifi built-in, it essentially becomes a "window to the world" for Mobius. It can now act as a hub that enables you to control your devices remotely via that WiFi module. You may say "Yes, but none of the Ecotech gear I have has onboard WiFi capabilities?" I thought so too but it turns out Ecotech was ahead of the game, prepping for the release if its Mobius platform for quite some time and therefore every product sold after February 2017 (Vectra, Radion, vortech )is equipped with a new type of multichip that allows it to be controlled remotely. I'm guessing (yup, I forgot to ask:)) it's similar to the chip that is in smartphones, where it combines Bluetooth LE connectivity, Wi-Fi, and maybe even other wireless communication protocols (RF, NFC, etc.). The combined benefits of WiFi and Bluetooth LE provide an easy to set up and operating environment that's remotely accessible and stays always connected. If Ecotech really pulls this one off, it may be the most ambitious project in the company's history. I've seen the beta version of the app, with numerous Ecotech lights and pumps, as well as, to my surprise, some AI products, all grouped in one dashboard. I've asked if both Ecotech and AI products will be Mobius compatible and I've been told that at the time of official release only Ecotech products would be Mobius upgradable, but AI gear will follow suit shortly after. The app's clear interface and almost utilitarian simplicity felt very myAI app- like. In a good way, I mean- I've been testing the AI Nero 5 pump (review coming soon) and I was especially impressed by the new myAI app. It's so simple and straightforward; I don't remember even reading the manual before setting Nero5 up to my schedule. Ecotech's move in that myAI kind of app experience gets my seal of approval, as I personally prefer that over Ecotech's Ecosmart platform.
Expect to see Versa and Mobius sometimes later this year, perhaps alongside some other new equipment coming from the merger of Aquaillumination and Ecotech. I can tell you in secret that I got a sneak-peak of a new product in development by AI and although I am not allowed to tell you what it is yet, I saw it with my own eyes and it is quite impressive.
Make sure to come back for more MACNA 2019 Coverage. Thanks for reading.