I have to admit something: I am a total fanboy when it comes to acrylic sumps. When done right, they evoke in me the same reaction as custom build cars, expensive bicycles, custom furniture pieces or about anything that was built by a master craftsman. As a builder myself, I appreciate the time spent researching, tweaking, and testing a product, then executing it well.
In my time covering aquarium industry shows, I've seen dozens of beautifully designed and fabricated sumps, but whenever I see a new one that catches my eye, I'm like a little kid in a candy shop, examining it from every corner and looking for new cool features I haven't yet seen in this underappreciated yet essential part of every serious reef tank. You may say, "But it's just a sump, a glorified water container in which my skimmer and return sump sits" to which I would reply, "Shut your mouth! It's not. It's an important, beautiful thing, an engine powering an artificial food chain's equilibrium, the heart and soul of a home reef. How dare you."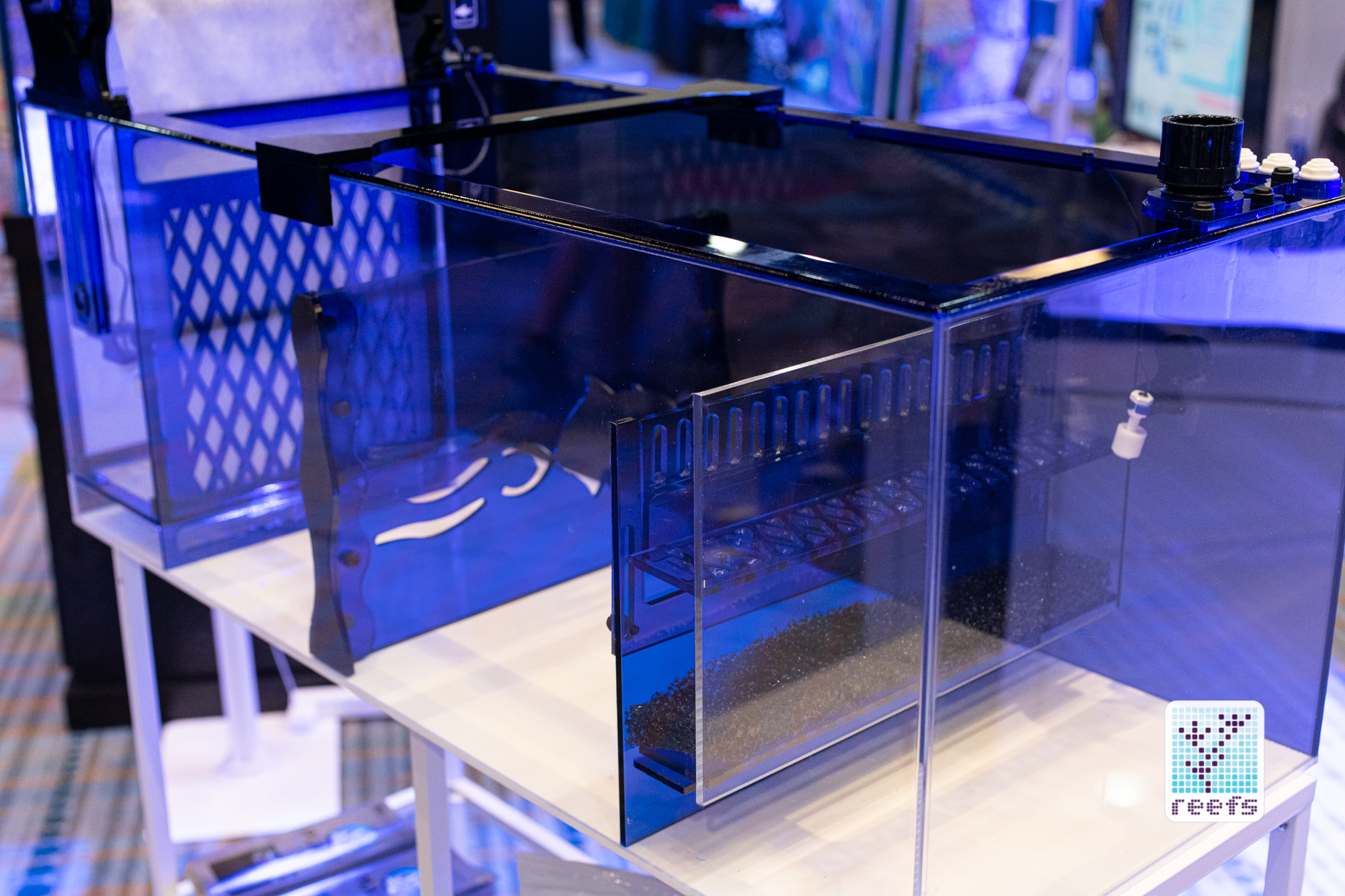 Aaanyway, I managed to find this gem of a sump at MACNA, made by no other than Trigger Systems, a company I personally admire for one major reason: they make good stuff. Really good stuff. Their previous sump models, along with clever ATO reservoirs and dosing containers, are all well thought of and built to last. Now, they have a new Platinum series sump model, one of which I had an opportunity to see in action at the MACNA 2019 Orlando floor show, and this thing definitely deserves some attention.
Platinum series sumps consist of 4 models, varied by size and shape and linked by the main feature that defines the line- a 10" (8" in smaller models) automatic fleece roll system, sitting in its own chamber and completed with its own mechanized roller controlled by a set of redundant float switches. The first float switch regulates the water level rise at which the motor rolls the filtering material and it's cleverly affixed to a magnet that slides up and down on a pair of guiding bumpers (like if you are so bad at bowling that your friends put those side bumpers to ease their pain of watching you bowl) , so that the rolling mechanism engage mark, and in result, the interval of new material being rolled in, can be tweaked. A second safety float switch is in the return pump area, preventing the roller from wasting fleece when you do a water change or any other operation requiring the return pump to be shut down. The filtering fleece roll is 150ft long and Trigger Systems promises between 4-6 months of roll life. Two rolls come with every sump package.
It doesn't end there. The sump is blessed with some serious bells & whistles that I found particularly interesting to mess with. For one, the middle baffle is not only adjustable in the up/down fashion but also repositionable within the sump's main chamber, meaning you can adjust the skimmer- refugium border to your liking. The baffle sits tightly between the acrylic sump's sidewalls and it features a sweet laser cutout of the company's cool logo.
Water entering two stationary drain hubs is trapped by the filter rolling mechanism chamber, and there's a third drain hub for Bean Animal-style plumbing which is also adjustable. It sits inside a bracket that can be moved along the long edge of the sump. Nice idea; it adds extra flavor to the tank plumbing engineering sessions.
Some other cool features include but are not limited to: cord management channels and flaps, adjustable probe holders, dosing lines adapters with John Guest fittings, and polycarbonate lid over the fleece area.
In other words: that sump is hunky-dory.
Nice, Trigger Systems, nice.
Thanks for reading.