Welcome to the Photo Gallery Spotlight. Each month we'll showcase a particularly nice aquarium photograph, taking the time to discuss the identification and husbandry of the animal pictured as well as information relating to the technical details of how the photo was taken. Readers are encouraged to send images (and details on the organisms pictured, as well as the details of how they captured the shot) they would like to submit for possible inclusion in this feature to [email protected] . For submissions that are published in Advanced Aquarist, the author will receive a $25.00 gift certificate from one of our participating advertisers.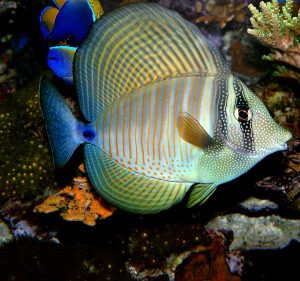 Red Sea Sailfin Tang
The author's Zebrasoma desjardinii appears to be telling the Pomacanthus navarchus to keep its distance by a show of size. The surgeonfish has been with the author for more than 15 years and the angelfish has grown from a juvenile over the last 10 years in the author's reef tanks. Interestingly, the P. navarchus has never damaged a coral or clam in the author's reef tanks, but this is no guarantee that a different P. navarchus would be reef safe.
Photo Information:
Make: Fujifilm
Model: Finepix S1Pro
F-stop: 8.0
Aperture Priority
Date of original: 2-5-2002
Shutter speed: 1/108
Aperture value: 6
Metering mode: pattern
Flash: fired
Focal length: 38.0mm