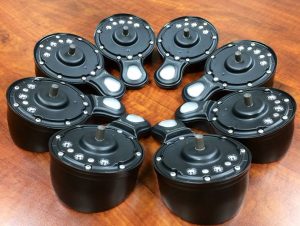 Step Ahead Innovations, Inc. has just announced the much-anticipated public unveiling of its MindStream monitor. They revealed that the product will be available commercially by the end of the year, and will cost $700-$900.  They also announced the beginning of their Kickstarter campaign, which will allow them to finalize testing, purchase materials, and set up manufacturing  – for a donation of $495, backers will receive their own monitor.
The system will monitor alkalinity, calcium, magnesium, pH, carbon dioxide, salinity/tds, temperature, ammonia, oxygen, and potassium, which it will wirelessly upload every 15 minutes via Wi-Fi to the MindStream cloud. Users will be able to monitor the health of their tanks with any web-enabled device, and with apps for iPhone, Android, and Windows; they will have the ability to view historical parameter data graphs and trends and will be able to annotate parameter charts and graphs with custom messages. And, while there is no calibration required, aquarists will be able to set acceptable individual water parameter ranges and receive automated alerts when customized optimum ranges are exceeded.
The device's disposable disc, which contains ten chemical/fluorescent foils, is accurate for at least 30 days, and will cost $30-$50. Step Ahead plans to offer a convenient monthly subscription service for easy disc payment and delivery. The company calculates that this system is one-tenth the cost of comparable test strip, liquid reagent, and ISE electrode based testing approaches, and knows that it will radically reduce the time devoted to water testing.
To contact the company, visit their website: www.mindstreamh2o.com