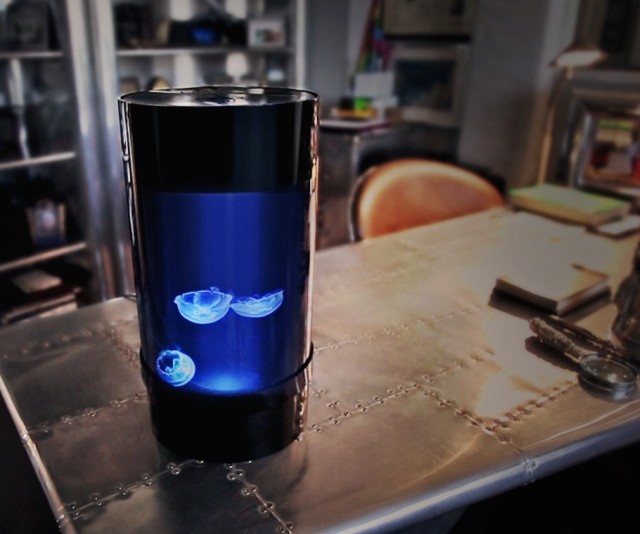 Exciting news from Jellyfish Art!  The Florida company has more than surpassed its $50,000 Kickstarter goal (raising over $300,000 to date!) and will be shipping their new Jellyfish Cylinder Nano just in time for Christmas 2015.
The first of its kind, the aquarium is a revolutionary 2 gallon all-inclusive jellyfish aquarium kit, and comes with everything you need to set up the aquarium, including jellyfish food and a voucher for three live Moon jellyfish. When the tank is ready for jellyfish, the vouchers can be redeemed at JellyfishArt.com; the company will express-ship to your doorstep anywhere in the continental U.S.. Step-by-step video instructions on Jellyfish Art's website guide you through the setup, acclimation, and maintenance of your jellyfish aquarium, and their team of experts are available by phone and email to provide you with all of the support you need to become a jellyfish expert.
Jellyfish Art released its first product, the Desktop Jellyfish Tank, in 2011, and in 2013, the fledgling company teamed up with Reef Aquaria Design. Together, they have made significant improvements to the product, developed a sustainable in-house jellyfish breeding facility, and designed a completely new jellyfish aquarium, the Jellyfish Cylinder Nano, offered first on this Kickstarter project.
This new jellyfish aquarium is completely redesigned, is half the price of its predecessor, the Desktop Jellyfish Tank, and its inhabitants come with a 30-day free replacement guarantee.