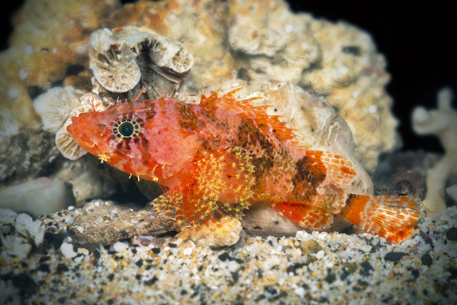 Good morning, or should I say GREAT morning, I got a fish named after me today!! Is that super cool or what?? For years I have been photographing all the new finds made by the Smithsonian, many I have posted for you all to see. Most of the fish and creatures that come up from the deep are new species meaning yours truly was the 1st to take their photos, it's a honor beyond belief! Below is one of the many press releases; read on…
LIVE SPECIMEN OF THE NEW SCORPIONFISH (SCORPAENODES BARRYBROWNI)
Discovered by scientists using the manned submersible Curasub in the deep-reef waters of the Caribbean island of Curaçao, a new scorpionfish species is the latest one captured with the help of the sub's two robotic arms.
Found by Dr. Carole C. Baldwin, lead scientist of the Smithsonian's Deep Reef Observation Project (DROP) and based at the Smithsonian Institution in Washington, DC, Ms. Diane Pitassy, also affiliated with the Smithsonian in Washington, and Dr. Ross Robertson, Smithsonian Tropical Research Institute, Panama, the new species is described in the open access journal ZooKeys. In their paper, the authors also discuss the depth distributions and relationships of western Atlantic members of its genus.
The new scorpionfish is distinguished from other similar scorpionfishes by a number of physical traits, including its distinctive bright orange-red colors, more elongated fin rays, and DNA. Inhabiting depths between 95 m and 160 m, it is also the deepest-living member of its genus in the western Atlantic Ocean.
The new scorpionfish is officially called Scorpaenodes barrybrowni in honor of Substation Curaçao and freelance photographer Barry Brown, who "has patiently, diligently, and expertly taken photographs of hundreds of fishes and invertebrates captured alive by DROP Investigators," explain the authors. "He has generously shared his photographs, and they have enhanced numerous scientific and educational publications. It is an honor to recognize Barry Brown's contributions to science through his photography." MORE