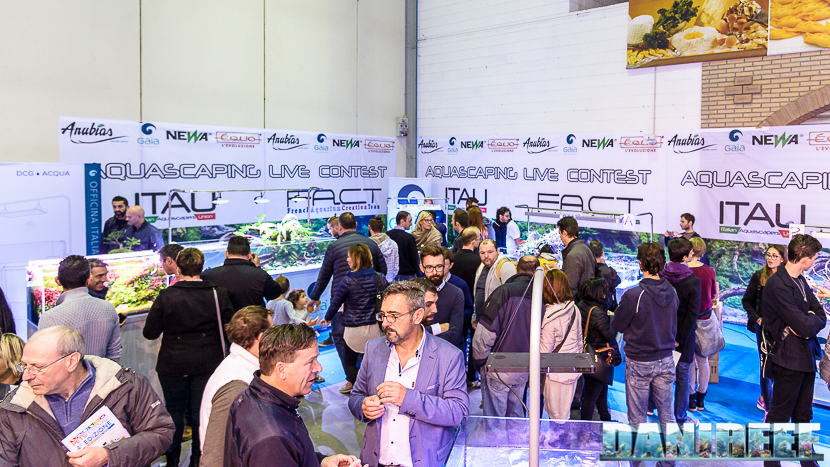 The fourth triumphal edition of Italian PetsFestival in Piacenza Expo's exhibition complex occurred Saturday and Sunday, October 22 and 23. Read on to see what happened!
This fourth year of PetsFestival was huge. We don't have an official count, but the first year saw 23,000 attendees, and the second and third year's counts were around 30,000 people each; we estimate that over 35,000 attended this year's show.
PetsFestival was born as an event with animals as its core, and was developed around the aquariums-dogs-cats triptych (in order of importance and people concerning, at least, in the very first years).
The concept of the event has grown and evolved, and other species have gained importance, like small animals, reptiles, amphibians, birds, horses, falconry, and so on. From an aquarist's point of view, the best time to attend the event was Saturday morning, when the very best corals were displayed and promptly sold to enthusiastic attendees.
According to the booths, the bulk of the reef- and fish-keeping public definitely came on Saturday, and there was much more interest in the spaces dedicated to aquariums than to the ones about dogs and cats. On Sunday, the situation reversed, and there was far more interest in other animals rather than in fish tanks.
As in the past, I was present from Saturday opening to almost Sunday closing. It's the same time I devoted to the Nuremberg Interzoo, and it wasn't a waste of time at all. This will be testified by the amount of the articles I'm going to show you in the next few days. Though I couldn't do all the things I had planned, I will be touching on Mike Paletta's conference and the entire class of Aquascaping organized by Equo, Gaia Italia, Newa and Anubias with the extraordinary participation of Greg Charlet, Enrico Fortuna and Roberto Bielli.
Obviously, even though this was a very diverse event, we will only be talking about the aquarist part, since we're sure that our readers are most interested in this. We will analyze the dynamics of the event, and we will let you see our best pictures.
The most beautiful thing at the PetsFestival was, without doubt, the Barriera Corallina store, which included a Sensory Tunnel, lit by Teckno Green lights – it amazed the audience so much that at certain times the queue to access was incredibly long. In the next days we'll do a detailed study about it, with photos and videos.
Compared to last year, our impression is that the number of official booths showcasing various brands have increased, but there was less space occupied by shops with stuff for sale. We had got the honor to have with us Fauna Marin's stand with its owner Claude Schuhmacher, but we can not forget the international presence of Leng Sy, Miracle Mud's inventor, at the interesting Corallinea's stand, as well as the presence and the conferences of Mike Paletta.
The marine aquarium shown by the boys of Hobby Aquariums in the ReefLine stand right next to the entrance of the event was beautiful, full of amazing hard corals, both SPS and LPS type. It' just very hard to show photographically how impressive it was…
Similar to what we saw at Interzoo, here our editorial, the freshwater section is focusing more and more on aquascaping. We saw, in a random order: Oliver Knott at the Gaia's stand with sponsorship by Anubias, Dario Schelfi at the Elos' booth, Simone Castagnoli at the XAqua – Crystal Reef, Samuele Gamberini at the Aqamai – Hydor, Roberto Bielli, Greg Charlet and Enrico Fortuna at the Gaia – Equo's booth, whose we will show a beautiful documentary. Finally the triumph of the competition between  ITAU and FACT, of which we have already spoken here (sorry only in italian for now) and in which challenged six aquascapers with an international relevance, three italian and three french. Giuseppe Nisi, Fabio Lorusso and Enrico Fortuna for the ITAU against Greg Charlet, Michael Leroy and Sebastien Dechelette for the FACT – French Aquarium Creation Team.
The corals were plentiful and very beautiful, but as it happens in such events, the best were snapped up quickly;  after a couple of hours on Saturday morning the most beautiful were gone or had been optioned. I knew I would not be able to take pictures of every booth at their best, so I waited Sunday to take pictures, knowing very well that all that I would have taken up would have been crumbs. But what crumbs!
There wasn't a single problem reported during the event and this is another positive point of it.
So congratulation to everyone. The exhibition has been an indisputable success. Anyone who wasn't there really missed out, as I always say and as I always repeat.
We'd like to apologize in advance if we forget, involuntarily, to mention anyone who was present, we're ready to remember the ones that have not been mentioned – please let us know!
There have been very important news, like Elos that presented an amazing Nitrates test, focused on values between 0 and 1!
For the first time in Italy, Aqamai showed its own LRM ceiling lights and KPS motion pumps. And we will talk about all of this in a specific article.
Corallinea bore a lot of news, from the Aqua Air ceiling lights, to skimmers, to a particular fill up system for smaller aquariums… All objects we're going to see and to discover in the next days.
And you, what do you think? How did you like the exhibition? Do you agree with our comments? Each one of your comments will receive an answer… and maybe it will be useful for the organization of the next event.
[translated by Agnese Poggi]