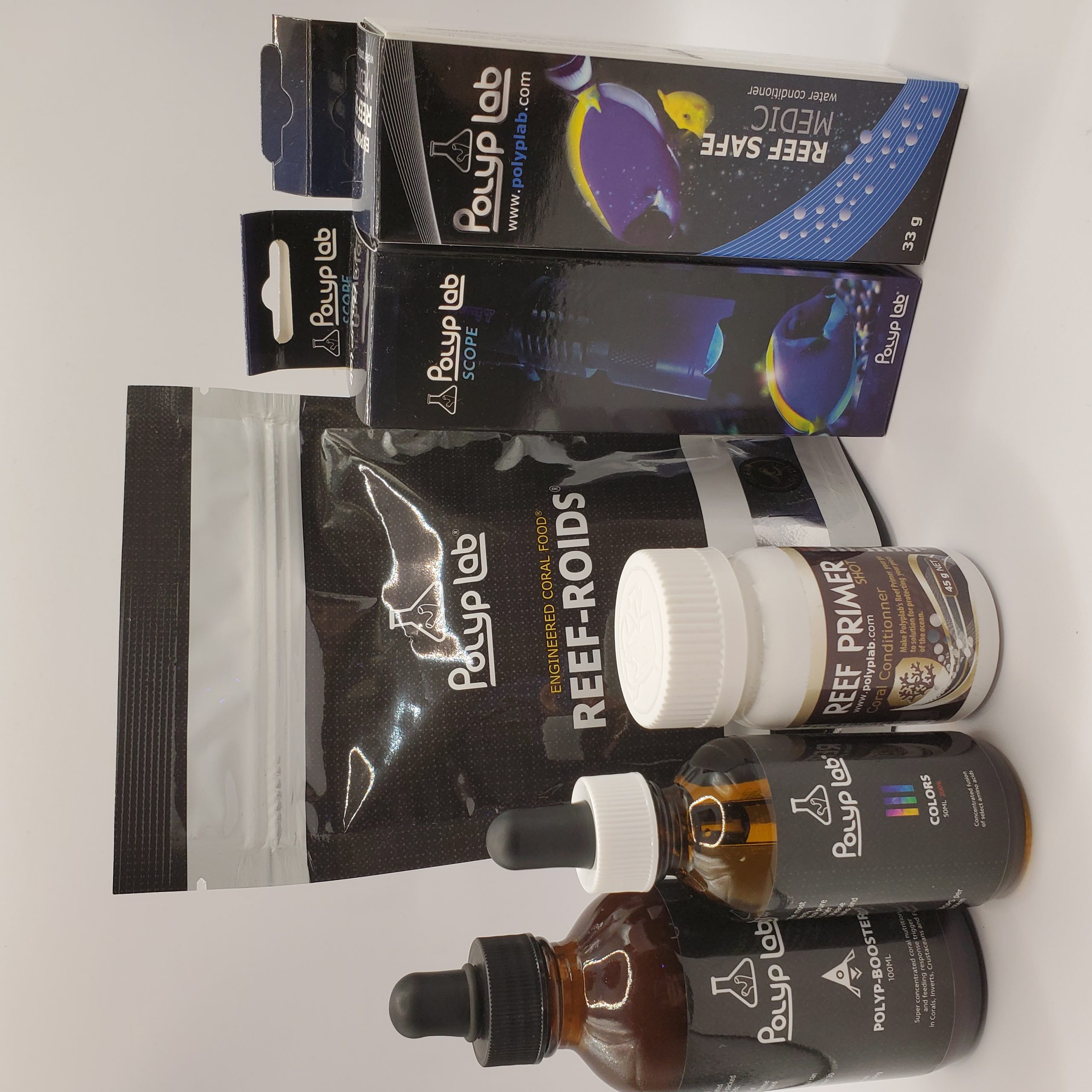 First of all I would like to thank Polyplab for sending me a sample package to review.  I have used Reef-Roids and Polyp-Booster for years but have never tried any of their other products before. This will give me a chance to try some  "new to me" products across all the different corals I have in my 7 tank – 510 gallon system.
The package Polyplab sent me included the following:
Premium medium sized hoodie
Perfect size for my daughter
Product Description: A finely ground marine plankton-based coral food
I have used this for many years, either target feeding by itself or as part of my DIY Frozen Food Recipe
Perfect for slow particulate feeders.
Product Description: A Potassium salt based dip that claims "will clean away: Zoanthid Eating Nudibranchs, Montipora Eating Nudibranchs, Acropora Eating Flatworms, Bristleworms, Zoanthid Eating Spiders, Red Flatworms, Filamentous Hair Algae, Rapid Tissue Necrosis, Slow Tissue Necrosis, Bacterial Infections, and More."
Will attempt to dip some frags that have shown some of the above symptoms.
Colors (Concentrated select Amino Acids)
Product Description: Polyp Lab Colors is ultra pure Amino Acids engineered for the most demanding growers. It is designed for:
– Ultra Low Nutrient Systems
– Reverse Coral Bleaching By Quickly Removing Excess Nutrients
– Promotes Tissue and Polyp Pigment Extension
– Promotes Pigment Growth
– Damaged Corals Heal Faster
Will start using this in one of my systems that seem faded after coming back from vacation.
Verdict will be out once I finish the whole bottle with the directed regimen.
Polyp-Booster (Coral food and feeding response trigger)
Product Description: "containing 18 amino acids and 12 fatty acids, Polyp-Booster delivers a broad spectrum of beneficial compounds that will make your corals thrive."
If you want to see Tridacna clams start feeding right away, try adding a few drops of this.
The triggering affect definitely works as directed. See photos below.
Reef Safe – Medic (Water Conditioner and parasite treatment)
Product Description: "Medic is a highly effective water conditioner used to de-pollute water in both marine and freshwater environments. It contains a reef-safe oxidizing agent and is particularly effective against: Marine Ich – Crytpocaryon irritans, Freshwater Ich – Ichthyophthirius, and Marine Velvet – Amyloodinium ocellatum."
I will have to wait till one of the above events happen to get a feel of how it works.
Scope (A 420-nanometer blue reef light)
This little light will make your corals fluoresce.
I started using this to take phone photos of my prized frags as I document their growth.
These were also taken after dosing Colors and Polyp-Booster.
Final Thoughts
Overall, I have been pleased with all the Polyplab products I can evaluate quickly or have used for years.  These products are tools to help reach your coral gardening goals. Time will tell when I can truly evaluate some of the event-based products and how my corals react to them in terms of health, color, and growth rate. It is as the saying goes "nothing good ever happens fast in this hobby."
If some of the products listed meet you needs, give them a try and check out all of Polyplab's products here.