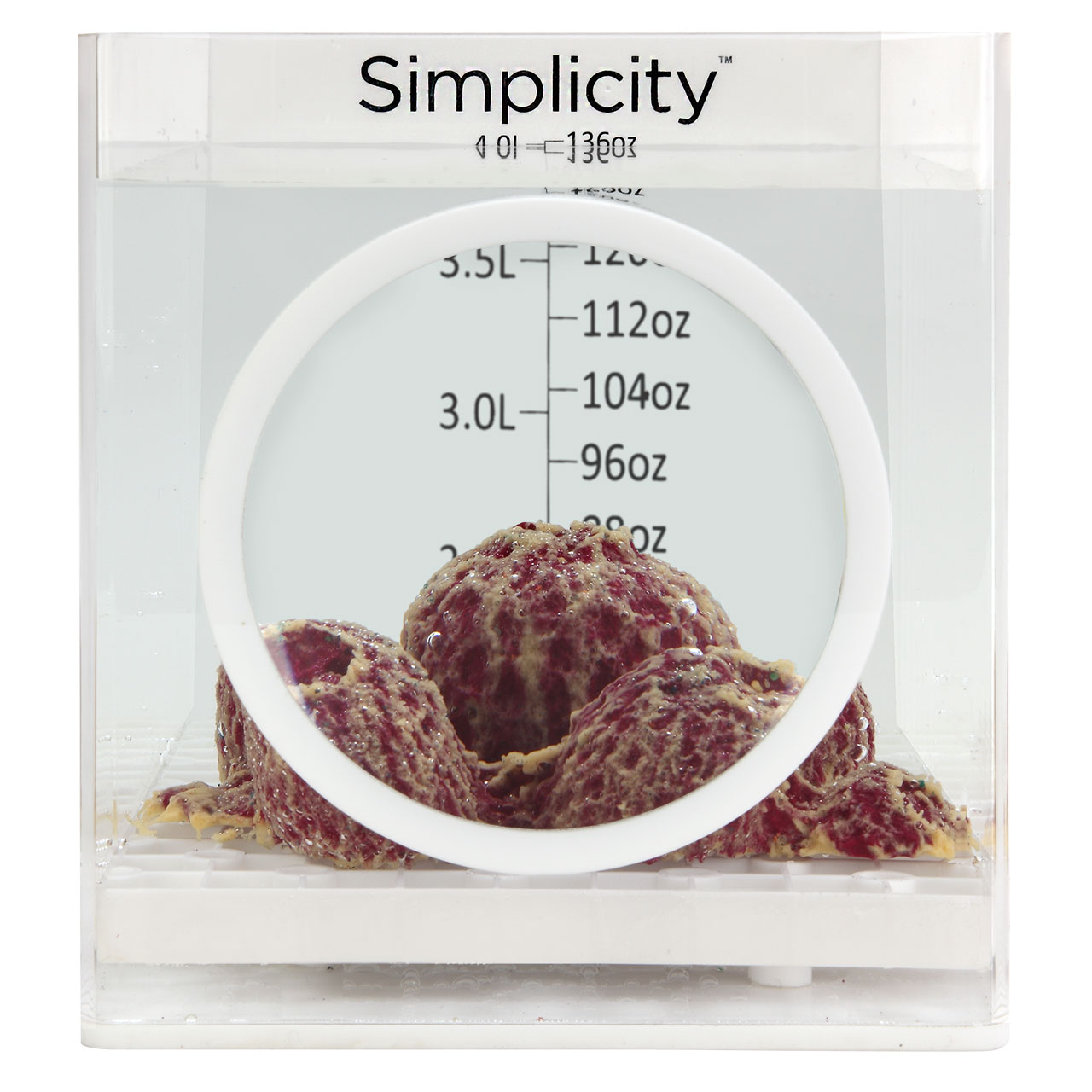 In the 1990's many of us in the hobby were most concerned with just trying to keep coral alive. Pests were an afterthought. Since all tanks were started with "Live Rock" we cherished what little micro fauna that came with them. Even today I admit I am not the best with quarantine. I do not run a dedicated quarantine system, but the one thing I consistently perform are dips, detailed inspections, and the thorough cleaning of every coral I receive. All it takes is one devastating event that can cause a lot of grief to remind you why you need to dip corals at a minimum.
I would like to thank Simplicity Aquatics for providing me with their newest product: the 4L Coral Dipping Container. 
Specifications
Volume:             4 liters / 136 ounces
Dimensions:      5.9 in. (W) x 9.3 in. (L) x 6.5 in. (H)
MAP Pricing:      $69.95
This product is a much nicer solution than what I have been using currently.  My current dipping setup just consisted of the following:
Magnifying glasses with a light
Measuring cups / spoons
Container to dip
Container to rinse
Dip solution
Tweezers
Toothbrush
Turkey Baster
Unboxing Video
Simplicity Aquatics 4L Coral Dipping Container Unboxing
Observations
The 4L Coral Dipping Container simplified the need for a few of my items. The design is well thought out and hits some of the key areas important to me:
Volume large enough for longer dips but still light enough to carry to dump out when full
Ability to inspect without taking corals out of the water and needing to wear my magnifying glasses
Simple rack to stand up frag plugs and allow space for pests to drop away from the corals during basting
Well-built product that allows pests to be easily spotted against the white background
Does not take up a lot of storage space and looks good too!
Availability
The 4 Liter Coral Dipping Container will be available starting on March 3, 2023.
Available through local and online retailers and sold wholesale exclusively through Clear Choice Distribution.
Find a Local Dealer: https://www.simplicityaquatics.com/buy/
Submit a Wholesale Application: https://clearchoicedistribution.com/dealer-application/