Rapid LED, an American company that supplies LED parts for legions of DIY aficionados in the hobby, just announced their newest saltwater-specific LED panel, called Corona. Designed and assembled in-house in Burlingame, California, the light joins the wide catalog of aquarium lighting solutions Rapid LED offers, and has some impressive specs to get excited about. 
On the outside, Corona looks similar to the company's flagship product, the Onyx light, but other than looks and the use of high-quality LED emitters, Corona is a brand new product and a significant move forward. This light has a built in WiFi transmitter, which we see more often in high-end aquarium lighting. There is no need for a secondary controller to operate Corona remotely, you use the free Fishbit app (available for Apple IPhone, IPad and Android devices) to change settings and automate photoperiods.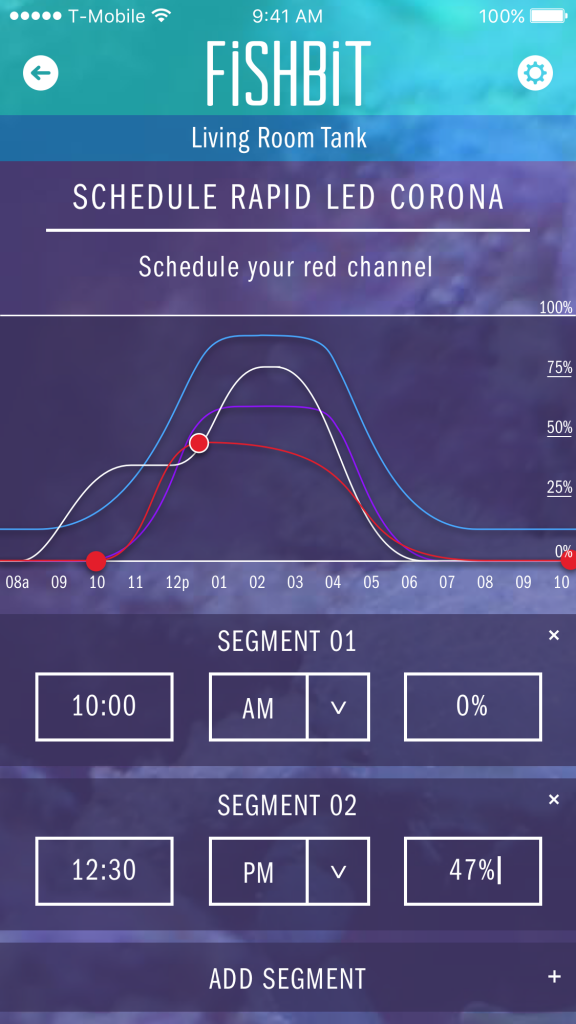 As you may know, Fishbit is a brand new aquarium controller and a monitoring platform, and it isn't available to the retail market yet. But you don't need to purchase any Fishbit hardware to operate Corona; Rapid LED has teamed up with Fishbit creator Current Labs on this new product, and you can use their free smartphone app to control your light.
Corona will offer (via Fishbit app) everything you'd expect in a high-end aquarium LED panel- manual dimming, sunrise/sunset simulation, scheduling, weather effects and even a geolocation function. Rapid LED promises that the first three options will be available when Corona hits the shelves, with additional functionality to be added shortly after. Here's a couple screenshots of the app in action:
The hardware in Rapid LED Corona is equally impressive. Specifications are as follow:
-two clusters of 19 emitters each, for a total of 38 LEDS
-each cluster has a custom-made lens
-there are 16 Cree X-TE Royal Blue LEDs, 10 Cree XP-G2 cool white, 4 violet, 4 hyperviolet, 2 photo red, and 2 green emitters in each light
-2 of the royal blue LEDs can be controlled independently as moonlights
-5 independent control channels (blue, white, violet, red and green)
-maximum power consumption 120W
-the light's dimensions are 6.25″ x 13″ x 1.6″ and weighs 3.1 lbs (not including power brick)
-the light has an advertised coverage of 24″ x 36″
-multiple units can be synchronized and controlled together
-Rapid LED will offer an optional hanging kit and rails + brackets for on-tank installation
-each unit comes with an 18-month warranty
Surprisingly, one of Corona's biggest selling point may be, beside the use of high-end parts and remote control-ability, its retail price. Currently, Rapid LED offers a pre-order price of just $309, and when the light will be released in July, it will retail for $419.
You can go to RapidLED's website for the full description of Corona, including a sneak peek video of the light in action.