I am sitting down with a keyboard in one hand and a glass of ruby liquid in the other to write this short but (I hope) to the point review. I have to admit up front, I truly enjoyed testing the two products that are the topic of this article, for several reasons, all of which I will point out in the following paragraphs if you decide to stay with me 🙂
You will? Great, then may I present to you Rogger's Reef Food Complete Blend and Complete Blend Plus frozen food for reef dwelling animals. Spoiler alert, I made some cool feeding videos for you to enjoy. See below.
WHO IS ROGGER?
Rogger Castells, the man behind Rogger's Reef Food, is a veteran aquarist and a Professional Chef who came up with the brilliant idea of combining his love for cooking with his other passion- reefkeeping. The end product of that union is a frozen food made of all natural ingredients,  formulated specifically for reef aquarium fish. Rogger's success story is truly inspiring, as he first started making his frozen food blend to feed his own fish, giving out the rest of each batch to his fellow club members at Florida Marine Aquarium Society meetings. His food ended up being so popular amongst other local hobbyists that Rogger decided to make his DYI fish food production a regular endeavor. Long story short, the food popularity gained momentum, the company was founded and few years later, a package with samples of Rogger's Reef Food landed at my doorstep, waiting to be tested (by my fish, of course).
HOMEMADE FOOD
While Rogger's Reef Food is a frozen food, when you thaw it, it doesn't "behave" like other frozen feeds. Instead of disintegrating into a cloud of food chunks the moment it hits the water's surface, Rogger's food stays put, like if you offered only one of the meat ingredients that's in it rather than a blend of them. In other words, Rogger's Reef Food can be fed to the tank in two different ways- you can squash a piece of it in your hands and feed it like any other frozen food or you can place a chunk of it in some kind of a feeding mesh bag and let your reef inhabitants "work" the food as they wish. When left in a feeding pouch, Rogger's Food keeps its structure, making it a great type of food to induce natural pecking behavior in some reef fish.
The company is very transparent with sharing the ingredients that go in their food, when you go to https://www.roggersreeffood.com, they have a very nice colorful sketch with some of the stuff that's in the food. I got permission to use it for this article: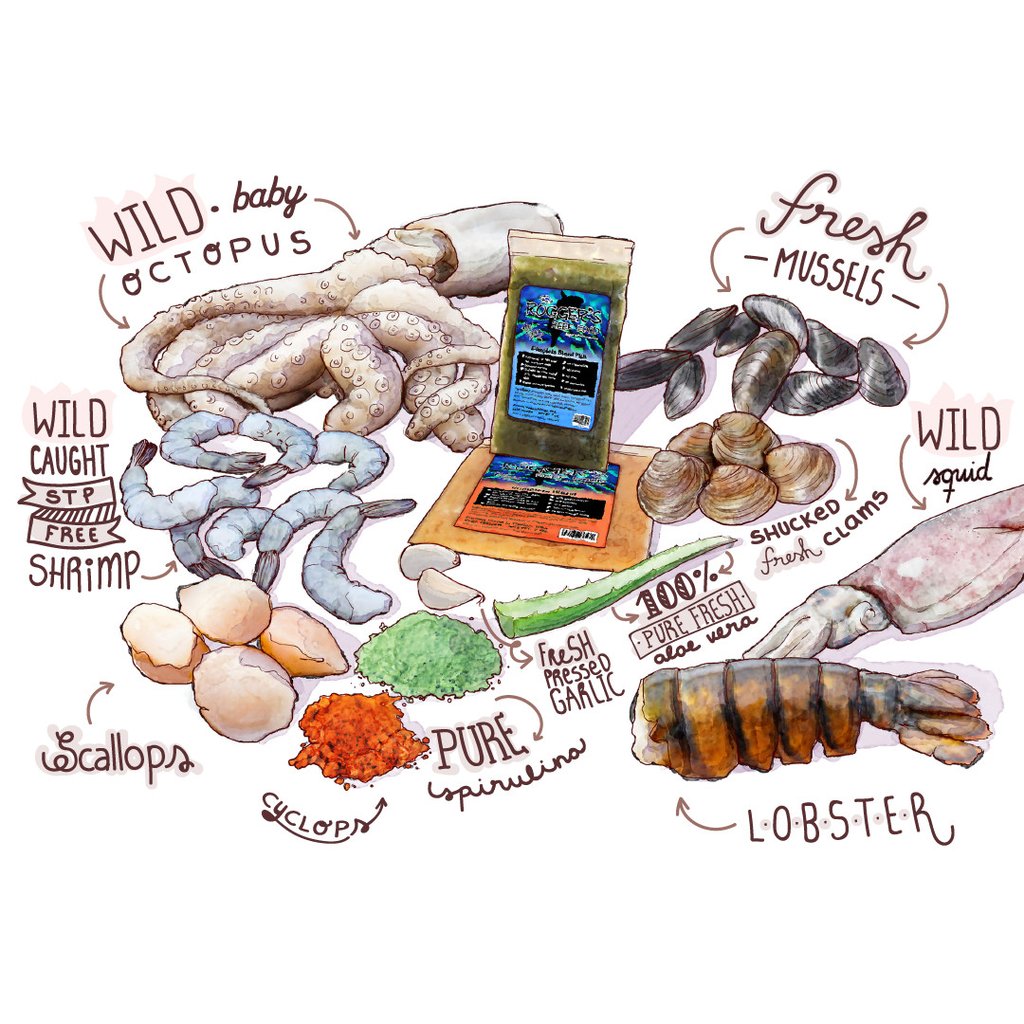 Rogger's Reef Food comes in two varieties, the original Complete Blend and the newer Complete Blend Plus. They differ in the amount of ingredients included, as well as visually, as the Complete Blend is orange in color, while the Plus is dark green. Both varieties are hand made in small batches, using only natural ingredients with zero fillers, preservatives, binders, or (and this is interesting) exoskeletons.
The original formula in the Complete Blend consists of: wild caught shrimp, squid, octopus, mussels, clams with juice, fresh pressed garlic, pure aloe vera, copepods, and Selcon (a blend of fatty amino acids and vitamins).
The Complete Blend Plus has all the same ingredients as the original Complete Blend, with the addition of scallops, lobster, and Spirulina algae (it's what gives it its dark green color).
FISH APPROVE
There is no better test for a product like this than offering it to the fish in my home aquarium and seeing what happens. Here is the outcome:
Conclusion: my fish LOVE both varieties of Rogger's Reef Food. All of them, even my copperband butterflyfish that is extremely picky, and previously only looked at frozen Mysis shrimp with interest. It just shows that a food made with all natural ingredients by someone who deeply cares about the hobby simply works!
I highly recommend trying Rogger's Reef Food; it doesn't cloud the water, its content consists of natural ingredients of primarily marine origin, and most of all, fish really crave it!
Rogger's Reef Food comes in 7 oz packages and can be purchased directly on the company's website or through other online and brick and mortar retailers.
GALLERY