Republished with permission from SECORE:
---
Join us on a coral journey!
Thanks to the beautiful footage shot by our videographers and the invaluable work of ReefPatrol during the whole process of creation, we now proudly present: SECORE – the film.
With this film we want to show the joint work of SECORE and partners and share our vision for future coral restoration with you―please enjoy!
https://www.youtube.com/watch?v=EKsUDbREZZg
During the last decade, SECORE evolved from a mostly volunteer project of dedicated coral lovers with a scientific and aquaristic background, to an internationally operating and well known nonprofit organization. We work together with a worldwide network of scientists, aquarists, officials, conservationists and supporters.
Dr. Dirk Petersen, SECORE founder and Executive Director: "This third―ongoing―global bleaching event, the poor conditions of many reefs, and the alarming decrease of coral cover worldwide, show us how urgently we need to give coral reefs a helping hand. Conservation efforts and fighting climate change are pressing tasks. Nevertheless, as difficult and complex it may be to accomplish these tasks, they alone may not be enough to assure the survival of coral reefs beyond the next century.
If used in concert with other efforts, restoration could turn the balance in favor of coral reefs. Together with our partners, we are working towards sustainable coral conservation and restoration by using sexual coral reproduction and other tools to pursue a vision for viable large-scale implementation of restoration practices. I am confident that we will be able to face this great challenge together with our current and new partners, but this will need a joint and global effort."
"SECORE has pioneered techniques that allow sexually derived corals to be produced in large numbers'", explains Dr. Ruth Gates, Director of the Hawaii Institute of Marine Biology. "This is a game changer for the field of coral restoration." SExual COral REproduction was the name giver for SECORE. While other approaches may be useful under certain circumstances, we believe that sexual coral restoration has the greatest potential to upscale restoration efforts, maintain genetic diversity and prepare corals for future ocean conditions.
Coral reefs at Curaçao left) air-view of coral reef and the Island's coast; mid) coral reef site; right) degraded reef with coral rubble
In 2010, SECORE, Carmabi Research Station, and partners initiated a research project to study sexual reproduction of the elkhorn coral and to develop restoration techniques for this endangered key species on Curaçao. On the reef, elkhorn corals still spawn, but cannot produce offspring on their own anymore. In 2015, our first raised corals spawned together with the natural population in the wild.
At the Riviera Maya, the Caribbean coast of Mexico, we conduct a large-scale pilot project together with UNAM and partners. Dr. Anastazia Banaszak, director of the UNAM's Reef Systems Unit at Puerto Morelos, is the project leader on-site: "I'am dreaming of a nationwide Mexican reef restoration program that includes all players―among them lead institutions such as universities, National Park Commissions, Fisheries, research institutions and independent experts such as SECORE, all working together with the local communities. Most of them have already joined our network, so we have all the elements it takes, to do reef restoration along the Mexican Caribbean coast."
first row, coral spawning. left) sunset at a spawning night; mid) coral spawning close-up; right) egg-and-sperm-bundles, like snow falling bottom-up. Second row, raising corals. left) collected spawn; mid) freshly settled coral recruit under black light; right) tiny coral colonies on settlement unit.
We work together with several aquarium partners, such as Columbus Zoo and Aquarium, California Academy of Sciences and its Steinhart Aquarium, Pittsburgh Zoo & PPG Aquarium, Henry Doorly Zoo, Shedd Aquarium, Xcaret Eco Parc, and others. Bart Shepherd, Senior Director of Steinhart Aquarium, and his team are long-term allies for coral conservation: "Aquariums have many roles; we bring our knowledge of coral husbandry and aquarium filtration systems and provide critical manpower during coral spawning workshops. And while we do provide financial support, we are also important partners helping to educate and engage the public about the global importance of coral reefs. Public aquarium exhibits about coral reef conservation and SECORE are seen by millions of visitors each year."
In June 2016, SECORE launched a new collaborative project with the California Academy of Sciences. "The partnership with the Academy will add staff and resources to SECORE's efforts", says Shepherd. "We will be hiring scientists at field sites including Curaçao, and expanding conservation training workshops around the globe to implement SECORE's innovative large-scale approach to coral reef restoration. At this critical point in time, we are doing everything we can to change the story of coral reefs from tragedy to hope."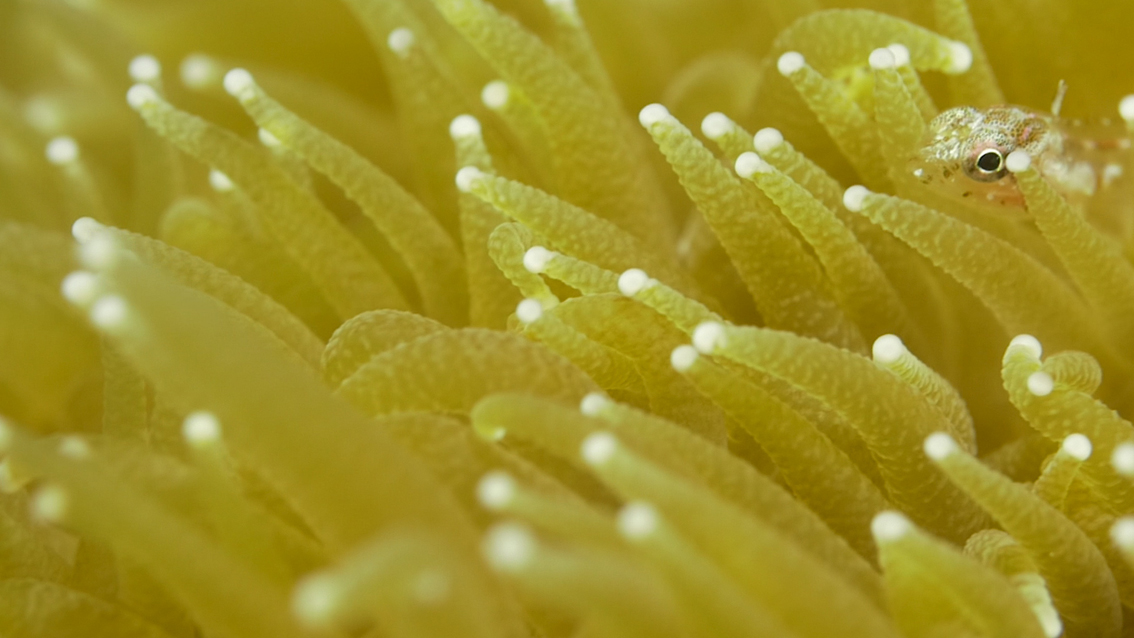 Photo: little blenny at home
We are most thankful to you all, who participated in the film, helped during the making of, and took part in any effort to make this real! Without our partners and supporters our work would not be possible.
Special thanks go to our videographers and our film team: Vanessa Cara-Kerr and Lena Höfig, Reefpatrol; Barney Rübe and Robert Sigl, Ruebefilm; Paul Selvaggio, Pittsburgh Zoo & PPG Aquarium; Michael McCue; Sina Löschke and Carin Jantzen, SECORE.
All photos are screenshots of 'SECORE – the Film'