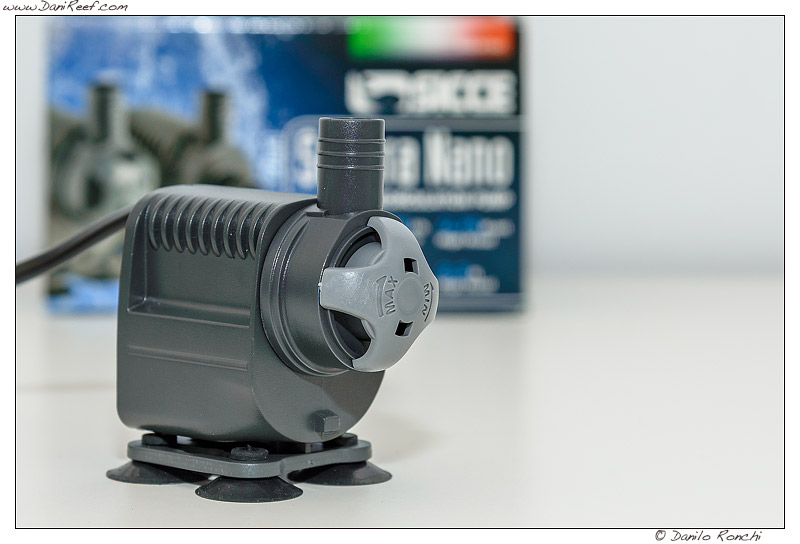 Sicce first presented the small sicce Syncra Nano at the end of last year, and we are here today to present our review of this interesting, tiny product.
As always, we measured maximum height, output, and power consumption; this time we also measured noise.
One of the most striking characteristics of the  Sicce Syncra Nano is that it can be used for water movement and for normal pumping. The pump is watertight and can be used for outdoor aquarium installation. If internally installed, the pump's flow can be easily regulated, from a minimum of 40gph (140l/h) to a maximum of 110 gph (400 l/h).
sicce claims that the pump is extremely quiet.
Technical specifications of Sicce Syncra Nano
European Version
230 V – 50 Hz
American version
120 V – 60 Hz
Output:
140 – 400 l/h
40 – 110 gph
Consumption:
2,8 watt
2.8 watt
Max height:
0,7 m
2.3 ft
Cable length:
1,5 m
7.55 ft
Power:
0,01 A
0.02 A
In/Out diameter:
12 mm
1/2 inch
Width:
6 cm
2.35 inch
Length:
4,4 cm
1.7 inch
Height:
4,6 cm
1.8 inch
In our tests, the sicce Syncra Nano moved 143 litres of water for every watt consumed, we compared this to the Hydor Pico 600.115, with 600 l/h output and 7 watt of power consumption, it moves only 86 litres for every watt consumed, though the Hydror had a greater maximum height (140 cm).
With a price of 20,33 euro it has an economic efficiency of 20 litres per euro.
The construction
The following picture shows all the accessories sold with the pump, which can convert it for either internal or external use.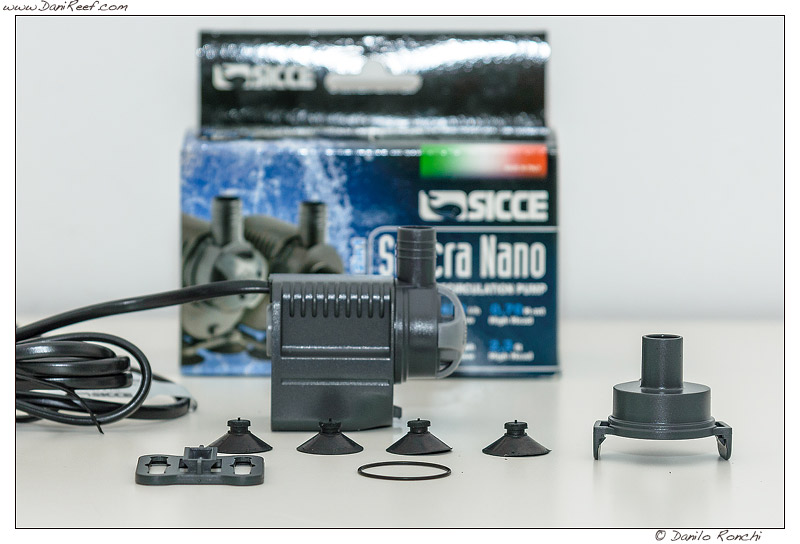 We see the pump, four plastic suckers and their support, one o-ring, and two different caps for the pump –  one standard, and one with flow adjustment, to use in conjunction with fluidized bed or for use as a recirculating pump.
Here we can see the four plastic suckers system
Pictured above is a small 2 Euro coin next to the pump… it's incredible how tiny is the pump. And look at the picture below…
The tiny rotor… so small I worried about its durability; but so far, I have had no problems at all.
Here the pump with one of the two small caps; I used this configuration with a filter.