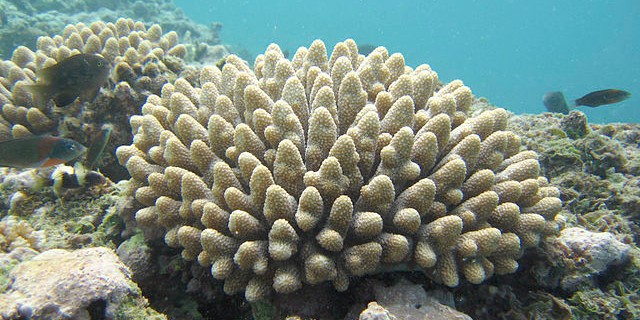 Unfortunately, the solid plastic trash we often see in the ocean (bottles, bags, etc.) is only a portion of the plastic waste that has been deposited there. A considerable amount of waste may be present in the form of microplastic. Microplastics are basically minuscule bits of plastic that can be suspended in the water column. Though the environmental effects of microplastic pollution are not yet well understood, the consensus among marine biologists is that they pose a global threat to marine ecosystems.
Researchers from the ARC Centre of Excellence for Coral Reef Studies at James Cook University set out to see if corals (which are non-selective filter feeders) ingested microplastics. Corals from a clean area were placed in a contaminated area. After two nights, they were analyzed for the concentrations of plastics. Results indicated that the corals consumed plastic at a rate only a little lower than that of their natural planktonic food. Plastic materials were found engulfed in digestive tissue, suggesting that it may hinder a coral's ability to digest its food.
The team is now investigating what impact this phenomenon has on coral health and longevity. They also hope to study the effects of plastic ingestion in fishes.