The Mariana Arc exists at a biogeographical crossroads situated neatly between the distinctive faunas of Japan, Micronesia and the Western Pacific, and, though it shares species with all three of these regions, it also has a handful of unique taxa found nowhere else. This unusual endemism stands out with respect to the patterns of speciation seen elsewhere in the Indo-Pacific, hinting at a unique origin for these species. The beautiful Mango Angelfish (Centropyge shepardi) is certainly one of the best examples of this phenomenon, and, thanks to some exciting new discoveries coming out of the Philippines, the murky origins of this mysterious fish may at last be coming into view.
As a species, C. shepardi is surprisingly variable in appearance given its relatively small geographic range. It is a primarily orange fish with a dusky back and a predominantly yellow tail, and it bears the familiar blue and black margin to the anal fin seen in other closely related members of its species group: C. bispinosa, C. loriculus, C. ferrugata, C. potteri. Juveniles mostly lack these markings in the dorsal fin, having instead a small black spot posteriorly, but, with age, they eventually develop the same black & blue margin as the anal fin, allowing us to readily identify mature and immature specimens. The most variable characteristic relates to the many irregular vertical lines that mark the upper-half of the body and the spot-like patterning often formed above the pectoral fin. In discussing this trait, it's important to only consider mature individuals, as juveniles always have these features reduced. In the adults, the density and length of these lines can vary considerably, as can the presence of a blue spot formed from the coalescence of lines above the pectoral fin. In many individuals, this spot is virtually absent, while in others it can form an unmistakable pattern, similar to that seen in C. bispinosa.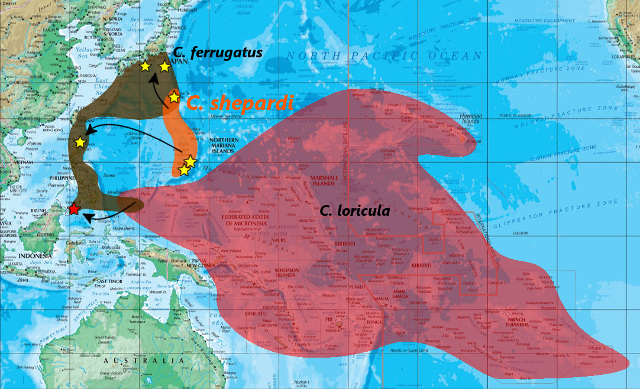 Since its description in 1979, C. shepardi has generally been treated as being found only in the Mariana Arc, from Guam north to the Ogasawara and Izu Islands. At Izu, this species becomes increasingly scarce, as does Cirrhilabrus katherinae, another fish that appears to have speciated in this region. However, there are also reports of C. shepardi from Kushimoto, Japan, far to the west, as well as the recent discovery by RVS Fishworld of specimens from Cagayan—a northern region of the Philippines where numerous Micronesian and Japanese species have been found at the apparent edge of their ranges.
It is yet unclear whether these northern Mango Angelfish specimens are rare waifs or indicative of a small, permanent outpost in the Northern Philippines, but it does provide us with some intriguing insights into another similar fish collected for the aquarium trade: the so-called "False Shepardi Angelfish". When it first appeared in aquarium exports from Tawi Tawi and Cebu in the Southern Philippines, this fish was identified by wholesalers as the true C. shepardi, which is a reasonable assumption given just how similar in appearance these two populations are, but this obviously made little sense based on what we knew of that species' biogeography and, as more specimens appeared, it became obvious that there was a wide range of phenotypes present, with some showing a considerable likeness to the Flame Angelfish (Centropyge loriculus) and others more resembling the Rusty Angelfish (Centropyge ferrugata).
This is presumably how it became suggested that the "shepardi" found in the Southern Philippines was actually a hybrid of the Rusty and Flame Angelfishes—two species which occur at the very extremes of their biogeographic ranges here. Of course, without some molecular study to back this assertion up, this was merely a hypothesis, as nobody has yet bred these two species together to see what, if anything, the offspring might resemble, and there are no documented instances of the two cavorting about together in the wild as a mixed-species pair. In light of the many recent range extensions that have been documented from the Philippines, it now seems more plausible that there might actually be legitimate C. shepardi wafting over from the Mariana Arc, which are forced to intermix with whatever compatible angelfish they encounter in the Philippines. This would go a long ways towards explaining the highly variable nature of these specimens, as we would expect to find relatively few of the colonizing waifs and far more of their backcrossed hybrids with the local species. The argument against this assertion is the fact that few other Micronesian species are found this far south in the Philippines, though the recent discovery of the Orangefin Clownfish (Amphiprion cf chrysopterus) along the southern coast of Luzon suggests such a journey might be possible on rare occasion.
But, for the sake of this argument, let's go ahead and assume that the "False Shepardi" specimens pulled from the Southern Philippines really are Rusty X Flame hybrids—this would have an interesting ramification for our understanding of the origins of the true C. shepardi found in the Mariana Arc, as this region seems to act as a buffer zone where neither species is present as anything more than a rare waif. If these two truly do hybridize to create a shepardi-like phenotype, it would only make sense that similar hybrids would be likely to form in the Mariana Arc and could have given rise to the Mango Angelfish now found there.
Hybrid speciation is something that has been mostly ignored by researchers working on reef fishes, though the phenomenon has been far better explored by coral taxonomists, who often use the term "reticulate evolution" when discussing such messy species boundaries. There is evidence for this having taken place in other reef fishes of the Mariana Arc. For instance, the Yellow-crowned Butterflyfish (C. flavocoronatus) shows a mix of traits associated with the widespread C. burgessi and the Hawaiian endemic C. tinkeri, and the recent discovery of a mixed-species pair from Guam adds weight to the idea that C. tinkeri has played an instrumental role in this speciation. The bizarre Genicanthus takeuchii, found further north along the Mariana Arc at the Ogasawara Islands and nearby Marcus Island, is another species illustrating unusual endemism and which has a highly aberrant color pattern suggestive of hybridization.
Another dog in this fight may be the Coral Beauty Angelfish (Centropyge bispinosa), a closely related and phenotypically similar species that occurs throughout much of the Indo-Pacific, including Japan and the Mariana Arc. The blue pectoral marking described earlier is something we find in many (but not all) specimens of this species, and there exist photographs of likely hybrids between C. bispinosa and C. shepardi that display the bluish forebody of the Coral Beauty. We find genetic evidence for this relationship as well; in the phylogenetic study of Gaither et al 2014, both C. ferrugata and C. shepardi (which appear to be nearly identical genetically) were placed sister to C. bispinosa, while the Flame Angelfish was argued to be a more distant relation. This could be true, but this could also be an artifact of extensive hybridization on the part of C. bispinosa, something that would be difficult to discern without studying larger portions of the genome. So maybe the Mango Angelfish is a genetic mutt, a chimaera of all three species brought about by the relative isolation of the Mariana Arc?
I would argue that the biogeography of this group is far more supportive of the Rusty, Flame and Mango Angelfishes forming a species group to the exclusion of the Coral Beauty. A good parallel in this discussion can be seen with another group of dwarf angelfishes: the Multibar Angelfish (Paracentropyge multifasciata) and the Venusta Angelfish (Paracentropyge venusta). As with the Rusty and Flame Angelfishes, there is a widespread species (Multibar) found throughout the Pacific and a more geographically restricted species (Venusta) found primarily in Japan. These two are likewise known to form a distinctive hybrid where their ranges meet, though, unlike with the Mango Angelfish, there is no permanent "Multivenusta" population that has speciated in the Mariana Arc. Of course, now we have to ask what would enable one hybrid to prosper while the other remains rare.
Given the limited number of species endemic to this region, it seems that it takes more than just the biogeographic abutment of two closely related taxa for hybrid speciation to take place, though what these variables might be is entirely unknown. The alternative hypothesis—that the Rusty and Mango Angelfishes evolved sympatrically from some Coral Beauty forebear—seems even more unlikely, given that nowhere else do we find such a pattern of speciation amongst the dwarf angelfishes. But this is all conjecture until more data is available. What the Mango Angelfish teaches us, more than most species, is that there are likely to be greater complexities to the evolutionary history of Indo-Pacific reef fishes than our current understanding allows for. What is Centropyge shepardi… why does it occur at Cagayan, Tawi Tawi and the Mariana Arc… how did it get there… where is it going?