Experienced Reefer
Vendor
The Nova RO Units!
Nova 5 Stage Premium package Reverse Osmosis DI System including an 90psi booster pump


Only $275.00 Compared at $382.50!


(You save $107.50)
Includes HM Digital Inline Dual TDS Meter - Instantly know the purity of your water, before and after the deionization stage. The inline probes can be placed before and after your waters TDS is displayed on the LDC monitor. Glycerin Filled Pressure Guage
Nova 5 Stage Premium Reverse Osmosis with DI System 75gpd, includes Booster pump, color changing resin, pressure gauge, Dual TDS meter. 5 Stage Systems are our most popular systems and are great for a majority of wells, along with city water that is treated with chlorine or even small amounts of chloramines. The single Color Changing DI stage comes on its own bracket allowing you to customize the installation depending on the space you have available.
Nova 4 Stage Reverse Osmosis 75gpd RO
Only $119.00!!
Nova 4 Stage basic reverse osmosis output about 75gpd, great for any aquarium, you can add on DI, TDS extra chambers for DI etc



Nova Reverse Osmosis pressure gauge glycerin filled 0-125 psi




Only $14.99!


Nova Reverse Osmosis glycerin filled pressure gauge with quick connect and tee. Easy to hookup, Connector material is PE, and gauge material is stainless steel. Monitor the RO water pressure important to the functionality of your RO system!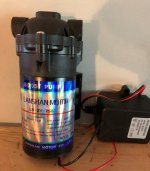 Nova Reverse Osmosis booster pump 90psi
Only $69.99!
Nova 75 gpd Reverse Osmosis membrane




Only $23.50!


Nova Reverse Osmosis 75gpd membrane made with Dow materiel thin-film composite or TFC Up to 99% rejection - NSF certified
This units and attachments will be available this Friday, ready for Christmas!
Available for in store pickups and online shipping, check out our website www.Petswarehouse.com
For any inquiries email us at

[email protected]

or Call up shop 631-842-0400
​
Last edited: