I recently shut down one of my display tanks and therefor have some premium equipment for sale. I will entertain serious offers on multiple purchases but will ignor low ball offers. I will ship anything at buyers expense if so chosen. PM is key guys.
list of equipment for sale:
1. Jaebo dp-4 doser and slave units: Main head unit $40 and slave for $30 or $68 for the set [/B]
Jaebo dp-4 doser and slave units. Lightly used. All heads work perfectly. Head unit can program all 8 dosing heads.
2. Icecap battery backup: $90
This unit is used but I never had a single power outage since installing this on my reef. Unit works perfectly and will save your reef if you have a power outage. It will keep your power heads running for hours and recharges itself when power comes back on. This unit is also one of the smallest and most compact on the Market in its class. Footprint is about 7" x7" x 4"
6. Eshopps 2L dosing containers: $35 each or both for $65
Up for grabs is my Eshopps 2L dosing containers. You can dose upto 4 independent chemicals to your reef. It has a view through water level window so you always know how low the levels are inside the containers at quick glance.
3. ADJ pc100-a toggle switch power strips: $30 one SOLD only one left
keep wire management at bay and manually control switching equipment on/off easily with backlit toggle switches. mountable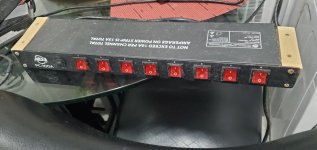 4. polypropylene holding tank: $90
This is a monolythic one piece pour polypropylene holding tank that is reef safe selling it for a fraction of what I purchased for. Cost me $250 just to ship it. Has holes shown. Comes with a float switch. Approx. Size is 45" x 21" x 15" will get exact size with interest.
[/B]
Last edited: