By Richard Aspinall
There has been a significant interest in the Red Sea recently with several authors and aquarists taking trips over there and of course setting up biotope systems. I've spent a fair amount of time in the Red Sea and written several general articles on the subject and there is enough copy out there now that adequately describes this body of water. To summarise though: the Red sea is more saline than most other bodies of water, it has a fascinating geological history and is technically an ocean (admittedly a small one) and due to its relative isolation there are a significant number of endemic species found within it, with many being of interest to aquarists. The Orchid Dottyback being a notable example.
Whilst I've written a lot about the northern Red Sea I've not spent a lot of time in the 'Deep South' as it was once known. The Deep South sounds quite grand, but it is simply the southerly area of the Red Sea that is mainly in Egyptian waters (with some regular visited areas in Sudanese territory), and due to its isolation and distance from the tourist resorts of the north is of more interest for divers and reef fans.
There are several reasons for this. The reefs in this area are considered pristine, they are not subject to coastal development (to any great degree), fishing is a little less than in the north and the ever present badly behaved scuba divers and snorkelers that are still found in the north are few and far between. Divers in the south tend to know what they are doing and tend to be willing to spend the extra cash to access this part of the world.
I was staying for a week on a boat called the Red Sea Aggressor. Anyone familiar with diving who lives in the States is likely to be aware of the Aggressor Fleet; this is the first of the boats operated by the company in the Red Sea and it has attracted a number of mainly US citizens to make the trip over. Most of the boats that operate in the Red Sea tend to cater to Europeans, US citizens are few in number in Egyptian waters. So it was interesting to find myself the only English guy on the boat. I spent a lot of time mentally converting between imperial and metric measurements. But I digress, I haven't got there yet.
I flew in from London via Istanbul to the port of Hurgada, a resort that seems to cater mainly to people from the former Soviet Union. I asked my taxi driver and he was telling me about the different nationalities that travel to Hurgada. "You see them," He said, gesturing to a group of tourists leaving the airport for a rank of coaches, gesturing with a pungent cigarette. "They are western European, you see the bags! Russians… they only have plastic bags" I saw no reason to doubt him and nodded.
I'd secured a night in a hotel and had some time to kill so did what any fish geek does in this situation and headed to the shore. Red Sea shores are on occasion sandy, but very often they simply reflect the area's geological upheavals, you often find yourself walking along a shallow intertidal zone adjacent to a fossil reef now a metre or so above sea level, replete with fossil marine life.
I thoroughly enjoy this sort of exploration and set about exploring the shallow zones finding various algal species, mollusc grazers and hermit crabs benefiting from the plethora of mollusc shells available. These intertidal areas serve the function of trapping dust and debris from the shore and limiting its impact on the reefs. In the shallow waters I found several Tridacnids and plenty of small gobies and blenny species that resisted all attempts at photographing them. I also noted a Barred Moray hunting in the shallows, a species I have seen on several occasions in very shallow water. I'm not sure if this is a preferred habitat for the species or simply a coincidence, but I've often seem small morays hunting in shallow waters during the day.
Further out and presumably in slightly more oxygen-rich and cooler waters robust pocilliporids were starting to form a reef a more standard back reef environment before the reef crest which could only be seen from a pier provided for snorkelers. As I looked down I could see the pinks and purples of the corals and the occasional large tang scooting across the reef plate. I was very much looking forwards to joining the boat and getting into the water.
From Hurgada I was driven alongside the Red Sea coast down through El Quesir and towards the town of Marsa Alam and Port Galib. The drive down was, if I were totally honest, thoroughly depressing. The stark beauty of the desert was scarred by never to be completed holiday resorts, dumping of waste on a monumental scale and litter. The downturn in the Egyptian economy compounded by the recent political situation has not been kind on the landscape or indeed the everyday people who just want jobs and security.
I should add that every one of the ordinary Egyptians I have ever met have been charming and helpful. The customs guys are the airport can be pretty rude, but then last time I flew through LAX they weren't much better. Whilst travel advice from several governments can render your travel insurance invalid, it appears that the only risky areas for tourists in Egypt are the Sinai area at present. Travel to and from and between hotels is wonderfully safe and secure in my experience.
At Marsa Alam I joined the boat and met my fellow divers, who were mostly from the States and all experiencing their first trip to the Red Sea. Most had dived in Asia and the Caribbean and were eager to see how it compared. Whilst this piece isn't a boat review, I should mention that it was spacious, air conditioned, had a great coffee pot and a stack of movies to watch in your cabin should you wish. The food was excellent and the dive deck fitted out just as you'd expect. I've been on bigger boats and some that are just a little bit more comfortable due to their construction and fittings, but this boat is certainly in the top ten that ply the southern routes.
The first true diving and sailing day requires the guests to get their dive kit set up and have a check dive. This serves the purpose of making sure everything is working and of course that we divers are competent and won't be over weighted and wreck the corals or be underweighted and rocket to the surface with all the complicated and nasty things that happen to the human body in such a situation. Check dives are normally shallow and boring and this was no exception, they are functional only and we were quickly aboard to sail to a small series of reefs known as Abu Dababb (Flintstones fans can start singing now).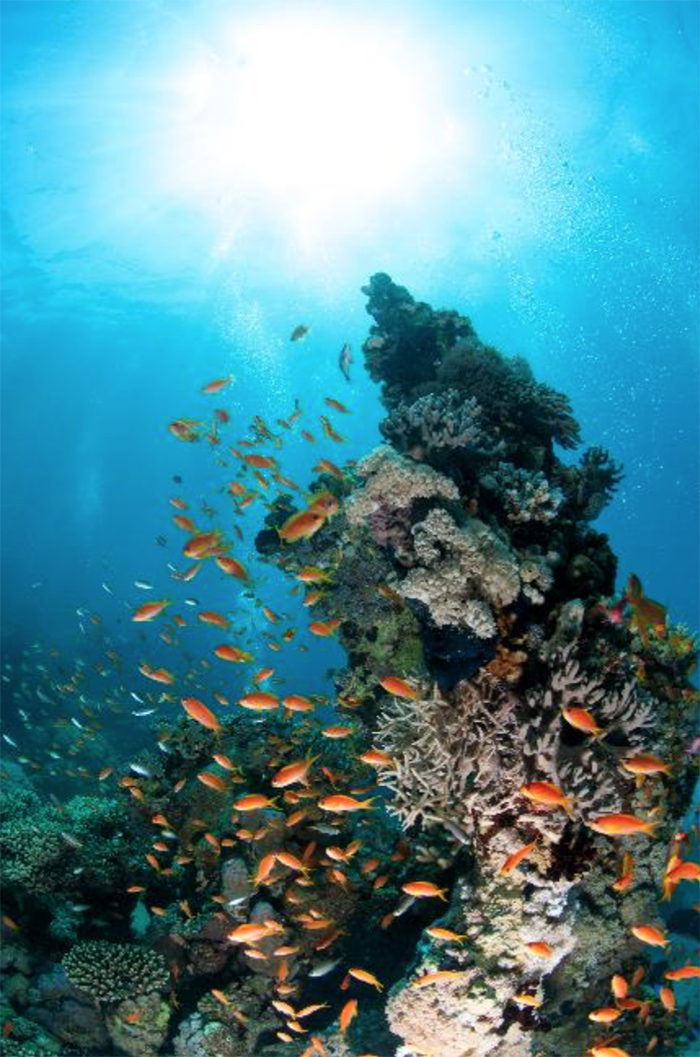 Every dive site seems to have its own particular character, yes they're all easily recognisable as being from that biogeography, but for various reason to do with current, flow and I guess a bit of chance some sites will be stacked full of certain corals species and others not. These pinnacles seemed to be dominated by Porites species that had formed vast structures like organ pipes that were regularly falling apart for the process to begin again and in doing so creating a wealth of jumbled rockwork on the bottom. Curiously, this site wasn't as full of Lyretail Anthias as most Red Sea sites and I pondered why the good old squammi was found on a few pinnacles only. Normally this species is everywhere.
After the dive I fell asleep in the sun and before I knew it was time for the third dive of the day, another shallow series of fractured rocky pinnacles, I toured the site making note of the various ways it could be explored as we'd be diving here tonight.
For me night diving is an absolute passion. I can spend an hour in ten metres of water with my face glued to my camera's eyepiece looking for critters. Night dive fans are always on the lookout for nudibranchs and this site offered several Pyjama slugs as well as free-swimming flatworm.
That evening we sailed around a 100 miles to the most southerly part of our route, we crossed the Tropic of Cancer (only just) and moored at St John's Reef just into Sudanese waters. In the morning the high cloud that had been with us for several days was gone and the sun was strong. One of the dive guides is helping a guest with something and I remembered that I once wanted to be a guide on a boat. Not a job I'd want anymore, it's a job for the young and the fit and also for folk with far more patience than I have. At one time just about all the guides were Europeans, but increasingly the work is given to Egyptians.
The diving at St John's was superb, the water is was gin clear and the light fantastic as it ought to be in the Tropics (by a few miles at least). The diving tends to be along superb walls with sheer, coral and gorgonian covered outcrops with numerous whip corals like long twisted spears left over by an attacking army. The reef was full of fish life, shoals of Blue Lined Snapper and Naso Tangs displaying to each other. Jacks and Trevally kept on speeding past and towards the end of the dive I spotted four White Tip Reef sharks below me, sadly I hadn't the gas left to go after them and instead focussed on the busy reef flat and the comings and goings of grazing tangs. They'd not have let me get close anyway I told myself, in my experience sharks tend to be swimming away from me not towards me. Not always a bad thing.
The night dive was again a truly wondrous experience and one that allowed me to approach a huge number of fish whilst they were at rest for photos including several tangs and one Masked Puffer that was doing its best to resemble a sponge I think.
The first dive of the next day was a 20 metre deep plateau, I decided to sit it out and chat to Mahmoud, one of the dive guides. He tells me how his father and grandfather had been fishermen in Hurgada and how he started as a seaman on dive boats before he managed to get a job guiding. He clearly has a deep and abiding love of the sea and tells me how his people would catch only the larger fish, before telling me tales of the angels that lived in the sea that one had to take care not to upset, by killing a dolphin or a turtle or even pouring hot water into the sea.
"It's changing," He told me. "Now fishermen from Alexandria and Luxor are coming south. They don't know how to fish the reef, the just take everything. We complain to the Governor who complains to the new military government, but they say 'they are Egyptian too, they also have the right to fish.'"
In Hurgada there has been conflict between the immigrant and local fishermen, including violence though I don't think anyone has been seriously hurt. Mahmoud is certain that diving has been good for the Red Sea, he told me that local families now see their sons employed in better jobs than they were and it's all to do with diving and tourism. It's clear that diving and the foreign income it brings in are important here, and this was understood by the Mubarak Government, but as yet, since the revolution(s), the military are perhaps more concerned about the unemployed of Cairo, Luxor and Alexandria than the relatively isolated peoples of El Quesir and Hurgada.
The next day saw us back in Egyptian waters, slowly heading north again, we had moved around 40 miles from the St John's area into a complex of reefs known as Fury Shoal. The area is famed for its pristine coral as well as a pod of White Sided Dolphin that spend their days in the lagoon that we've come to visit, taking the little inflatables called Zodiacs that are such a feature of Red Sea diving.
Erin, another guide scoots around with a GoPro, whilst I was a lot slower with my large Aquatica housing and twin Ikelite strobes. We spotted the dolphins on the surface and finned like crazy to get closer to them, a group of a dozen or so give us a wide berth as they swam past and underneath us. I'm not sure if they were normally more social than this, but we had just crashed their party and they were busy entertaining themselves as young dolphins do. I found myself swimming through a cloud of brown particles as they passed and tried not so speculate on their origin.
The next dive was at a series of pinnacles known as Malahi, these were superb and rose from the substrate at ten metres to a few metres below the surface and were ringed in soft corals and surrounded by fish, we dived them at night also. It was a hard site to navigate in the maze of rock, but at the end of the dive I was at a few metres or so, so I could surface and take a looksee to relocate the boat and then once again enjoy the action on the reef top before surface swimming back to the boat.
The night dive here was remarkable, and involved a bimble about under the boat, amongst the pinnacles and bommies, looking for Spanish Dancers (I should explain that a 'bimble' is possibly a UK only word for any kind of half-hearted exploration in which you never really make any progress, it's a little like a 'pootle'). Every so often, atop a pinnacle I spotted a basket star with 'arms' extended, I never seem to be able to get correctly focused on them before my spotting light causes them to furl up. I managed to get some nice shots of various crustaceans before I saw someone waving their torch excitedly and there amidst the gloom there was the brilliant red of a hexabranchus. These huge nudibranchs really are amazing, with gills that can host commensal shrimps.
Divers really enjoy watching them swim which is achieved by undulating their bodies like flamenco dancers ruffling up their skirts. Sadly, if this occurs the nudibranch loses contact with its slime trail and can have trouble finding its way back to its daytime hideaway and is then at risk. So if you ever find one please leave them alone.
After diving we moved further north opne again, though the night to Elphinstone, we dived this world class reef all day and rarely on any dive did I exceed a depth of ten metres, choosing instead to enjoy the amazing amount of fish life on show. The reef attracts a wealth of the usual reef fish but also large shoals of fusilier and trevally.
There were the ubiquitous squammi, plenty of butterflies including the masked butterfly that has become quite sought after in the hobby and shoals of bannerfish – this was the best reef of the lot. Little was I to know that some divers a little deeper than me were watching turtles and a white tip.
After a pleasant fifty minutes playing in the shallows I realised I'd not really got any shots of Red Sea Anemonefish; good old bicinctus is one of my faves so I set about finding a 'nem. It appeared to me that clowns and their hosts were more common in the north and I realised I'd not seen as many as I'd expected to, this could be due to a smaller population or perhaps I simply wasn't looking. I did however find the toughest little bastard in the Red Sea.
The fish was so aggressive, every time I got close it would rush out at me and attack my camera port. At two inches or so it was only a youngster, but I noticed there was a small post larval fish in there as well, along with a couple of domino damsels. I'm not sure what made it so aggressive as usually they settle back into the nem's tentacles and let you get on with the photography, but not this one. I managed in the end, but what a fish!
When I got back to the boat various folks showed me their shark and turtle videos and I grumbled a bit, but that's the joy of the south, you never know what you're going to get on a dive. I'd seen the white tips earlier in the week and the dolphin encounters were remarkable (even if it was poo). For me that was my last dive, I decided to take it easy and soak in the sunshine.
Over a decade ago when I started coming out here to dive, the 'Deep South' was almost uncharted territory in diving terms, I'd say that nowadays this once remote and 'wilder' area of the Red Sea has been tamed somewhat and made accessible. To the point that I would urge anyone with a desire to see the Red Sea's reefs to consider the southern routes as their first choice. It may be a little more expensive and the travelling a little harder, but these are world class reefs.