Having shared some pictures of 'tropical-looking' fish from the Mediterranean recently, I thought I'd share a few of my favorite group of invertebrates: the nudibranchs.
Nudibranchs can become a source of obsession for underwater photographers.  And once you start collecting your own images of these often bizarrely-colored and shaped animals, you'll understand why they are so entrancing.
These five species are some of the most common in the Mediterranean:

The first is a very common species found across the Med. Flabellina affinis feeds on hydroids and reaches up to two inches in length.  It is easily confused with F. pedata (pictured below), though the latter has white tips on its projections.  This specimen was photographed in the cold murky waters off the East Coast of the UK.
Another common species, also found in UK waters, isJanolus cristatus, the aptly named Crystal Tips; it's a nudibranch that seems to reflect and refract light.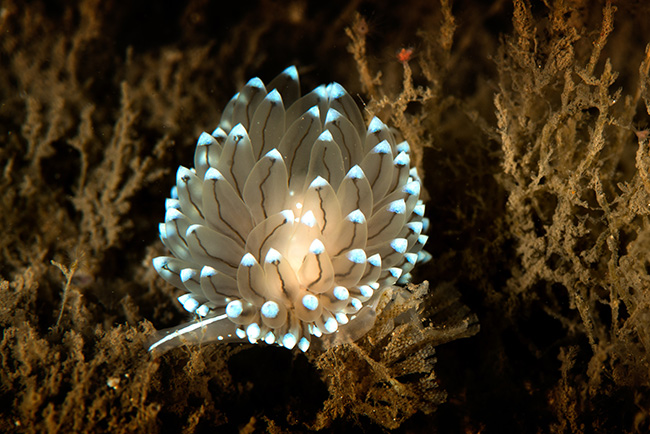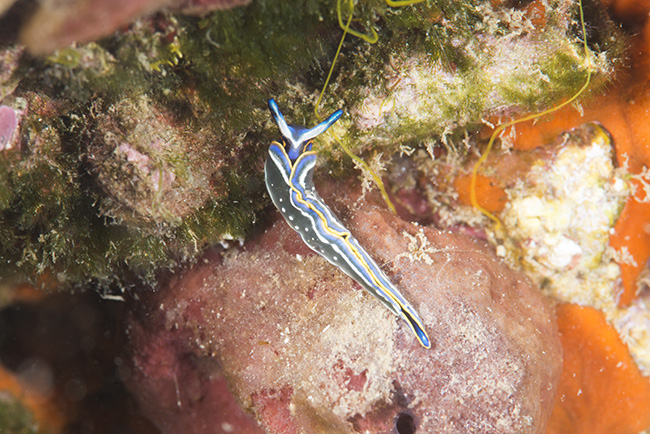 A smaller, yet remarkably colored animal, that is often found in the shallows by snorkelers isThuridilla hopei This is a sacoglossan animal, commonly known as a 'sap sucker' – it survives by sucking out the contents of algae.  Some of its relatives retain stolen chloroplasts from their food source, and have a green coloration as a result.
The final animal is one I shot at over forty meters deep within an amazing colony of azooxanthellate gorgonians.  I believe that this animal isFacelina auriculata.  The head is on the right.