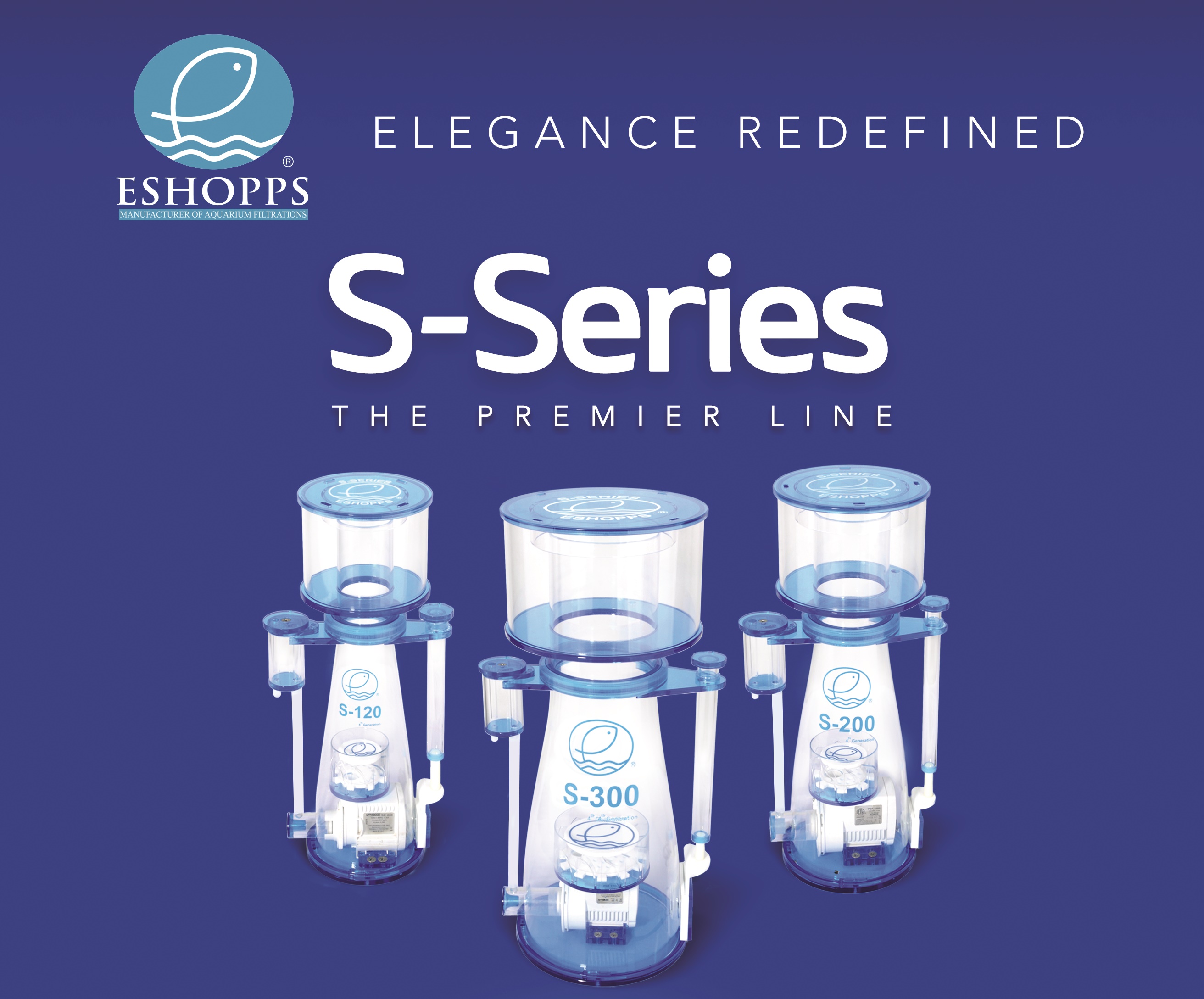 ESHOPPS, the popular California-based aquarium filtration manufacturer, has just announced the launch of its Premier Line of S-Series Skimmers, which features ESHOPPS INTELLIGENT DESIGN (EID) Technology. This technology encompasses 5 engineering advancements:
1. The EDDY Bubble Plate, which incorporates blades that will allow the bubble to rotate and tweak the duration of contact time, as well as increases the contact time itself, allowing for optimal skimming.
2. An easy Twist-Off Base; much more convenient that traditional skimmers, which utilize screws to lock the body in place. Aquarists can open the body in less than 3 seconds.
3. A Quick-Release Pump Lock, allowing the pump to be removed or installed by simply loosening the screw and sliding the pump locks out.
4. A Transparent Venturi, which will allow aquarists to see any calcium buildup, and therefore perform maintenance as soon as it is required.
5. A Large-Capacity Collection Cup, which holds more skimmate and can go longer between emptyings.
The skimmer is available in 3 sizes:
The S-120 can handle tanks from 40 gallons (heavy load) to 120 gallons (light load), employs a Sicca SE-200 pump, and retails for $299.00
The S-200 can handle tanks from 120 gal (heavy) to 260 gal (light), employs a sicce PSK-1000 pump, and retails for $449.99
The S-300 can handle tanks from 260 gal (heavy) to 500 gal (light), employs a sicce PSK-1200 pump, and retails for $549.99
For more information, please visit the ESHOPPS website, email [email protected], or call 626-968-3678