This is the Red-lipped Goby (Gobius cruentatus), a particularly striking fish that I've found quite elusive over the years, in fact this is the first time I've ever seen one, even though they are quite common in the Med.  It also occurs along the coast of the eastern Atlantic, from Morocco to Ireland.
As you can see, it is a striking and easily recognized fish with its bright red lips. Having said that, it prefers to live in crevices and shaded areas and is not easily spotted.  Indeed I was photographing another fish when I happened to spy this one, even though it was only a few feet from my first target.
You'll also notice just how complex this animal's markings are.  A testament to the dense and complex growths of algae (both soft and hard) that it hides within.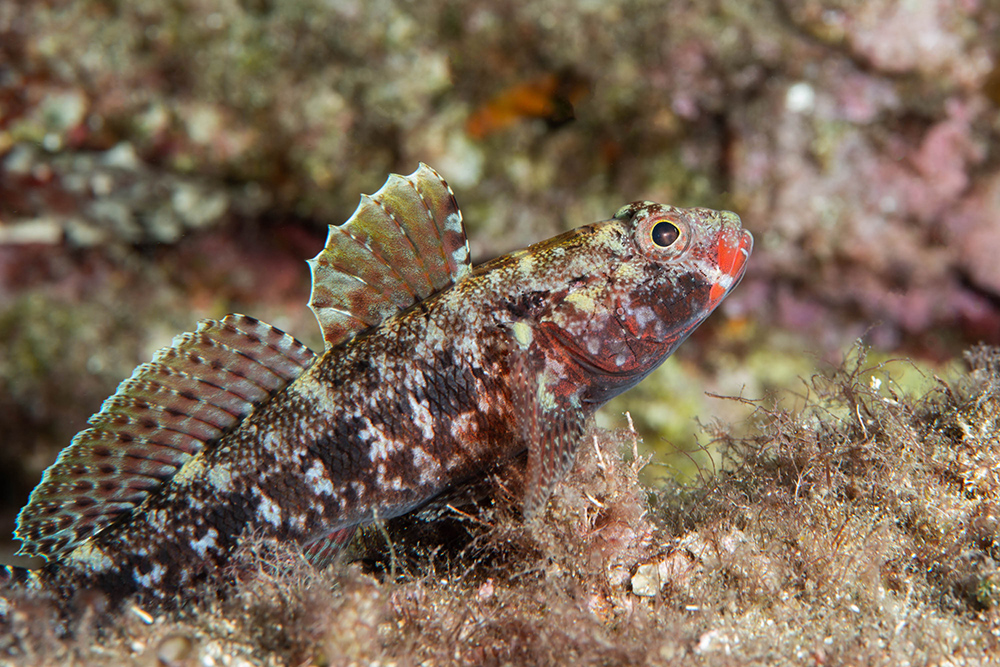 The fish reaches seven inches or so in length and has quite a stout frame.  You'll also notice lines of sense organs on the head, these are known as sensory papillae.
I haven't been able to find an explanation for the red color of the lips and mouth.  Given that this fish is a deep dweller in less than bright waters, the red would not be visible there, unless it is under torchlight.  It would appear far more drab and almost black, yet surely there's an explanation – does anyone know?  Do let me know.