The next generation of Fluval's super popular Marine and Reef LED's have just been shown off at Interzoo. Dubbed the Marine and Reef 2.0, the new and improved units will provide 20% more Lumen output than the current models. They now feature a touch-sensitive switch with dimmer function and 2 independent LED channels (day/ blue light).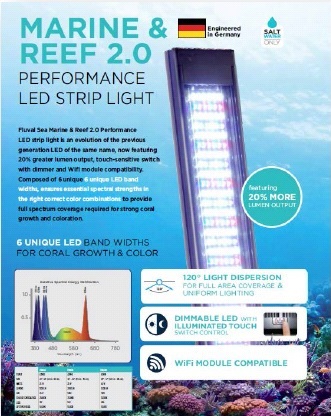 However, the real breakthrough with the 2.0 LED's is the optional Dual Wi Fi Control module. The Wi Fi module allows you to independently control the light intensity, duration of sunset/sunrise and moonlight. The unit controls up to 4 channels ( 2 lamps) all via a Fluval App available for Android and IOS.
Like the current model, the new Marine and Reef 2.0 LED's stand apart from the competition because they are IPX68 rated making them waterproof!
They will be available in 50cm / 24", 80cm / 36", 110cm / 48″  sizes.
The Fluval Marine and Reef LED's have been extremely popular because they offer great performance for a fraction of the cost of comparable units. While pricing for the new 2.0 LED's has not yet been published, sources say they will remain very close to the same price as the current units.   Release date is scheduled for later this year. MORE