Professional Commuter
Manhattan Reefs
LED lighting - worth the cost, not worth the cost, better illumination, less operating cost, yada...yada....yada
So I'm sure a lot of reefers have asked the question whether the cost justified the change in their lighting scheme. In my personal opinion, I view Metal Halides with VHO Actinic supplements as the best visual appearance. For pure blue light, I do agree that the blue LEDs are phenomenal but when you mix it with white LEDs, the pop is kind of gone.
I've been pretty intrigued with LED lighting for a few months now. Prior to PFOs demise, they were pretty much out of my budget but I was saving some money towards an Aqua Illumination unit due to all the heat my halides were creating. My chiller was on literally 6 months out of the year :irked:
When PFO hit rock bottom and closed their doors in Feb 2009, the market was basically left with one programable unit which was Aqua Illuminations but they had an advertised 8 week back order that was probably much longer then stated.
Used Solaris units started to hit the FS forums about May/June but not in abundance. Solaris owners are loyal to the product even though there are a myriad of problems with this light. Everything from premature LED failures, fan failures to bad power supplies.
Even with all these problems, I was ready to try an older version of the Solaris unit for the right price, hence my first stumbling step into LED lighting.
Please note that my picture taking skills are on par with a 5 year old so these are not pretty, not adjusted for ISO or WB, hell probably not even focused :lol:
First LED fixture in Aug 09 - Used PFO 72" Solaris H-series to replace retro T5 kit using two IC ballast & six 54w bulbs over driven to 80w. This is their 2nd generation series that emulated PAR value of 250w MH at 20k color temperature. I bought the fixture from an RC member in Ohio for $700 + $130 in shipping cost. This was a $4k unit at msrp so I thought I would give it a try. The fixture is sitting on cutouts of the end panels of the canopy. There are wood grate covers to facilitate the cooling fans on the end of the fixture. The fixture is 6.5" above the water surface.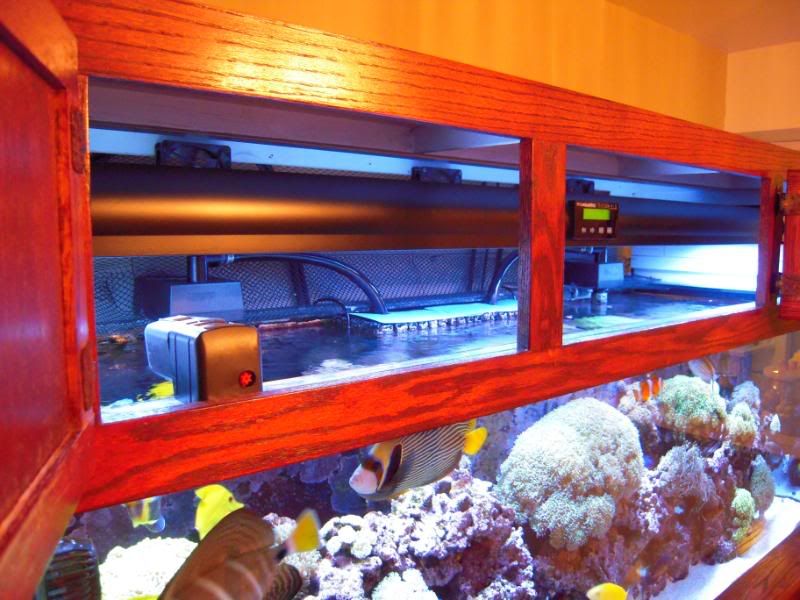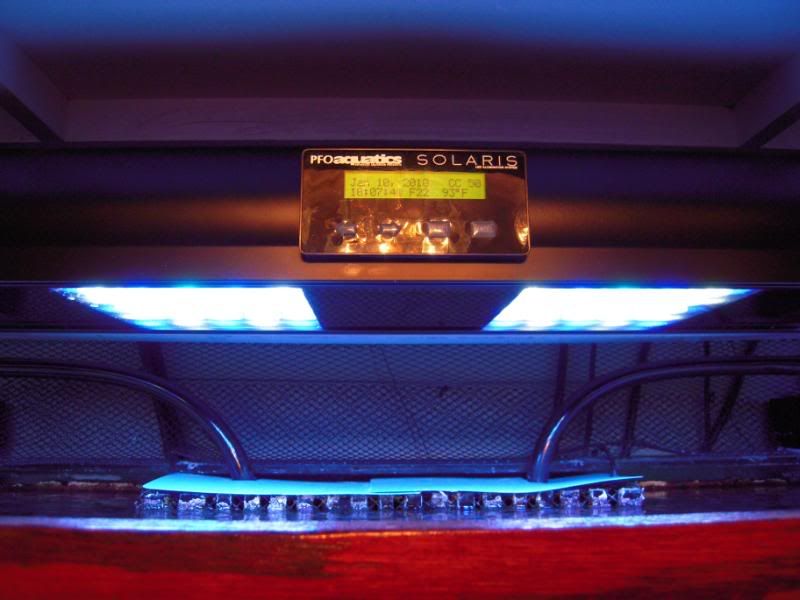 The LED array composed of 25 Luxeon K2 3.8w diodes. Higher ratio of blues to whites hence the 20k color temp. They also use 2 green diodes in each array. There are 6 arrays & 3 power supplies for the 72" fixture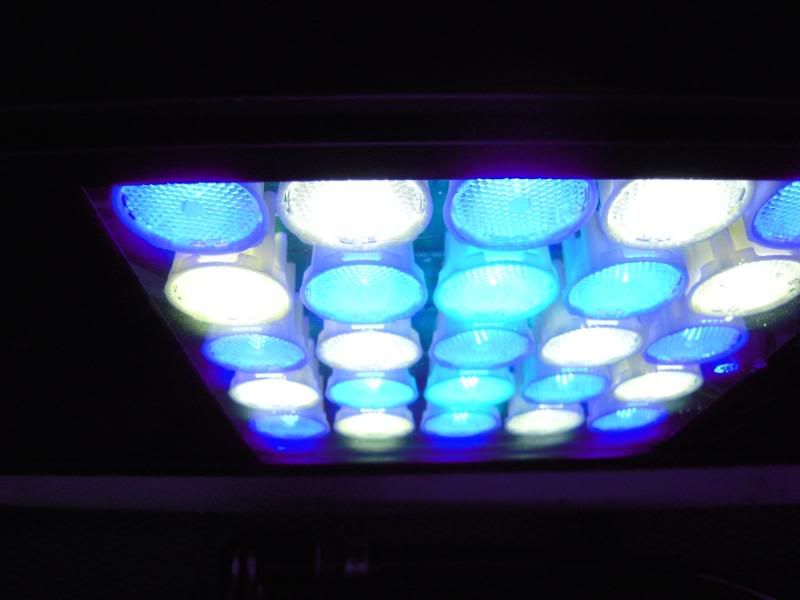 The H-series light is acceptable for medium to lower light corals such as LPS & softies. The 180g that you see started out as a FOWLR tank but I got quickly bored and wanted to see what I can add that the Angels would not devour. This ended up to be Hammers, Frogspawns & Torch corals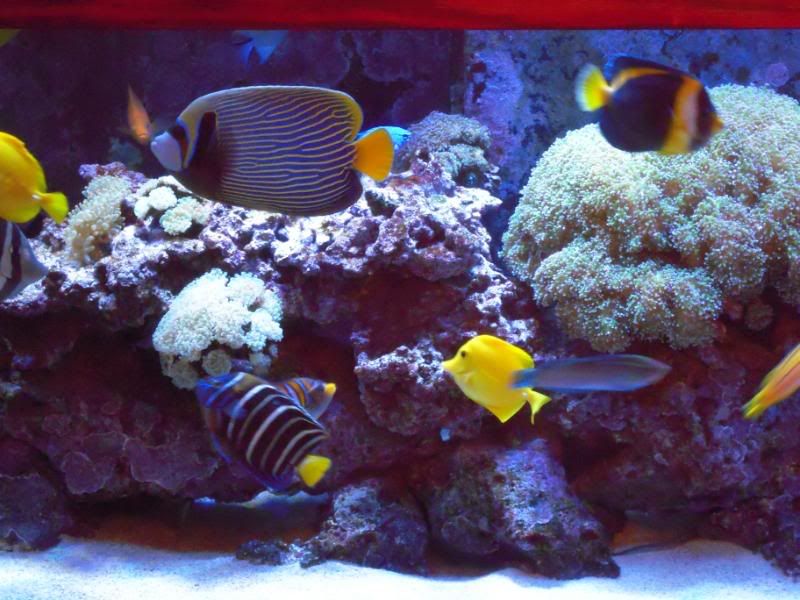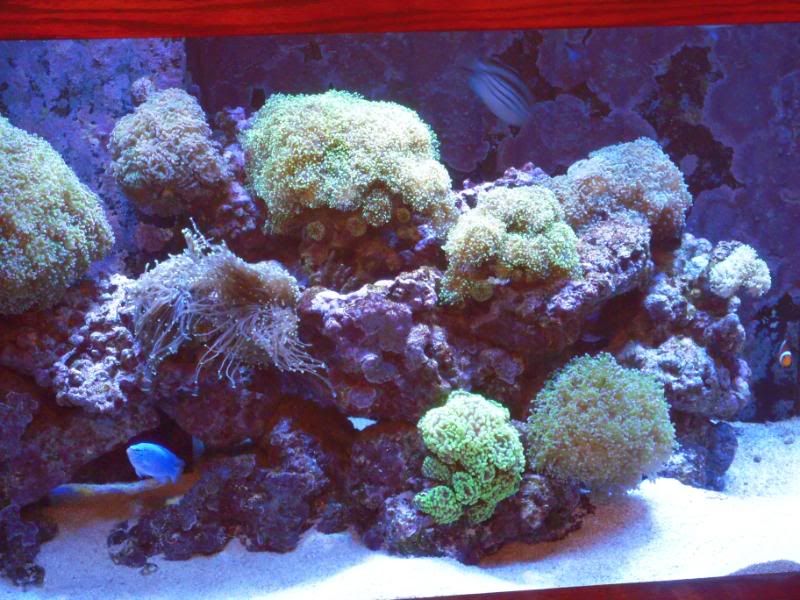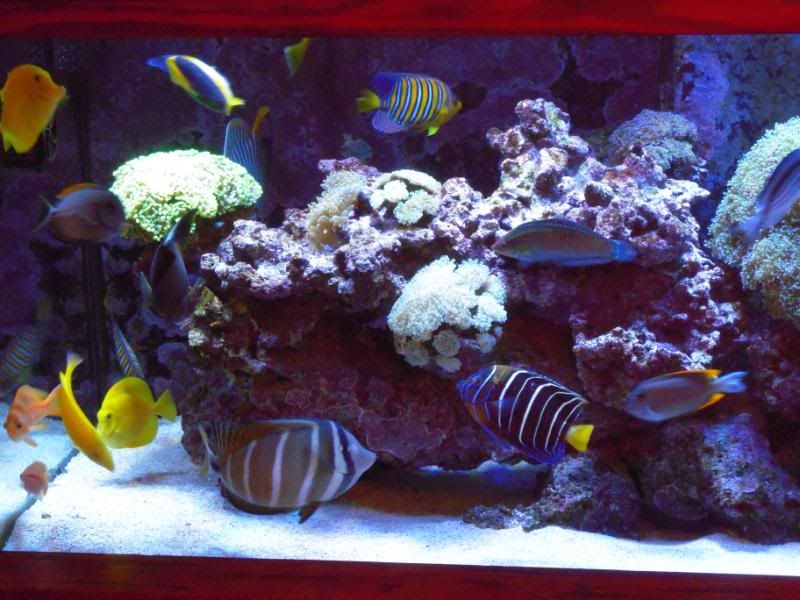 This frogspawn is the size of a basketball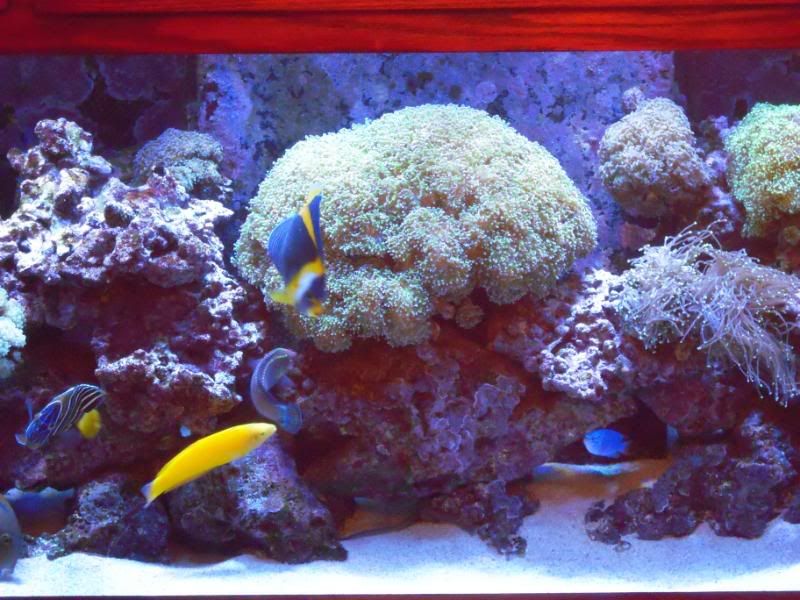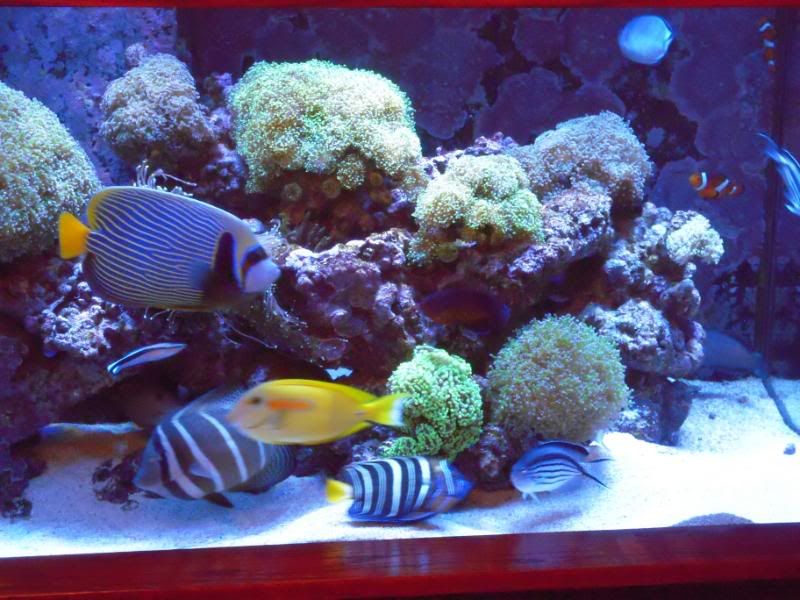 Since having this H-series light, I have had no problems with the power supplies as many owners with the G thru I4 series are experiencing. I have had LEDs go dim or totally shut down and have rendered Wingo's service to repair them. There are a multitude of reasons as to why the LEDs are failing prematurely. Everything from poor assembly from overseas regarding the uniform application of the thermal paste between the LED PCB board & heatsink to design flaw of over driving the Luxeon K2 diodes. I had 6 spare PCB boards and some were good, some had burnt diodes. I swapped out any good boards with any dim boards on the fixture & sent these all to Wingo for repair. So I do have spare replacement boards for future LED failures.
So this did not deter me in my ongoing interest in LED lighting. In Sept 09, I found a new PFO Solaris I5-series 36" fixture also on RC for $1300 + $60
in shipping cost. This is about half of msrp on the unit and it was still boxed and unopened.
A little history on the I5 series, this is their 4th and final generation of the Solaris line that was brought back to the US for production due to all the quality issues. They also revised the housing, changed the Luxeon K2 LEDs to Philips Rebel 3,5w LEDs and ran the unit at 24v vs the 12v/5v for the previous generations. They changed out the problematic power supplies to off the shelf Meanwell drivers. This enabled them to produce more light at less power. The LED arrays were increased to 30 LEDs per array, the 36" unit has 3 arrays & 2 power supplies. The I5 series emulated PAR value of 400w MH at 14k color temp. The I5 light is much brighter & whiter in color temp then the H-series light. Controller is almost identical in all the series, so operation of the different series are the same. The Meanwell drivers are enclosed in an outer external casing so you practically hear no fan noise on these power supplies whereas the G thru I4 power supplies were very loud with the fan on 24/7. The I5 replaced a 6x39w TEK T5 fixture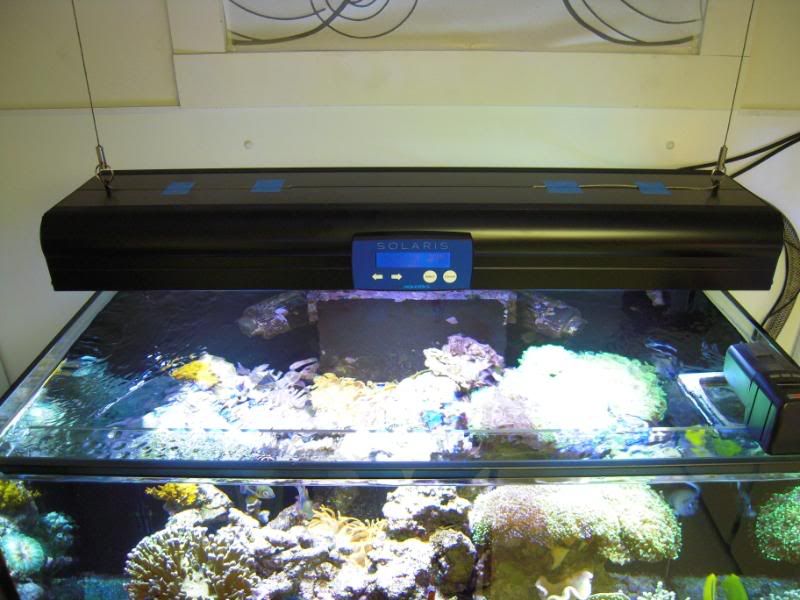 I have had no problems with any LEDs dimming, the ratio of whites to blues are 2 to 1 hence the whiter light. They also use 2 green LEDs for every array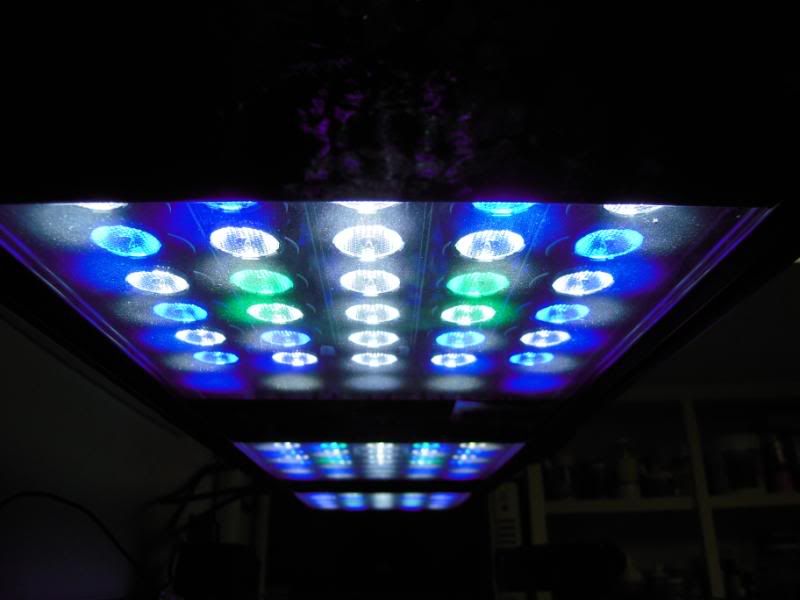 Suspended 5.5" from the water surface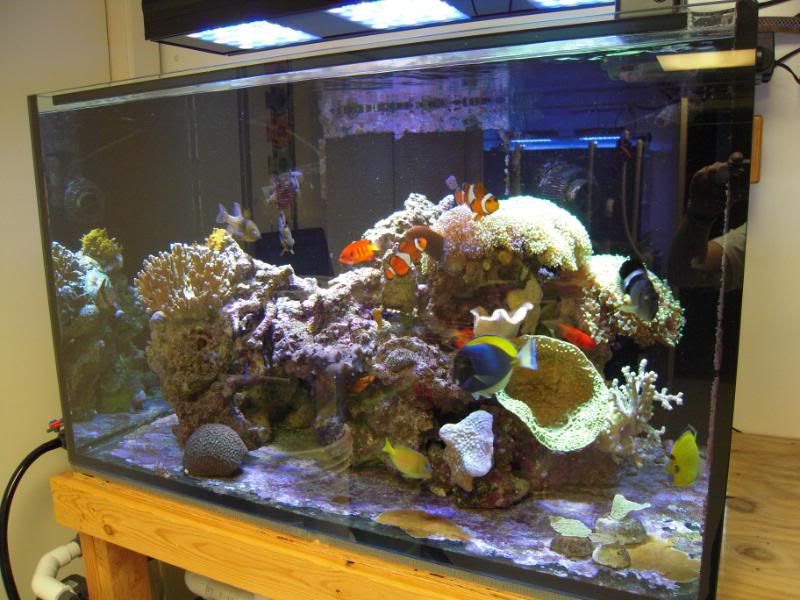 So these are my two Solaris fixtures. Overall, I like the visual appearance of the 20k light over the 14k but you can adjust the color temp and loose overall intensity. You can program gradual powering of the lights up & down for true sunrise & sunset, choose lunar cycles for moonlight. What I did not like was the 41 degree optics that the Solaris fixtures utilizes. It creates a narrow light path and the pyramid cast is abundantly obvious when you attempt to light a 24" deep tank. You can raise the light but it needs to be within reason. IMO, these fixtures are ideal for tanks that are 18" deep or less. The program for longest time of day/shortest time of day is kind of stupid. It constantly changes and you need to figure out the correct time offset if you want your lights to startup at say 11am.
As for growth, I see growth in some of my LPS corals & not in others. It's hard for me to make a comment on growth because these lights are utilized on a system that is mainly fish and corals as an after thought. Nutrients are high in this system which is probably a major factor on growth, so no real comment in the growth category.
So this is where it gets exciting. Oct 09 rolls around and I'm sure that most MR members heard about the Pacific Sun LED light modules being introduced into the US market through Aloha Tropics.
By this time, a few other LED fixtures have also surfaced such as the Thortek from Taiwan & the Eco-Lamps from Hong Kong. I was able to view these in person thanks to James from LIRA that imported the 2 fixtures into the US. The Eco-Lamp looked like a quality built fixture and I'm sure that they have their following such as Andrea Aust from Australia but at the end of the day, it is still not a programable unit.
I know that this is a personal liking & not everyone has the same wants or needs. If I am going to spend the money for LED technology, then I want the full scope of it's capabilities. To me having 100 or so watts of blue light come on prior to the white light is not a natural sunrise or sunset.
That basically leaves Aqua Illumination manufactured in the US or the Pacific Sun manufactured in Poland.
I was weary of 1 watt LEDs being able to produce light strong enough to penetrate 24" so I stood by the sidelines during the initial offering of the group buy on the Pacific Sun Lamps. What changed my mind before the group buy expired is when Wingo had attended a LIRA meeting and brought along a 90w Sunpod that he had produced using 1 watt LEDs. He held this above one of James 225g tank that had a 72" Solaris I4 series in the background and a 36" Thortek towards one side in the front. Everyone was looking at the difference of the 3 lights while I interestingly watched how his 1 watt LEDs lit up the bottom of the tank. I also thought about the nonuse of focal optics and how this would effect lighting up a 24" deep tank with a module that is only 8.5" from front to back. I also knew that the Aqua Illumination modules used 46 degree focal optics on their units so not much better then my Solaris units in terms of the light spread.
I ponied up my money and went in with the Pacific Sun group buy at $650 a module x 2. The modules came in late Nov 09
This should be the real conservation factor in energy use :idea:
They are replacing two 250w Metal Halides & two 110w VHO Actinics and maybe the use of my energy sucking 1/4 hp chiller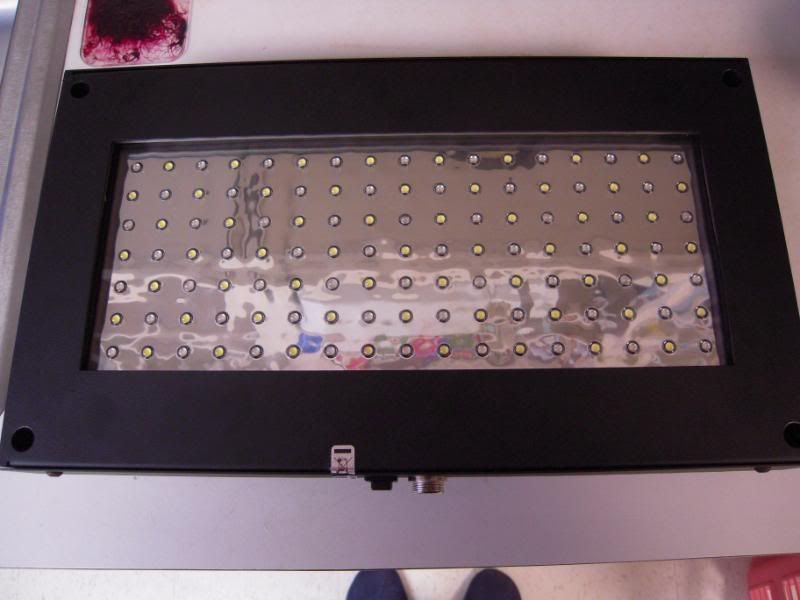 Each lamp module measures 14.5"Lx8.5"Wx2.5"H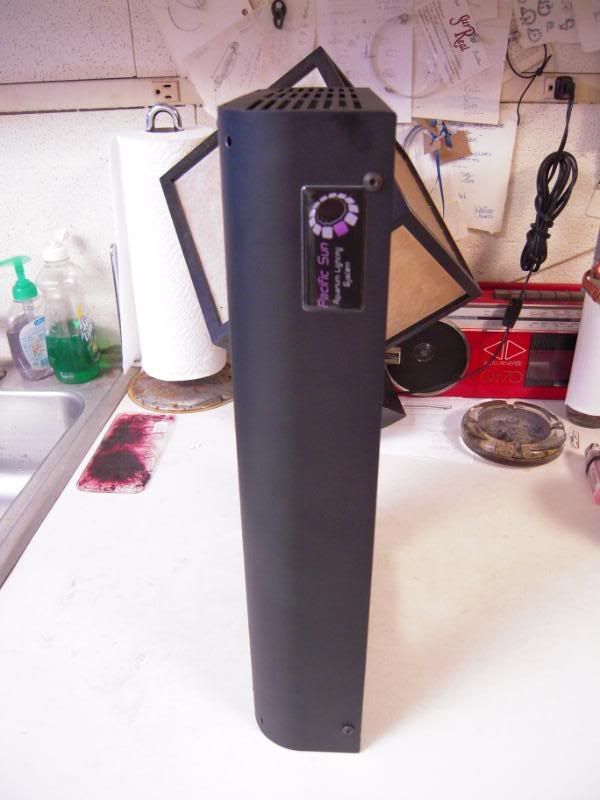 Electronic drivers/power supply with aluminum heatsink casing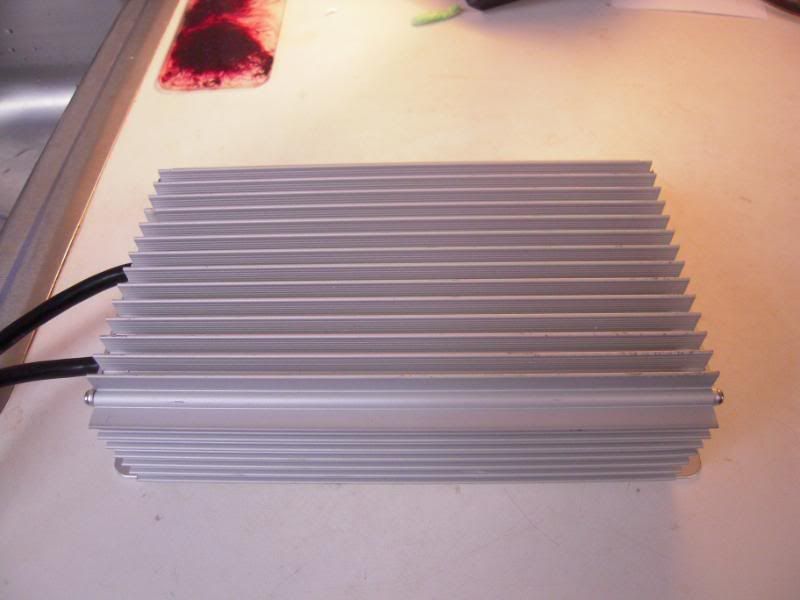 Driver measures 9"Lx5"Wx2.5"H, power cord is 5.5' & lamp connection cord is 8'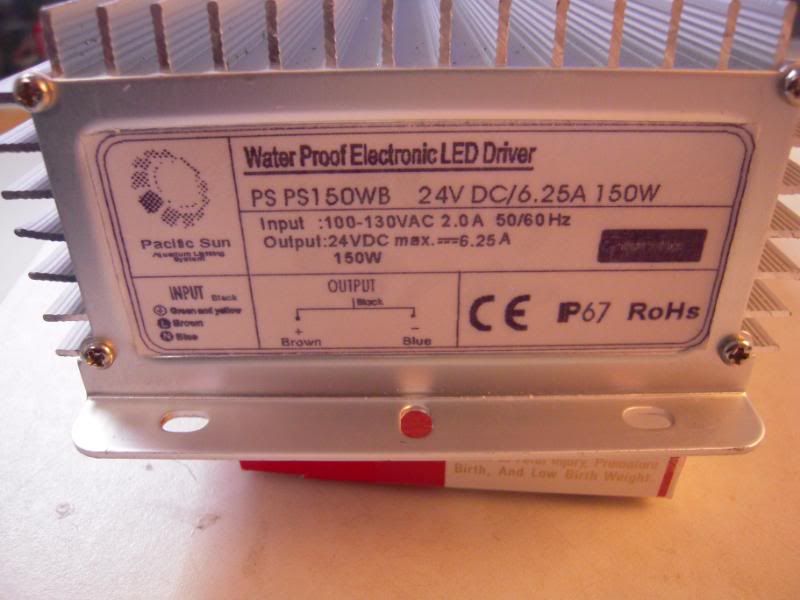 Lamps coincidently happen to fit perfectly in this aluminum light rack that cali_reef made for my Luminarc 3 mini stealth pendants, so basically plug-n-play for me. The Lamps come with hanging hardware that I did not need to fuss over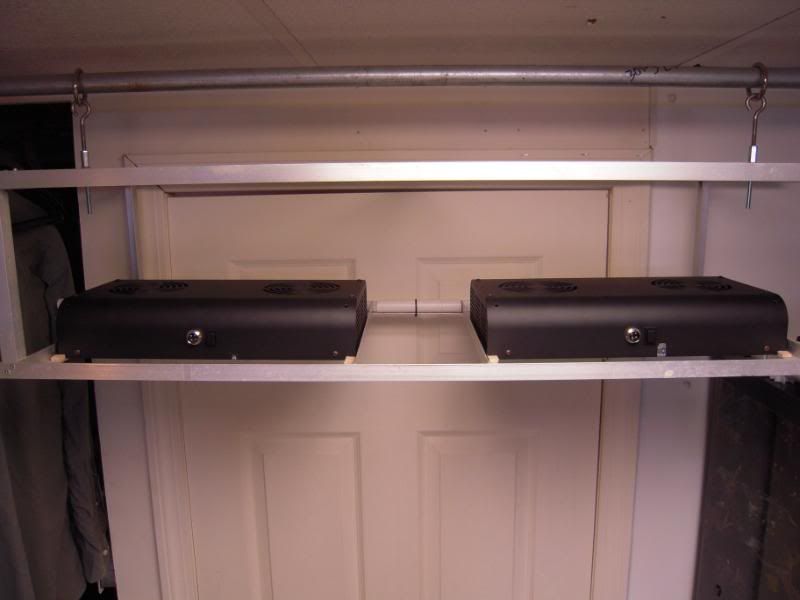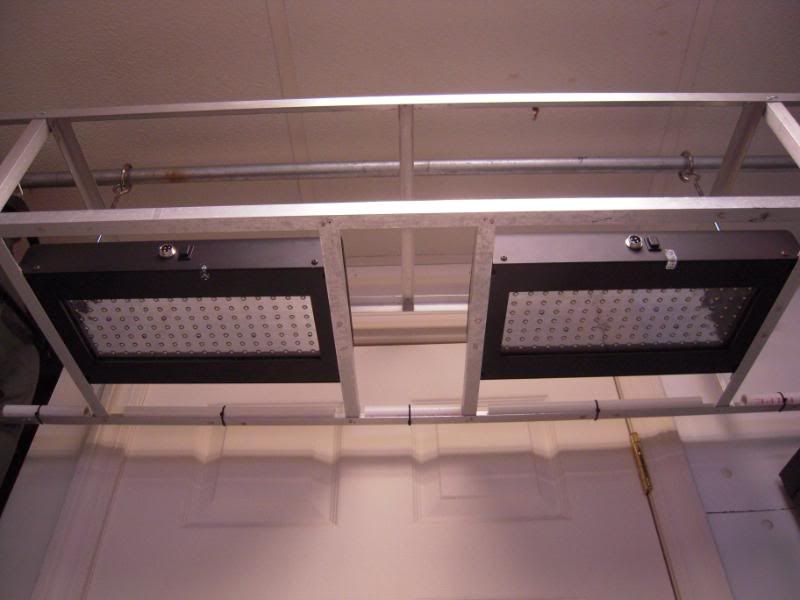 Drivers mounted out in the open to dissipate heat, wires tied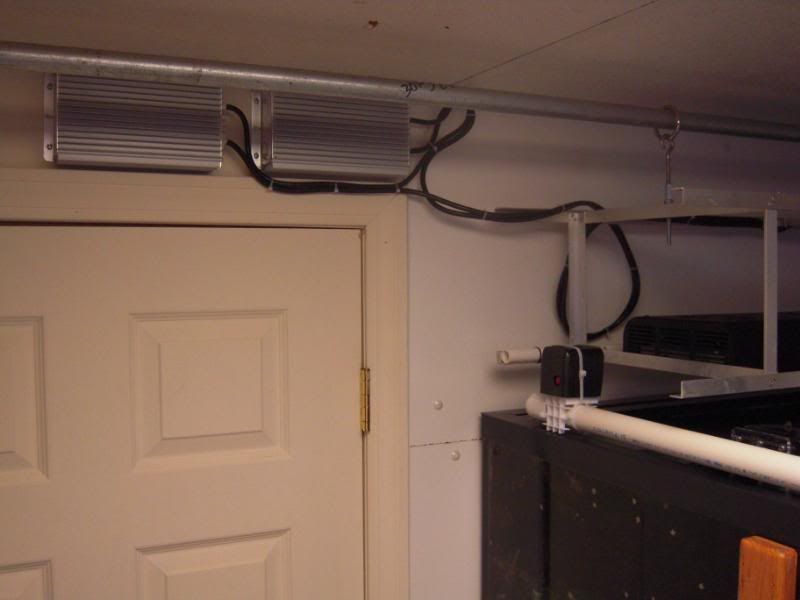 Modules over tank & wire slack checked for movement of light rack. Lamps are 4.75" above the water surface.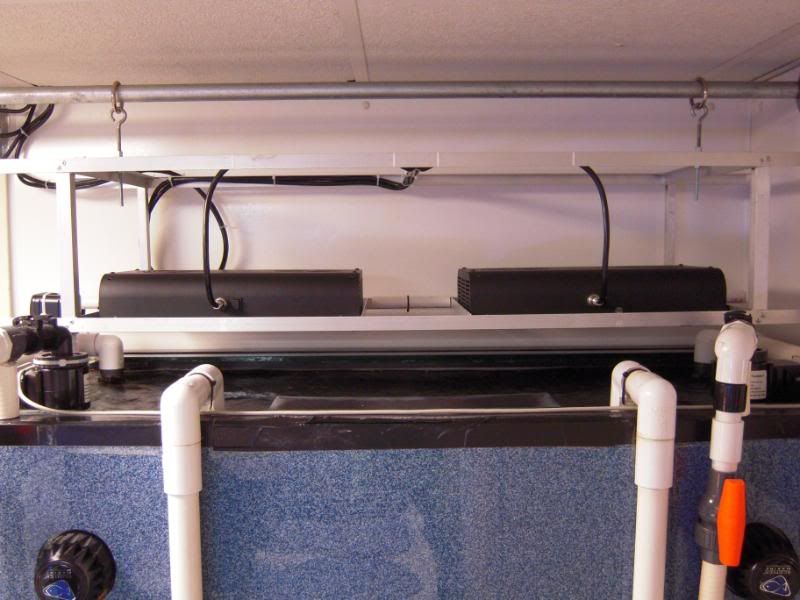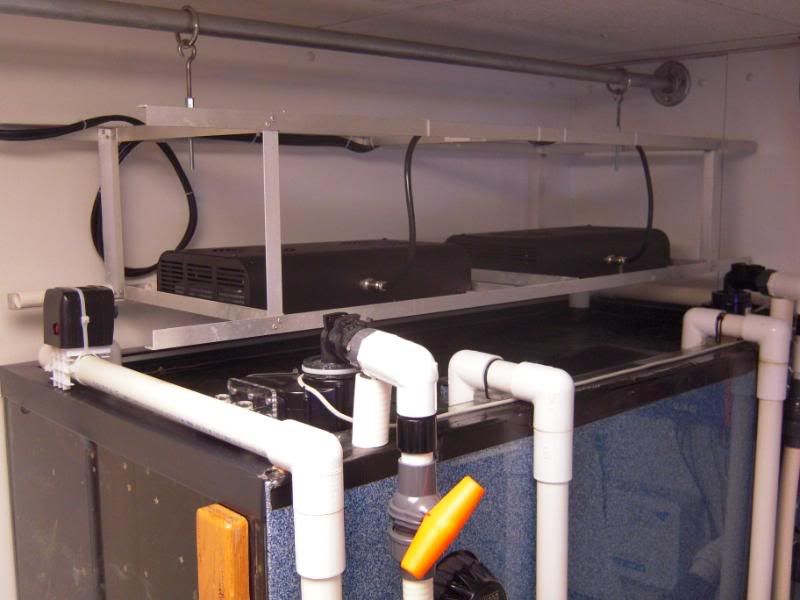 Now again, my photo taking sucks wind so be gentle. What I wanted to mention was that the tank appearance is slightly whiter then what the pictures look like. Prior to these LEDs, I had used Luminarc 3 mini stealth with Aqua Connect 250w 14k SE bulbs with Icecap electronic ballast. The comparason is that the Pacific Sun 16k modules are slightly bluer then the Aqua Connect 14ks which really isn't that blue compared to other 14k bulbs. About the same intensity as the AC14k. I took 5 weeks to acclimate these lights. Actually all my LED lights, I take about 4-5 weeks starting at 50% for 2 weeks then graduate up 15% per week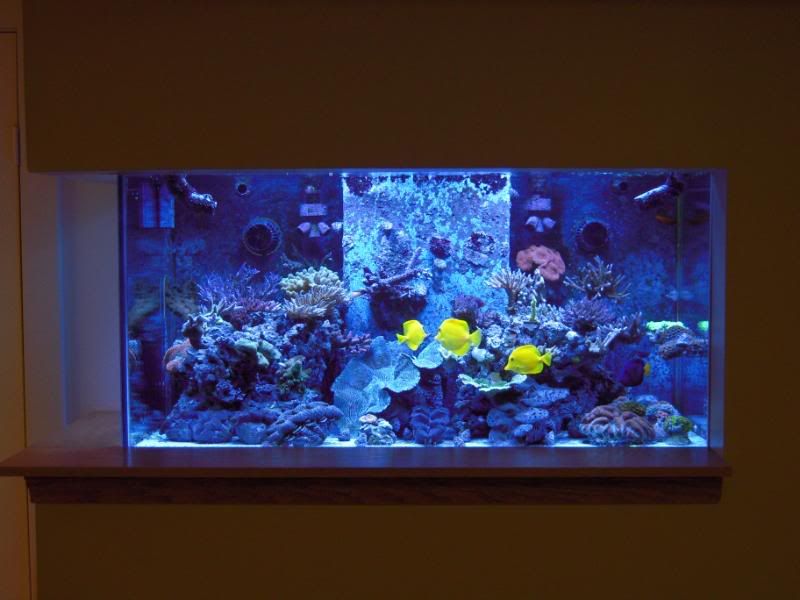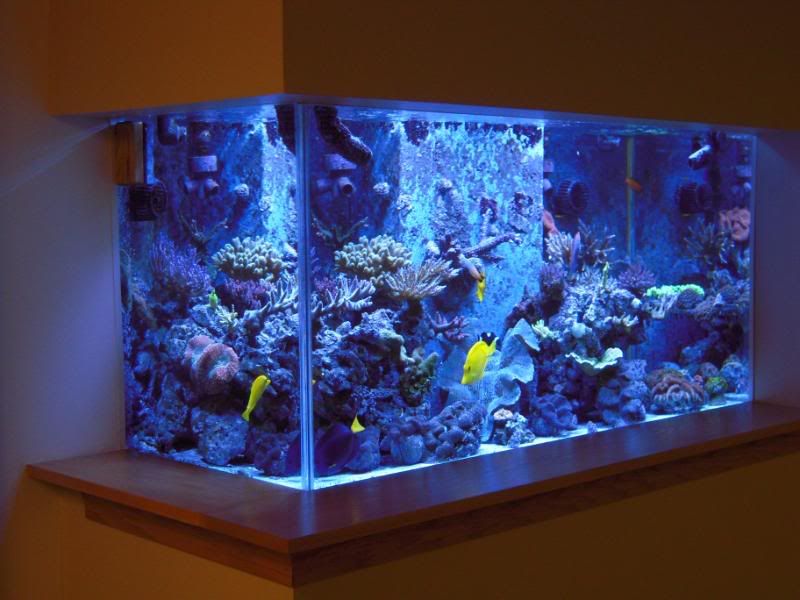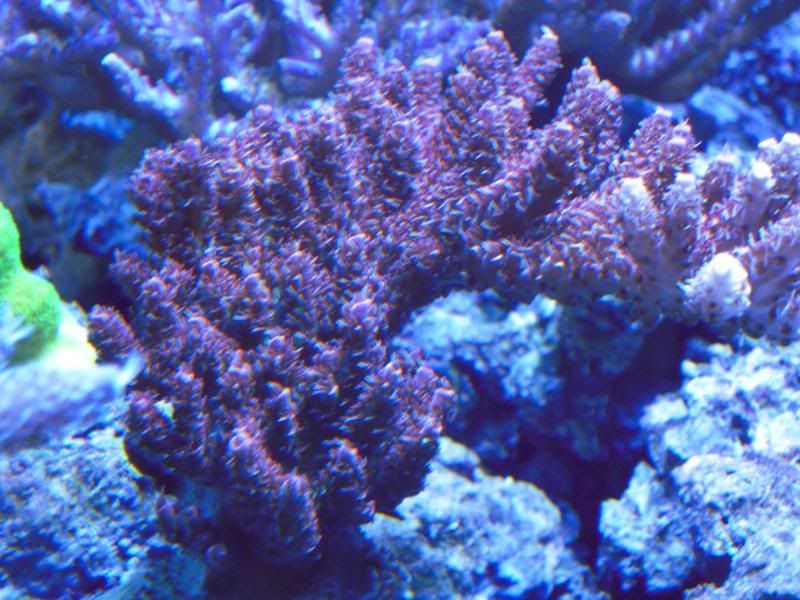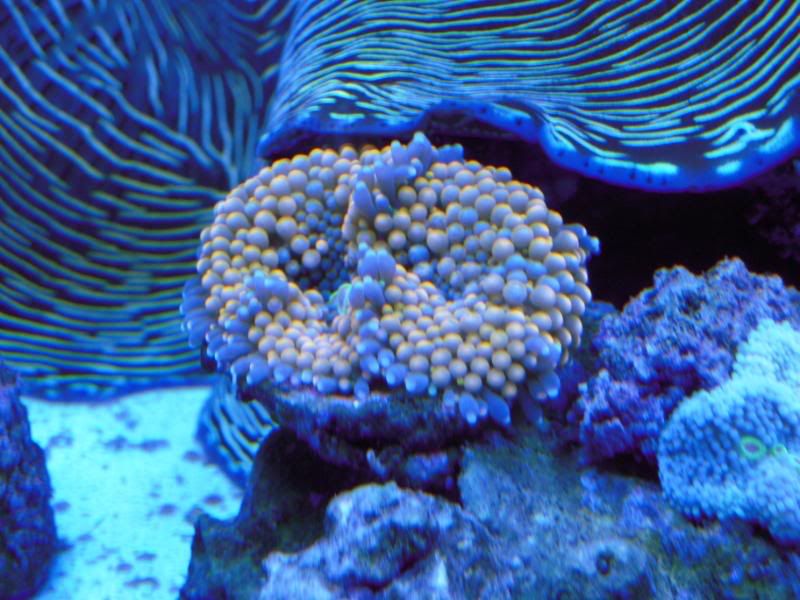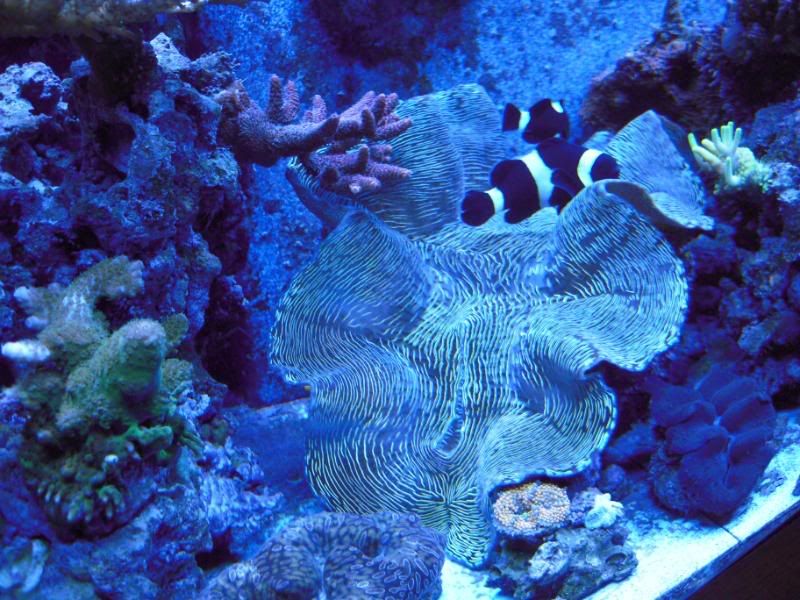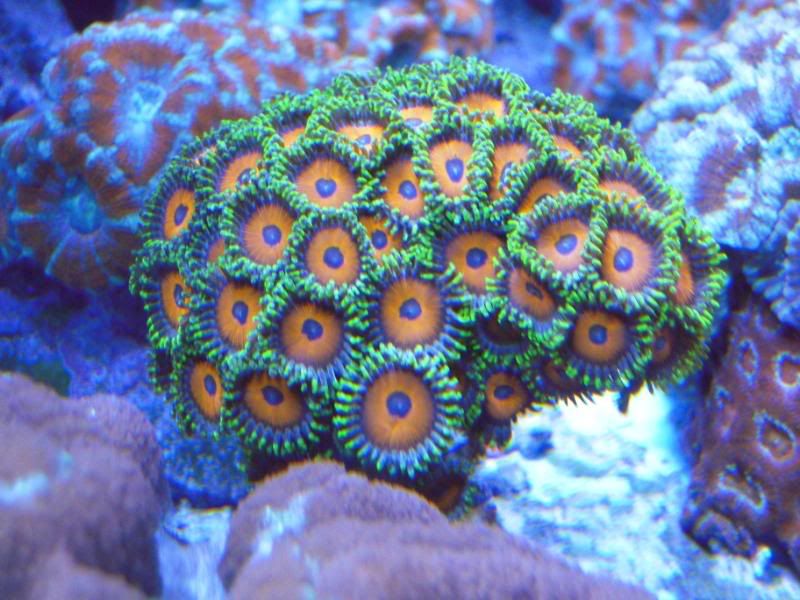 I'm quite happy with these LED lamps. I can graduate a sunrise/sunset for up to 60 minutes, choose a lunar cycle and control individual blue & whites for color temp and control the intensity for acclimation purposes. This is all done through PC software via a Bluetooth connection to the Lamp modules. There is a glitch with the PAR programming that I would use to simulate cloud cover for 15 minutes, 5x a day, but this will be fixed with an update.
I've been able to see definitive growth in this tank in the short 5 week period. Wow, 1 watt LEDs can grow SPS corals, who would've thought
If you wondered about the light spread with no focal optics. I can definitely tell you that without focal optics, it causes very good coverage for a 24" deep tank. In one of the pics, you can actually see how high the light spills out of the glass. I believe that these are about an 120 degree light spread. If the company asked for my opinion, I would actually like to see 80 degree focal optics to control the light spill.
Thumbs up for this product!
So did I say that I was addicted to LEDs? In Jan 2010, I decided to convert my 12g nano tank to LEDs :lol2:
This is a 12g Aqua Pod with a gutted canopy and two Ecoxotic Panorama LED strips installed. They put out a ton of light. One would have been enough but I didn't know that at the time. Probably one Panorama & two blue Stunner strips would have been a better choice.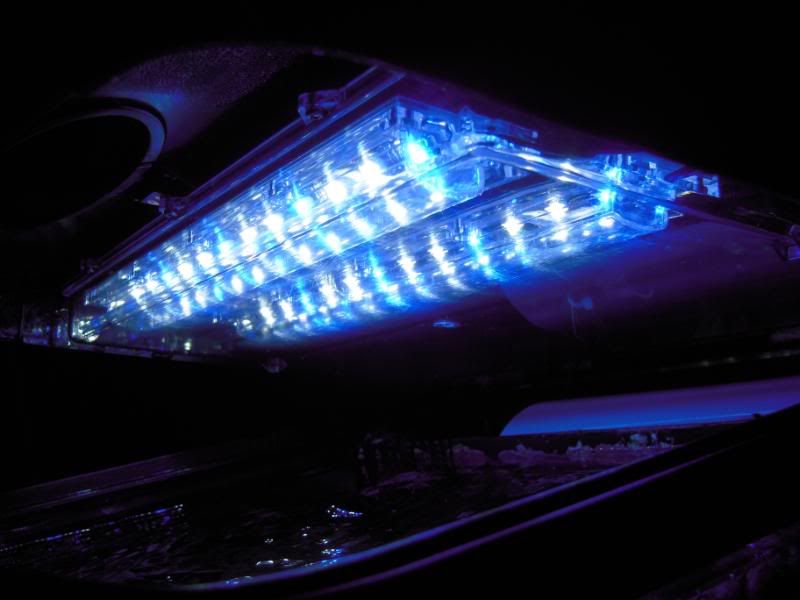 Can't see it in this pic but the shimmer is amazing. Much more then any of my real LED fixtures that cost thousands :lol: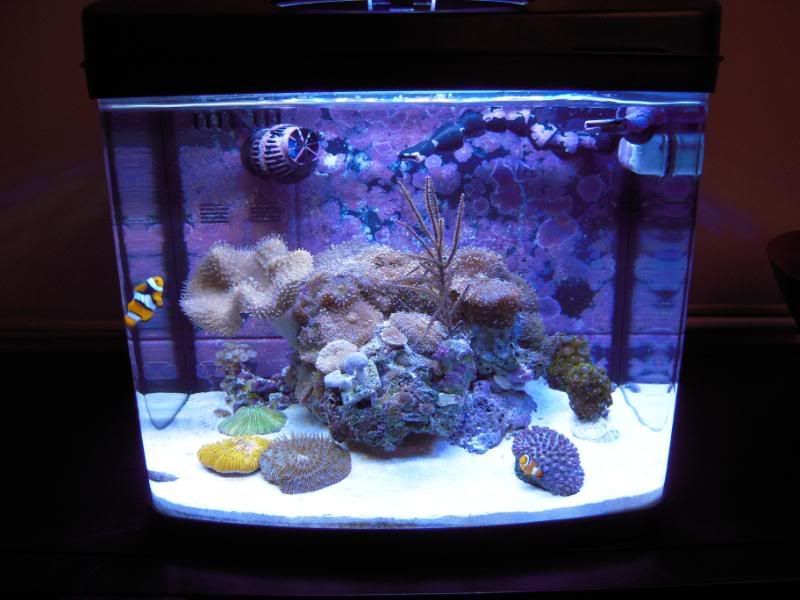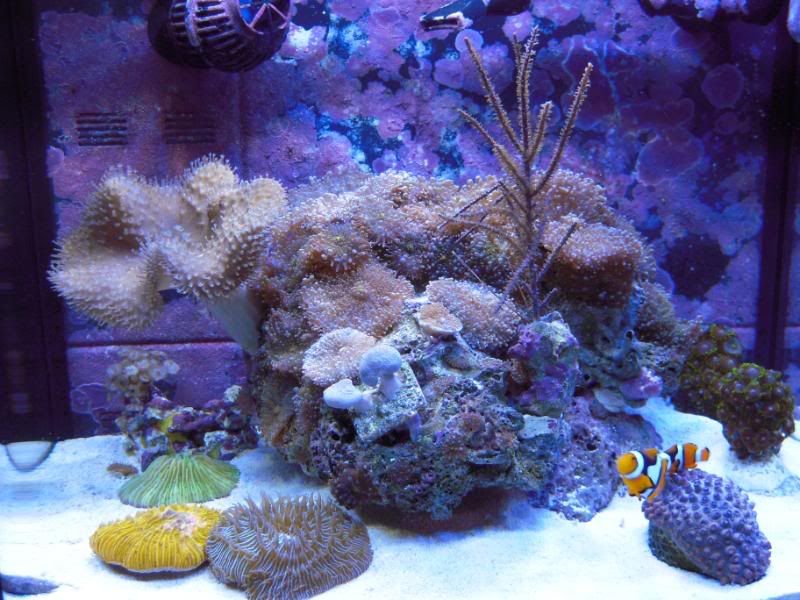 Well that's it folks, my LED experience
Last edited: