Well-known member
Manhattan Reefs
This morning about 6:00am it was still kind of dark and very foggy. I mean pea soup foggy but me not being a Snowflake decided to take my morning walk. I usually walk about three miles almost every morning just because my knees feel like they have broken glass in them and walking seems to make them feel a little better, until I stop of course. Then they feel worse but pain is good because it lets you know you are still on the right side of the grass.
I had one knee replaced but It feels worse so I keep asking my Doctor if he can find my old knee and put it back in.
So after I walked about 100 yards and passed over this dead snake I started down this long country road. The road is a mile and a half long and forest on both sides.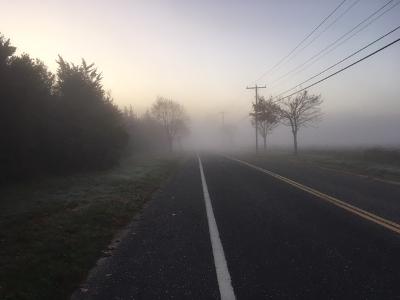 The fog was getting thicker and it was getting quieter. Not that it was noisy before but I could hear birds and the occasional wood chuck arguing with a rabbit.
Now the fog completely engulfed me and I could almost hear the voice of Rod Seirling. (Google him)
I couldn't see anything and now it was dead quiet. I could barely see my own feet but I could smell something that kept me going. It was the unmistakable smell of wet horse and I know there is a rescue horse ranch on this road. But something was "off".
As I walked I thought I could hear, very faintly the theme music from the "Twilight Zone".
I felt like I was walking through a time warp and wasn't sure what day it was. Heck, I couldn't even tell what year it was and I worried that when I emerged from this noxious atmosphere that I would be swept back in time to the 1940s and didn't know if I would come face to face with HITLER or Susan Sarandan, who smokes by the way.
The smell of wet horse got stronger and through the fog,I could see horses. They weren't pulling plows or sporting Swastikas which I figured was a good sign.
I could now see a glimpse of the sky half expecting to see a couple of Bi-planes sporting vintage machine guns but thankfully they didn't appear.
I made it to my turn around point and started heading home with the knowledge that all was well and I was still in my own time zone.
That was until I entered my house and my wife was churning butter wearing a corset and a hoop skirt