Finally, keeping jellyfish easily at home is actually possible! The team from Florida-based Jellyfish Art recently unveiled their 2 gallon Jellyfish Cylinder Nano on Kickstarter. You may have heard in just over 2 weeks, the product has over 1200 backers and has raised more than $300,0000.  I have been one of the  lucky people who have been  testing pre-production units for the past two months.  I can say that you should be excited about this tank, because it is pretty awesome. As my wife will attest, it is a jellyfish system that even first time aquarium consumers can maintain successfully.
Jellyfish Art's parent company Reef Aquaria Design are no strangers to the jellyfish business and have built and maintain some of the nicest commercial jellyfish tanks I've seen.  The company even operates it's own commercial jellyfish breeding facility to stock their aquariums and the thousands of people who will soon own a nano cylinder.
The Nano Cylinder has been extremely well designed and built.  They really have thought of everything to make almost any consumer keep the jellyfish thriving in the tank. The unit comes with all the accessories you need, so you just  have to add RO/DI water (includes LED, remote control,sponge filter, salt, air pump, pipette, activated charcoal, nitrifying bacteria starter, and hydrometer). My favorite feature is the cool jellyfish image that is projected through the top of the tank onto the ceiling (we've placed the tank in a spare room that will soon be turned into a nursery for baby daughter, the tank will make a great nightlight for her).
In the 2 months that this tank has been running, the jellyfish have nearly doubled in size to a diameter of about 3.5 inches. They are fed twice daily using the supplied food and measuring spoon. Weekly maintenance has taken about 10 minutes and consists of a 1/2 gallon water change, siphoning detritus, rinsing out the sponge and wiping off interior biofilm. The Chemi-pure Blue Nano pouch should be replaced monthly.
The company has produced a useful series of step-by-step instructional videos to guide consumers through the set up and maintenance.
[youtube https://www.youtube.com/watch?v=Rk8RwpIuq74&w=560&h=315]
The Kickstarter campaign ends on December 20th, so you still have time to order of these cool jellyfish tanks and be the first person in your neighbourhood with jellyfish at home.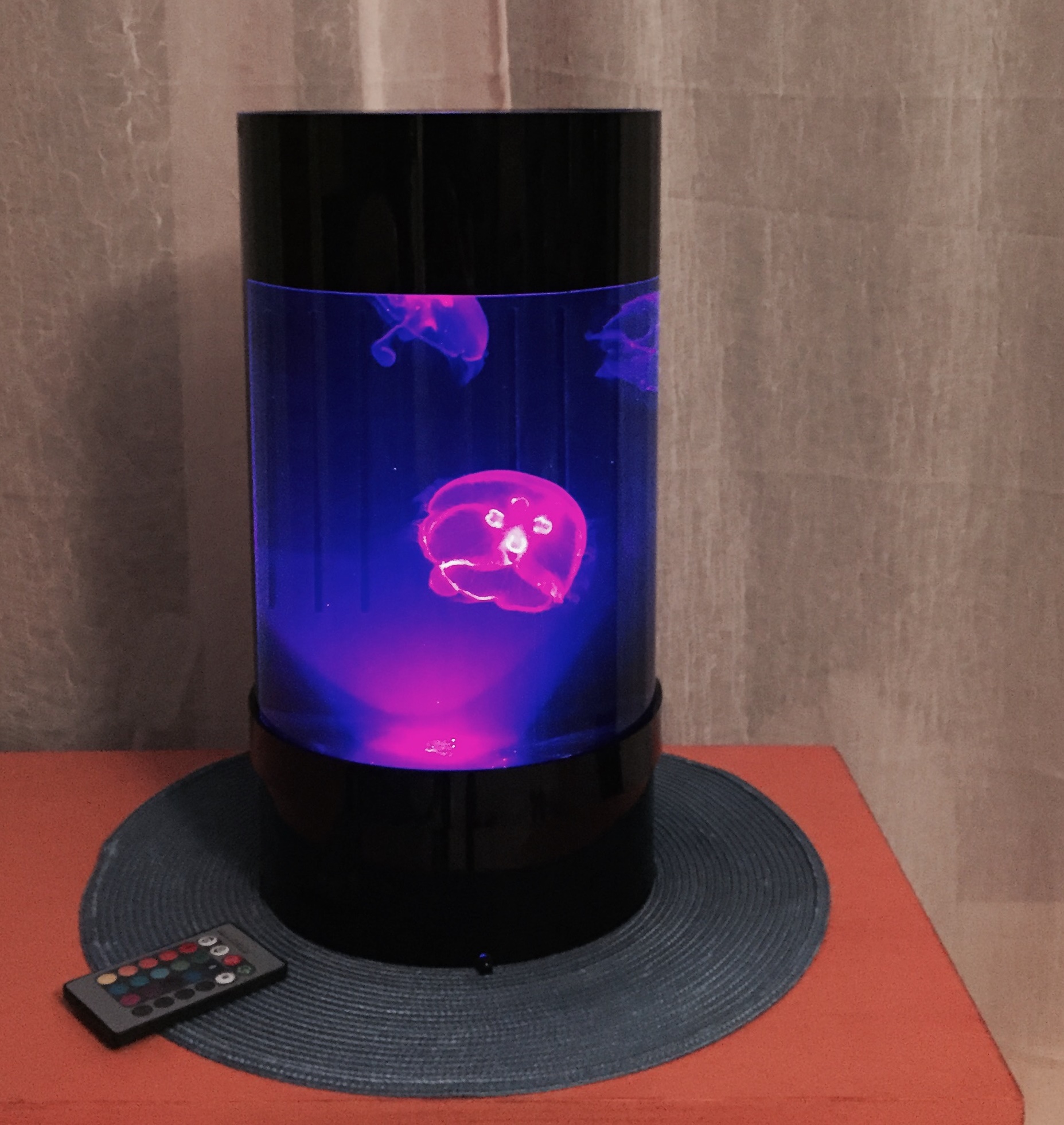 Product Features:
Live jellyfish shipped year-round from our certified breeding facility right to your doorstep
Special laminar water flow pattern not possible in regular fish tanks mimics the natural open water habitat of jellyfish
Integrated mechanical, chemical and biological filtration in an accessible, hidden compartment makes it simple to operate and keep clean
Driven by a whisper quiet air pump that oxygenates the water and introduces no heat, keeping the jellyfish comfortable at room temperature
LED changes the colors of the jellyfish with the click of a remote control button
Made from durable, crystal clear acrylic hand-molded by the same factory we've been working with for five years
Comes with all the accessories you need so you just add water: LED, remote control, sponge filter, salt, air pump, pipette, activated charcoal, nitrifying bacteria starter, and hydrometer