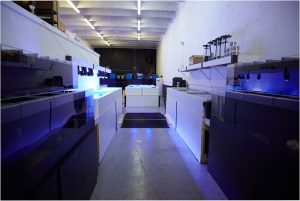 Down in Sunny Dania Beach, Florida, something quite refreshing is rumbling within the trade – a wholesale facility brought to us by Hydra Aquatics International and Tony's Vault that focuses on the wellbeing and health of livestock as opposed to simply turning a profit.  Many wholesalers have a tendency to do what could be considered "flipping" livestock – they get in an order of fish/corals and have it available for sale within days. This means many of the beautiful specimens you see at your local fish store were most likely halfway across the world just a few days ago, swimming (or slowly building a calcium carbonate skeleton) along, minding their own business.
They've then likely been bagged, boxed, air-freighted, un-boxed, un-bagged, acclimated for a day or two just to be bagged, boxed and air-freighted, then go through the unpacking and acclimation process all over again at your local retailer. Clearly this can be a stressful situation for the animals, resulting in a high rate of loss for both re-sellers and customers. Hydra and Tony's Vault, a division of Vargas Reef Enterprises, have been working in conjunction to offer a gentler option, holding livestock for a minimum of two weeks before releasing it for wholesale. The result? Hardier, happier, healthier fish and corals less prone to disease and parasites.
The whole operation will remain relatively small for the time being, a "boutique", if you will (sorry, ladies, no shoes), focusing on quality rather than quantity and turnover. This coming Saturday, January 17, 2015, Hydra Aquatics International will be launching their grand opening, where their facility will be open for tours to the public. While unfortunately you won't be able to make any purchases, you'll be able to get a peak at their sleek, streamlined systems (with state of the art filtration from companies like Bashsea) as well as ogle the gorgeous livestock from Bali, Australia, The Philippines, Fiji, Hawaii, Indonesia, Africa and other sustainable areas they'll be offering.
Hydra Aquatics / Tony's Vault Press release

Hydra Aquatics International & Tony's Vault is proud to announce the opening of a state of the art wholesale marine livestock company in Dania Beach, Florida.

Hydra started when 5 hobbyists who all met on group frag buys started discussing the state of the hobby and the industry in general. After discussing the merits of retail vs. wholesale they decided that being a wholesaler would make a bigger impact on the sustainability aspect of reef keeping.

Their initial attempts met with some frustration, but thanks to a lucky meeting with Tony Vargas they revamped their plans. Starting as a coral only wholesaler with 1200 gallons of water they brought Tony into the business and went to a 4200 gallons for coral and 5000 gallons for fish.

Unlike other wholesalers who, as is common in the business, generally "turn and burn" inventory Hydra/Tony's Vault prefer to condition fish and coral for a minimum of two weeks before releasing inventory for sale. Working with sustainable suppliers they intend to offer fish and coral that offer the best chance of survival in shipping and long-term in their final homes.

Hydra Aquatics International/Tony's Vault is located in Dania Beach, Florida and can be reached at [email protected] / www.hydraaquatics.com or 844-426-7257 (844 4CORALS)Hawaii
(All images courtesy of Hydra Aquatics International and Tony's Vault)