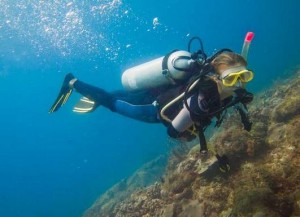 Caribbean Reef Buddy, a non-profit organization based on the island of Carriacou in the West Indies, has a slew of ongoing projects you can offer a helping hand to. Opportunities include reef monitoring, invasive-species (cough, lion fish, cough) monitoring & culling, and community outreach programs to raise awareness for conservation. Open to anyone over the age of eighteen, the programs are ideal opportunities to those who have a few weeks to spare, a passion for the ocean and marine species, a desire to travel, a positive attitude and the intention of helping our coral reefs. Check, check, check, check, and check. Looks like I'll be blogging from the Caribbean soon, where do I sign up? What can you expect? Well you can register via their volunteer registration page on their website. Simply express your interest, any diving experience you have, and your reasoning behind wanting to participate. As for what to expect? The following:
PADI dive training, including research and data collection dives once qualified.
Learn about the marine biology and ecology of our coral reefs and marine ecosystems.
Marine species and coral identification. Receive training in recognising, monitoring and recording important ecological and commercially exploited species.
Gain invaluable experience of working as part of a small, professional and highly dedicated marine conservation team.
Dependent on time and the progress of your dive training, you may also have the opportunity to assist our staff in other ongoing research, monitoring and conservation projects.
Finally, experience the magical island of Carriacou and immerse yourself in the local culture, their passion and infectious relaxed and happy nature.

Includes half board accommodation, PADI training and certification fees (exc. PADI Divemaster fees), all equipment use, and free boat dives.
Hotel accommodations are provided, but you're on your own for other travel expenses such as flights and visas. Sounds like a wonderful opportunity. I hope those of you in the position to do so will take part in the worthy cause. Hell, maybe I'll even bump into you there!