If you've ever seen a custom built fish tank that made your jaw drop to the floor, there's a good chance it was built by Reef Savvy. For the past few years, both at MACNA and other shows, I've admired the excellent craftsmanship and pure beauty of the aquariums built by Felix and his team at Reef Savvy. In a short amount of time, the company grew from a local fish tank builder to an internationally-recognizable name and a synonym for excellence in aquarium building. Felix and his team achieved this success by being extremely attentive to detail, but also by giving back to the hobby every year.  Our team here at reefs.com was delighted to award Reef Savvy with a "Best of Show" award for all they do in the reefkeeping hobby and their constant striving for excellence. It was my pleasure to talk to Felix about the philosophy behind their company, the meticulous manufacturing process that make the Reef Savvy unique, and the industry-leading ghost overflow they invented. Below is a transcript of our conversation:
Me: Hey Felix. Thanks for sacrificing these few minutes to talk to me…
Felix: You bet.
Me: We all know your aquariums are perfectly built and amazing to look at…
Felix: Thanks man, I really appreciate you saying that.
Me: I really wanted to ask you about a thing that makes them truly unique on the market- the ghost overflow you've invented and improved over the years; it's been a feature on your tanks. I know that since then, a lot of, let's say, knockoffs surfaced on the markets and I would like to learn what makes the ghost overflow unique, in your opinion?
Felix: [pointing at a unmounted 21" ghost overflow he has on display at the booth] The new 21" Reef Savvy Ghost Overflow is different from any other overflow on the market because of few different things. One is the way it is built- it has a tongue & groove design, all the pieces are interlocking like you would see woodworkers use when building cabinets. It is also the world's slimmest overflow inside and out. The inside is only 1-1/4", the outside is 2-3/4". The overflow is not staggered like you would see other manufacturers have theirs.
Me: What does it mean?
Felix: In the other overflows, the inside is much higher than the outside box and that creates a problem- because the outside box is lower, there's a significant water drop and those overflows tend to be noisy. What's even worse, because of the difference in water level between the tank and overflow box, the water level in the latter is always very high, almost to the rim of the box. That is, in my opinion, extremely dangerous. Our overflow uses a spacer to surpass the plastic trim on tanks that have it, which bumps up the overflow box enough to pass that trim, instead of risking the structural integrity.
Me: I see your gasket is not a standard looking one either…
Felix: Yes, we use a custom made gasket, you have much more area around the perimeter for a better seal. If you see here [showing the overflow weir] our overflow weir doesn't use magnets like others do, instead we use the same tongue & groove design I mentioned earlier. The result is, it comes off easily when lifted, but it will never come off on its own due to the interlocking nature of it. You don't need any special tool to take off the overflow weir.
We also take special care about sealing our overflows. The ghost overflow is triple sealed on the outside and the inside of the external box is treated with a liquid pour of two-part acrylic, which seals everything further. Everything is built around redundancy, all our components have more than one seal to ensure they never leak.
Me: You also mentioned before, when we were talking about your overflow, that you take special care about your fittings being done properly…
Felix: Yes, exactly. Our fittings are welded directly into place and that allows us to shrink the overflow box size to 2-3/4". Other manufacturers use molded fittings that are flimsy and not made to standard US pipe size. I've heard excuses that they cannot make the fittings standard because US PVC pipe manufacturers have a patent on pipe sizing, but I find that statement untrue. We made it very simple- we use US made Spears PVC fittings and US made Lucite acrylic to build our overflow boxes. The lids are made of 3/8" polycarbonate, that's why they are so heavy. In addition, our bulkheads are chamfered on the inside and, well it's hard for you to see here
[Felix starts to disassemble the two sides of the overflow to show me the next feature]
Me: Oh yeah, I can see that, that's neat…
Felix: Yes, so we countersink our bulkheads on both sides. Now what that does, combined with the custom gasket, is that we are able to use a short bulkhead on up to ¾" glass. What does it mean you ask? Well, with his design, there's enough space to fit standard size fittings without restricting the flow. It's a crucial part of the design that allowed us to shrink the size of the ghost overflow to 21" while keeping it completely silent.
Me: I see. You also told me the ghost overflow is a continuously evolving product…
Felix: Yes, this is the 4th generation ghost overflow. We invented the ghost overflow and came out with the first model in 2013. After that, we've had 4 different versions of it. Right now, the 21" ghost overflow is the absolutely best overflow that we ever built. It doesn't mean that the previous versions are inferior, we simply try to get it closer to perfection in every single model we build. I've spent a lot of time and money to redesign, redo and test every new prototype we came out with, but that being said, if tomorrow I figure out a better way of doing it, I will do it again.
Me: As you mentioned, you also listen to customer feedback when building your aquariums.
Felix: Absolutely. It's very important to me. For example, if I design, build and sell 300 of those overflows and 100 people get back to me and say "Hey, I love your overflow, but I wish THIS was done differently", I listen to that feedback and try to improve upon it. That's why the 4th generation of ghost overflow is designed by me, but it's also based on what people really want.
Me: I appreciate your honesty. Tell me, what size fittings does your overflow use?
Felix: Oh, that's actually a super important question. My overflow uses 1" fittings in the back for drain and it is 21" long. I can achieve more flow with a smaller fitting than the competition. Our overflow is conservatively rated at 2000 gph. My older, 18" overflow, I have had people running it with a Red Dragon Speedy 3 at 2800 gph and it was dead silent. Therefore, my new overflow can easily handle 2800 gph, but we intentionally lowered that rating because we realized not everyone will plumb their tanks the same. Another important thing, our overflow is threaded on the outside, so you don't have to glue anything to it. If you make a mistake, you can simply unthread it…
Me: [smiling]Or put it on a new tank when you decide to upgrade, and you will eventually…
Felix: Yeah, right [smiling].
Me: Ok, I think we talked in good detail about the overflow, why don't you explain the methodology behind your tank building practice…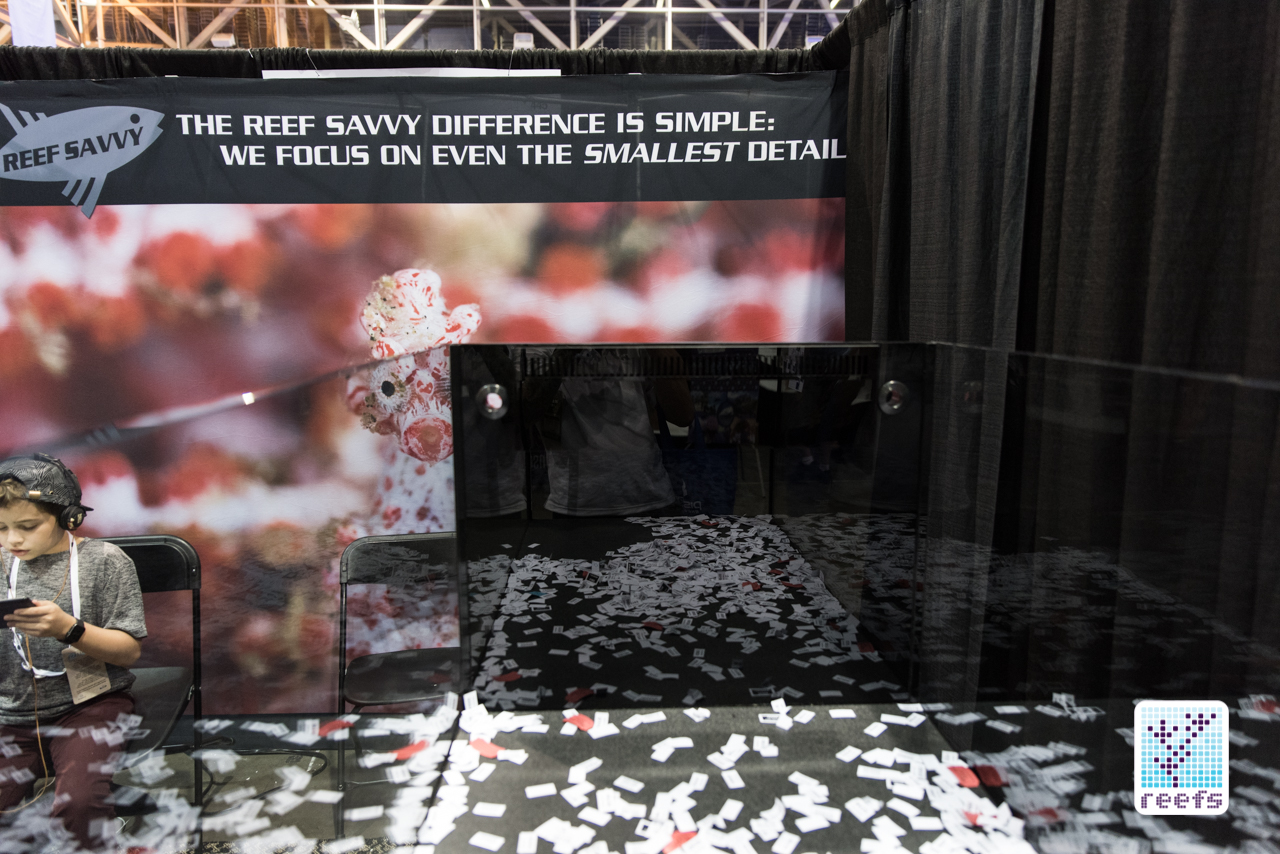 Felix: My pleasure [walking to the 150 g tank Reef Savvy donated to the raffle]. Our tanks are unique in every possible way. Eight years ago, when we started becoming popular, people started realizing we are not simply a local tank builder from Miami that builds tanks as nice as some Italian manufacturers make. Now, I am proud to say, the roles reversed, now those tanks are being compared to mine for quality. It's because our tanks constantly evolve, are all built in-house, and we take customers feedback very seriously.
There are several factors that make our tanks unique. Look [pointing at a seam between the front and side panels], our tanks use armored seams that cannot be broken with a scraper or a magnetic cleaner. Try to take a shot of that, let's see if you can get it (see result below)
Felix: Oh, yeah, you did get it! These are the armored seams I was talking about. Another thing, obviously, is the ghost overflow. I invented it, others tried to copy it. I take great pride in what mine has evolved to. There's also the craftsmanship- I cannot talk about it myself because I would feel bad…
Me: No, I hear you and I assure you, I've seen a lot of custom built tanks and none of them come close to yours…
Felix: Thank you man, really.
Me: [pointing at the bottom panel] And the bottom…
Felix: Yes, the phantom bottom. It's totally different from what everybody else does. It's kind of a hybrid bottom. This tank [again, pointing at the raffle tank] has three different layers on the bottom. Well, this particular one has four because it's a double phantom bottom. First layer on top is an ABS plastic. It is a high impact material, what it is doing is it protects the bottom from accidental drops and it also hides all the seams and sealants of layers below. The second layer is a glass sheet, to which the ABS plastic is laminated on. Then the second layer glass is laminated on a ¾" glass. Finally, under the ¾" glass, you have a layer of ¼" PVC. The PVC is there to protect he glass edges and it also acts as a barrier between the stand and the actual tank. So instead of putting the tank on a styrofoam, you can put it directly onto the stand. In larger tanks, you have had to put a thin layer of neoprene, but in this case you have ABS plastic, glass, thicker glass and PVC, therefore you end up with all the characteristics, the bonuses of each material and none of the cons of different methods. You shouldn't put a tank directly on the stand, because materials like wood or metal, they expand and contract at different ratios, depending on temperature and humidity. The glass bottom may break if any of the stand materials fail. I don't go to all this trouble of putting these layers just for the heck of it. I do it because the client really needs it. The fact that it ends up looking awesome is just a byproduct, the structural soundness and the functionality of the tank is what I aim for in the first place.
Me: What are you working at now?
Felix: I am currently building a show tank for a well known in the hobby company, out of glass! It's 10 feet long, 3 feet wide and it's rimless. I might be the only builder that's building a 10 foot rimless tank.
Me: That monster must weight a ton!
Felix: The front panel may weigh around 600 pounds!
Me: [Opening my mouth]
Felix: Listen- the way I do all that stuff with such attention to detail is simple. I am completely transparent. In the 11 years of building tanks for Reef Savvy and 20 years of building tanks in general, I have never had tank failure. That's for a reason- I want to sleep at night, I don't like worrying about stuff. My business depends on it.
Me: True that. Thanks Felix for this, it was really cool talking to you.
Felix: Same here, thank you!