We all know that when it comes to attention to details, there's nothing like German engineering and Vertex Aquaristik proved it by showing it's new piece of reefing equipment. The new Cerbera controller debuts in US at MACNA floor in Dallas and it surely turned heads. In terms of look and overall user experience, it's nothing like we've ever seen before. A Google Android's platform interface lays in a heart of the display module. A 5″touch screen with an HD display ratio looks amazing and after playing with it a little bit, I can honestly say it's as intuitive as your smartphone menu. The main display features a 32-bit processor (in oppose to 8-bit or less used in other controllers on the market, according to Vertex representative I spoke to) offers a fast, constant communication with other modules. Onboard ethernet port with web server allows for out-of the box internet connectivity and real time communication using a web based interface or&and via free Android and Apple Apps that will be available at the time of release. The Vertex Cerbera
Prima controller package consist of the main unit with display and within it:
-6 USB 2.0 connections ( all Vertex sensors, probes and peripherals use USB standard allowing for two way communication between them- for example a controller's processor can monitor the probe and automatically calibrate it when it sense the need for this)
-onboard LAN
-internal SD card slot
-USB temperature sensor
The Multi-bar unit consisting of:
-6 surge protected outlets
-2x pH ports
-1x Orp port
-1x PAR ports (meaning that we can expect an optional PAR meter to control light intensity)
-1x Cond port (for other peripherals)
-2x 0-10V variable voltage ports (for control of DIY LED units and variable speed pumps that use 0-10V signal, such as tunze Turbelle pumps)
-1x optical sensor port
-1x mechanical sensor port
Along with the main controller, Vertex will introduce a line of sensors and modules, allowing for wireless communication ( for example with Ecotech vortech pumps) using WLAN, bluetooth, GSM and USV protocols, monitoring and controlling of temperature, illumination, water level, pH, redox, TDS, conductivity, oxygen levels and even more…
Vertex based it's controller on modular design, which means it will communicate with the all new Illumina Lights, the Libra dosing pumps (pictured below) and other products yet to be released. According to the guy at the booth, thanks to Android platform, the software can be easily upgraded to include new features and devices when they come out.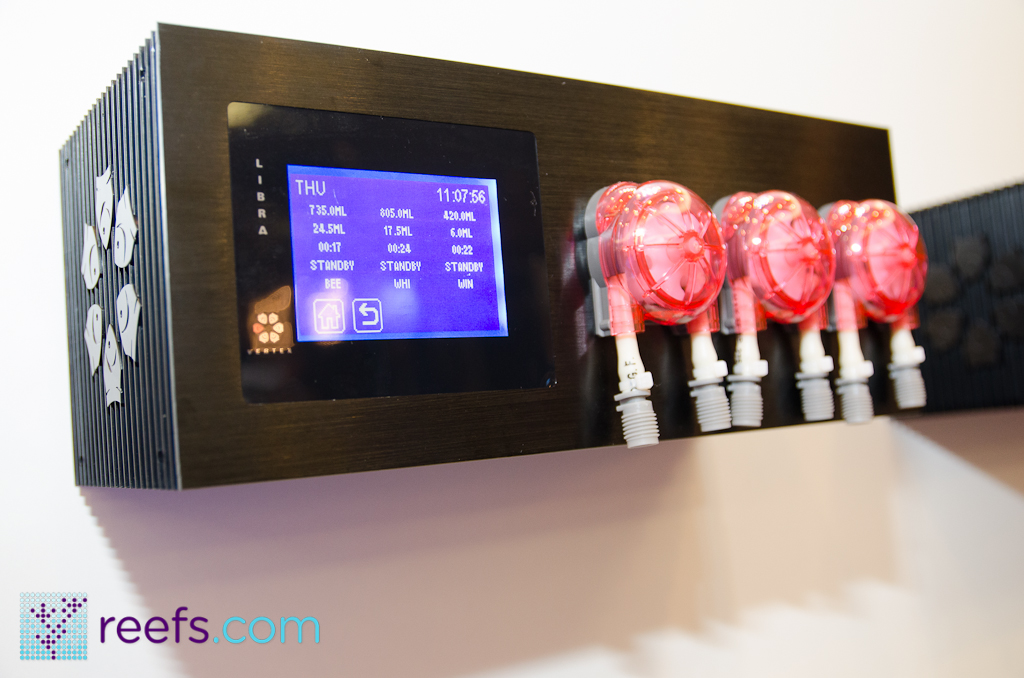 Vertex enters the aquarium controller's market with a punch offering sleek, great looking device packed with features. Price wise, I was positively surprised when Vertex representative told me the Prima unit is going to cost around $500-$600 retail. It is planned to hit American market during the holiday season and we'll keep you posted when we know more about it.