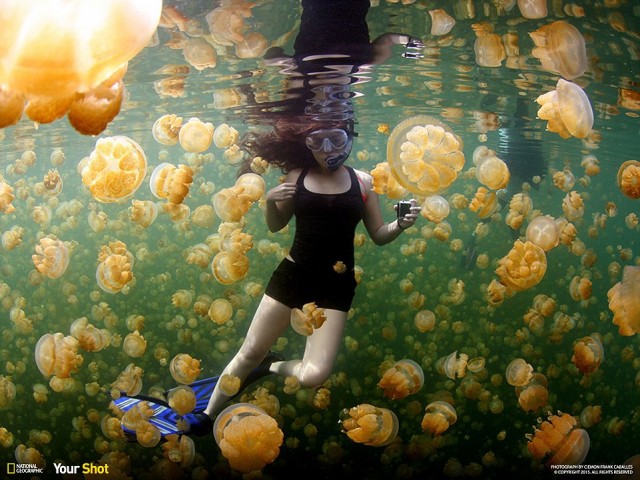 National Geographic Magazine has just released its "Photo of the Day" roundup for 2015.  The stunning images were captured by the magazine's "Your Shot" online photo community and by staff photographers, and showcase the beauty and splendor of our natural world.  The picture above is particularly captivating; it was taken by Ciemon Frank Caballes at Jellyfish Lake – a marine lake located in Eil Malk, which is part of Palau's famous Rock Islands , a UNESCO World Heritage Site in the Western Pacific.
The lake is home to rare golden jellyfish which are harmless to humans and spend much of their lives following the sun as it makes its daily progress across the sky. These jellyfish populated marine basins thousands of years ago through rock fissures and gradually became isolated in an environment devoid of predators. In the absence of predators, these jellyfish evolved into having substantially less stinging cells.

Jeff Hester captured the moment above at Cabo Pulmo, a Marine Protected Area off Mexico's Baja California peninsula, showing his wife swimming underneath a huge shoal of fish.  The fish biomass in this reserve has bounced back and the ecosystem is returning to a healthy state.
For more information about "Your Shot", and to see all the photographs from 2015, visit the National Geographic Magazine website, here.