All images by author
Nano tanks established their position in hobbyists' homes some time ago, though they were considered difficult to maintain, due to their small size and, in turn, narrow margin for aquarist error. Technology caught up quickly, and new nano tank-oriented equipment seems to come out monthly now. Compact LED lights, tiny skimmers and filters, and many other devices are available for a fraction of what they once cost.
At the center of this new fad is the fish tank itself. This component has been experimented with the most by manufacturers- we've seen tanks of different shapes and forms, including models that grow immersed plants on their covers, all-in-one type aquariums, and many more. Call me old fashioned, but I still get nostalgic for traditional, cuboid-shaped glass aquariums; just five glass panels glued together with silicone, handcrafted with attention to the finest detail. The shape's simplicity and harmony make a rimless (or frameless, as they are also called) aquarium the most elegant way to display an underwater garden or a reef environment.  
The product I present to you today is just that- a rimless cube aquarium, made with high-clarity, low-iron glass; manufactured by California-based company Aquatop.
Aquatop is a fairly new player in the aquarium industry, but their product line is already quite impressive. They have a line of LED fixtures (including a nano light that we will be reviewing soon), canister filters, pumps, heaters, and many more aquarium-specific devices, including their new rimless, low-iron glass aquarium line. There are 10 different tank models available, and I will be reviewing the 7.13 gallon cube, model HCC12. Let's look at the tank specsheet:
-dimensions: 11.81″ x 11.81″ x 11.81″
-volume: 7.13 gallons
-made out of 5mm thick (3/16″) low iron, high clarity glass
-glass panels glued together with transparent, German-made silicone
– beveled and hand polished edges on all glass panels
UNPACKING & FIRST IMPRESSION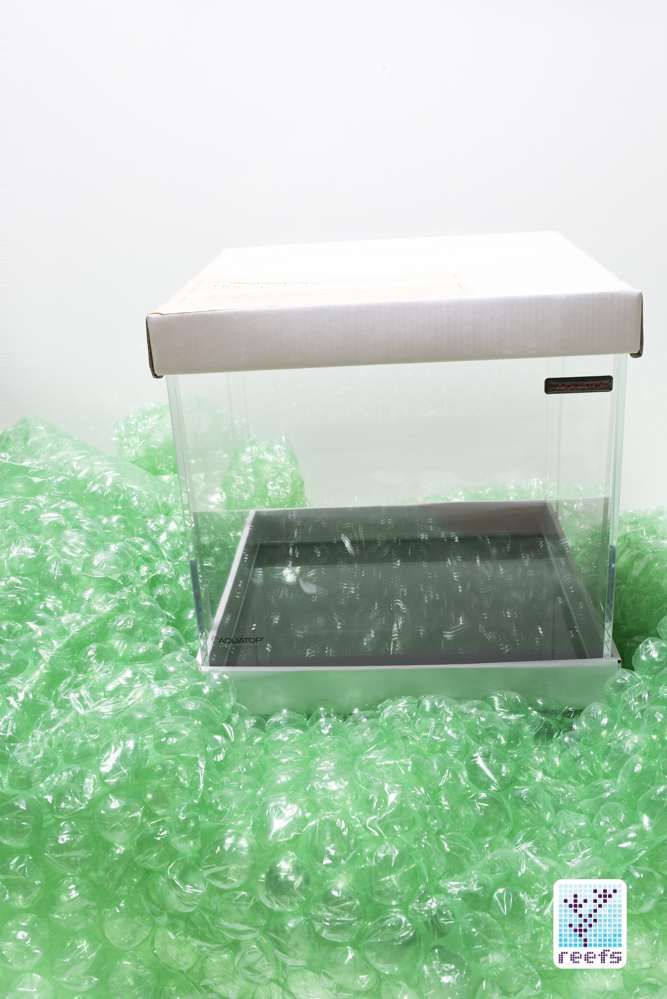 The tank came in a cardboard box, methodically wrapped in a bubble foil – just like a glass aquarium should be packaged. Unsurprisingly, the glass was intact, so I dealt with all the bubbly mess on my floor, sat the tank on a dining table, and looked at it up close.
A rimless aquarium is hard to describe in words, so I prepared a gallery of pictures to accurately represent the product.
The little glass cube from Aquatop is very well made- the silicone job is excellent, and panels are all flush and level with one another. The low-iron glass makes a significant visual difference, and every edge is beautifully beveled and honed. It's worth mentioning that the manufacturer ships the tank with an extra foam pad on the bottom, cut to size, which you can use as padding for uneven surfaces.
LEAK TEST
What good is an aquarium if it doesn't hold water, right? Sure enough, Aquatop HCC12 holds water just fine and passed the overnight leak test.
VERDICT

The Aquatop HCC12, a rimless, low-iron glass nano tank, is an excellent choice for a desktop aquarium that pleases the eye. With its minimalist approach and excellent build, there's little to complain about and a lot to like. The only slight eyesore is a rather large (for the size of the tank) Aquatop logo on the front panel, fortunately it is glued by a double side tape; you can give it a razor treatment and enjoy a distraction-free view of the underwater world inside.
The reviewed tank retails for about $90.
USEFUL LINKS
GALLERY