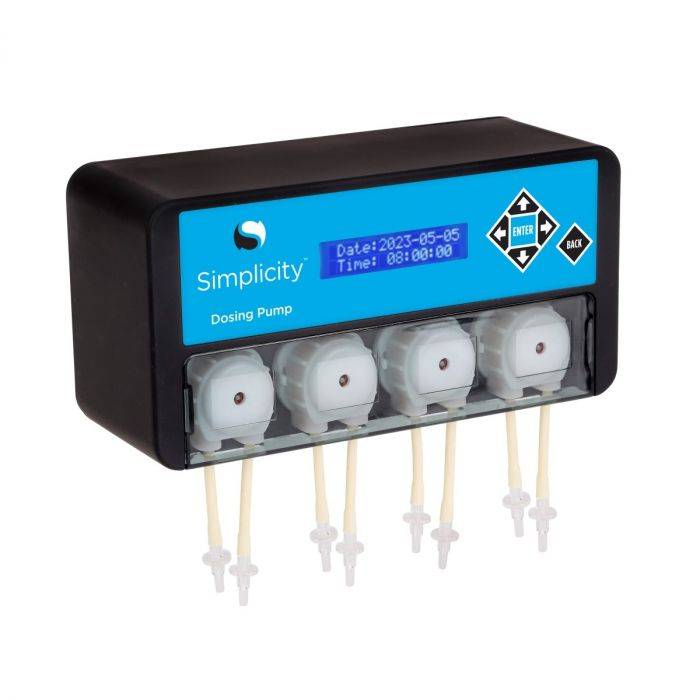 Maintaining water chemistry is an important part of the reef keeping hobby.  With the cost of shipping salts increasing, dosing trace elements and other supplements has become another path to success.  Dosing can be simplified with automatic dosers, and there are many options available on the market today.
First of all, I would like to thank Simplicity Aquatics for providing me with their latest dosing solution for review.  The Simplicity Aquatics 4-Head Dosing Pump has a nice formfactor that is designed for better operability.  Most dosing solutions that include a built in controller has the control panel on top but with the nicer cabinets available these days, the operator needs access from the front. This doser can sit on a shallow shelf or be mounted on the back wall with the included template and screws. To coincide with the vendors brand name it is very simple to program and operate.
Additional items you will need: (Below are some Simplicity Aquatics offerings.)
4mm ID x 6mm OD Silicone Tubing (Colored or Carefully Labeled)
The instructions are well written and can be summarized in a few easy steps:
Mount the Doser to its permanent location. (Tip – Minimize the distance between sump and dosing containers but it should be higher than both input/output containers)
Carefully assemble and label the tubing, check the valves, and mount/route the tubing to avoid kinks
Set up the date and time on the controller
Prime each pump line with RO water
Calibrate each pump (Tip – record the values to keep track of tube wear before the pump heads need to be replaced)
Empty RO water and prime lines with desired fluid
Program the doser schedule for each fluid per the included instructions
Specifications:
7.9" L x 3.0" W x 4.0" H
Power Consumption: 7.5W
Power Input: 12V DC
Power Cord Length: 5 ft
3-year manufacturer prorated warranty
Pump Specifications:
Control Interval: From once per hour to once every 30 days
Flow Rate: 50 mL per minute
Maximum Head Pressure: 5 ft
Accuracy: +/- 0.1 mL per 10 mL
Dosing Volume: from 1 mL up to 9999 mL
What's in the Box?
Simplicity 4-Head Dosing Pump
Power Supply
Pump Head Labels
Measuring Cup
Check Valves (5x)
Mounting Screws (2x)
Spare Pump Head
Mounting Template (Caution: Make sure you don't accidentally throw this away while unpacking.)
Final Observations
This product meets the fit, form, and function criteria of what it is advertised to have. As I mentioned, the main feature that stuck out in my mind was the form factor and being able to control it from the front and not from the top.  The controls do not seem to be that different from other stand-alone dosing devices in this price range but that's OK since it just works.  The instructions were clear and concise to me. Really, once you understand how to scroll through the menu you can figure it out too.
As with most peristaltic dosers, the life of the dose head will be based on utilization. I really appreciate it coming with a spare since most in this price range do not and I would have to search the internet for something similar to keep the unit working long-term. The short term workaround for the dosing head wear is to perform the calibration on the recommended interval and ensure that the tubes are clear and not clogged with crystallized forms of the solution you are dosing.
I will have to run this longer term to truly understand the life of the device and what symptoms to watch out for based on usage.