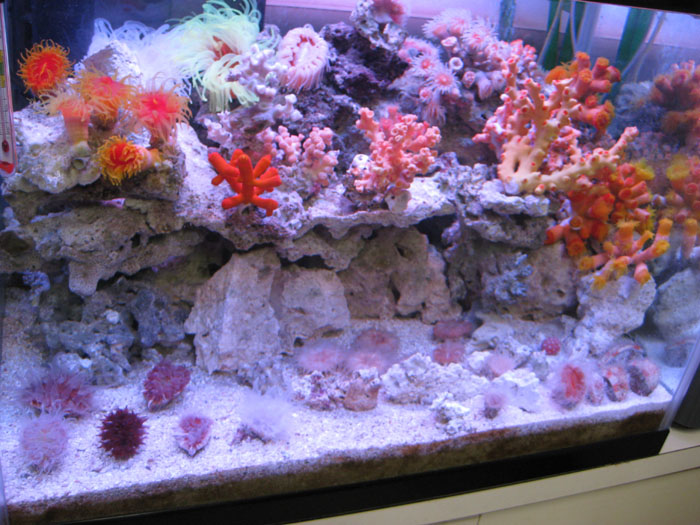 The selection of non-photosynthetic stony corals at your average fish store is not typically a very diverse lot. You may find a species or two of Tubastraea; if you're lucky, you may spy a Dendrophyllia or Rhizopsammia. And if that shop really brings in the rare stuff, you may catch a glimpse of a Rhizotrochus typus or Petrophyllia rediviva. But beyond that, there is not much else. 
The species to be discussed in this article exist in captivity only in Japan (as far as we know), apparently collected as bycatch from commercial fishing trawls. Japanese aquarists have a particular zeal when it comes to keeping unusual azooxanthellate corals, and often they are able to acquire specimens that are unheard of amongst European and American aquarists. Identifying what these are, it should go without saying, can be quite a challenge.
Cyathelia axillaris
This coral is the only member of its genus, and its classification is highly uncertain at the moment. It was traditionally placed in the family Oculinidae, but recent molecular study indicates it occupies an isolated lineage far removed from this classification. It appears to be sister to an obscure, solitary, deepwater coral—Trochocyathus—and both are sister to Plesiastrea versipora, a relatively uncommon species in the aquarium trade often lumped under the generic term "brain coral". These are in turn closely related to Euphyllia. What these corals share in common is beyond me, but it likely revolves around some nuance of how the skeleton biomineralizes, rather than any visibly obvious character.

The polyps are rather large (up to 11mm) and somewhat ovular, with an unusual papillated columella in the center, which is somewhat visible in the living coral. Coloration is mostly white, though the polyps can be brown and occasionally have green fluorescence.

Cyathelia, judging from the few in situ photographs I could find, seems to prefer growing on rocky reefs. Dr. Stephen Cairns, an authority on the group, reports it as being eurythermic (i.e. capable of tolerating a wide range of temperatures) and occurring in tropical waters throughout the Indo-Pacific. It apparently occurs more shallowly in Japanese waters, ranging from 15-366 meters. Depths recorded in the Indian Ocean range from 161-1590 meters!
Stephanocyathus spiniger
This gets my vote for strangest aquarium coral. The unusual lateral extensions of the skeleton are obviously adaptations for anchoring this animal into soft sediments, likely in areas with moderate water flow. Several other corals have independently evolved similar structures and could potentially be confused with Stephanocyathus. Caryophyllia spinigera has an analogous skeleton, but it lacks the enlarged septa which give this coral its crown-like look (and its name, from the Greek "stephanos", meaning crown).

Stephanocyathus has traditionally been classified in the large and diverse family Caryophyllidae, comprised of numerous genera of deepsea azooxanthellate corals, most of which never make their way into aquaria. However, this family is now known to be an artificial assemblage, with many distinct lineages that will eventually be elevated as new families. It appears, though, that Stephanocyathus is truly related to Caryophyllia and will stay in a smaller version of this family.

The maximum recorded size (not counting the lateral extensions) is 47mm across and 26mm in height. In Japan, it is reported from depths below 100m, and in the Philippines it has been documented from 120-695m. Japanese aquarists report this species as being relatively undemanding, with specimens having been successfully kept for over a year with twice weekly feedings and a temperature below 65℉.