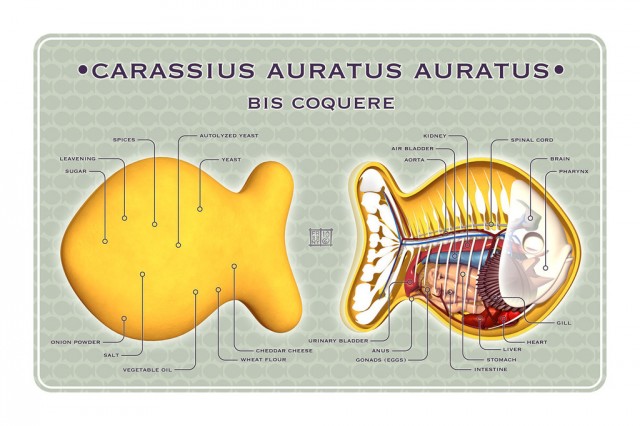 An anatomy and a baking lesson for your young (or young-at-heart) cracker-loving scientist. Artist Jason Freeny, known for his scientifically accurate prints and models of popular snacks and toys, has just unveiled his latest creation: "Goldfish Dissected Print". The ultracrome print, available in 19″x13″ and 22″x17″, displays the ingredients of the beloved cracker on the left and an accurate anatomical diagram of the "common" goldfish (Carassius auratus auratus) on the right. What a fun, delicious way to learn!
Jason Freeny was born in Silver Spring, Maryland, Just outside Washington DC. His early childhood was spent surrounded by his two sisters and hippie parents, his mother a Go-go dancer costume designer and his father a professor of painting and sculpture at the University of Maryland. He was inspired by Pop, modern and surrealist art as well as Saturday morning cartoons.
After spending most of the 90's traveling the globe as a muralist and theatrical designer, Jason joined MTV's Special Events department in 1997 as a freelance designer. While there, Jason designed and created stage sets, props, and custom artwork for MTV Networks live events, including the custom trophies created for MTV's "Rock-n-Jock" series and "TRL Awards".
Jason was the Designer, Art Director, and Typographer for the poster series "Anatomy", which was awarded the Grand Prix (Outdoor) and Gold Medal (Print Work) at the 2009 Dubai Lynx International Advertising Festival and was named "Break Through Artist" of 2011 by Clutter Magazine.
The visual style of his work is certainly unique, influenced by artists such as Robert Williams, MC Escher, Claes Oldenburg, and Andy Warhol.