Valentine's Day is great, but, as any parent of a preschooler will tell you, it can come with a frighteningly large number of hearts – paper hearts, painted hearts, sticker hearts… Get crafty this weekend (and get a second use out of what would otherwise be trash) with some imaginative ways to re-use that heart-shaped bounty. Let these images inspire you to snip, glue, and doodle your way to a set of fun holiday decorations!
The fish craft pictured here is from Tammy Dube at Housing a Forest; I like the heart-shaped scales and the fringed fins. And a cheerful, slightly silly greeting written on the back would turn the craft into an adorable card.
Might I suggest:  "Will you oFISHally be my Valentine?", "You're the perfect catch", or "Of all the fish in the sea, I'm glad you're friends with me".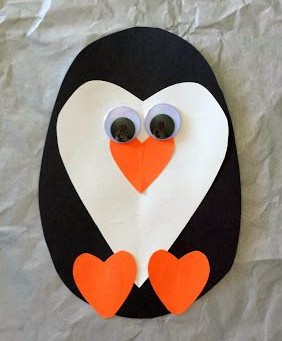 This cute penguin from Crafty Morning seems especially appropriate for the holiday, as penguins are known for their strong family bonds.
Some fun penguin facts:
When penguins find mates they sing to each other, and learn to recognize each other's voices.
Most species stay together for long periods of time and raise their chicks together.
The mother and the father penguin take turns sitting on the egg, while the other goes out to look for food. The egg takes about a month to hatch, and the baby penguin stays in its nest (and kept warm by its parents) for another month or so.
The largest species is the Emperor Penguin; adults are about 3 1/2 feet tall and weigh 77+ pounds. The smallest penguin species is the Little Blue Penguin, also known as the fairy penguin; on average, they measure 16 inches tall and 2.2 pounds.
Larger penguins generally live in colder regions, while smaller penguins prefer warmer or even tropical climates.
Happy Valentine's Day!