Exciting news from the Coral Restoration Foundation and the Florida Aquarium!  Last night, a group of scientists affiliated with the two organizations, including Rich Ross, Matt Korten, Justin Zimmerman, and Rick Klobuchar Jr., observed 6 different genotypes (7 colonies total) of Acropra Cervicornis spawning in the CRF Lab.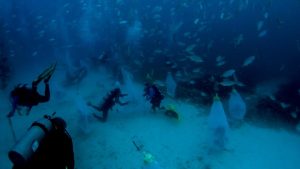 They were able to collect bundles yielding approximately 25 mL of concentrated eggs, which they then fertilized. It is too soon to know how successful the fertilization was. They recorded the staging at 21:45, and the bundle release between 22:45 and 23:45.  The Acerv are from the Coral Restoration Foundation Nursery off of Tavernier, FL (Florida Keys).
At the CRF Nursery (Tavernier), scientists observed just a trickle of spawning by Acropora Cervicornis; only 7 individual colonies representing 7 different genotypes out of the 30 tented colonies were active.  They were only able to collect a few dozen Acerv eggs, and no complete bundles. Staging was observed at 20:40, and the nets and bottles were collected at 23:40, when no further staging or release was observed.
What exactly is coral spawning?  The Coral Restoration Foundation explains:" In August, sometime around the full moon, coral will synchronously broadcast spawn up and down the Florida Reef Tract. Each individual polyp making up a coral colony will release many bundles of egg and sperm into the water column where they float to the waters' surface. Once released from the coral, the bundles break apart in the water column so that the egg and sperm from different corals can mix, fertilize one another, and create what is known as a planula larvae."  You can find out more about this organization and the important work they are doing here.
All photos by Richard Ross.