New tech is always exciting and the latest light from Kessil only adds to the excitement. With the AP9X, Kessil took the time to thoughtfully re-design the popular AP700 and add features that you would expect to see in new generations of aquarium LEDs. I was invited to a one-on-one zoom presentation of the AP9X prior to the launch and I was really impressed by the time that Kessil spent introducing the light individually to hobbyists. The AP9X boasts a sleek, unobtrusive profile with an aesthetically pleasing touch panel. It has been redesigned to make it more sporty and the mounting arm can be swiveled in a myriad of ways to get the coverage and angle you want over your reef.
Let's explore this sleek and robust fixture with that signature Kessil shimmer.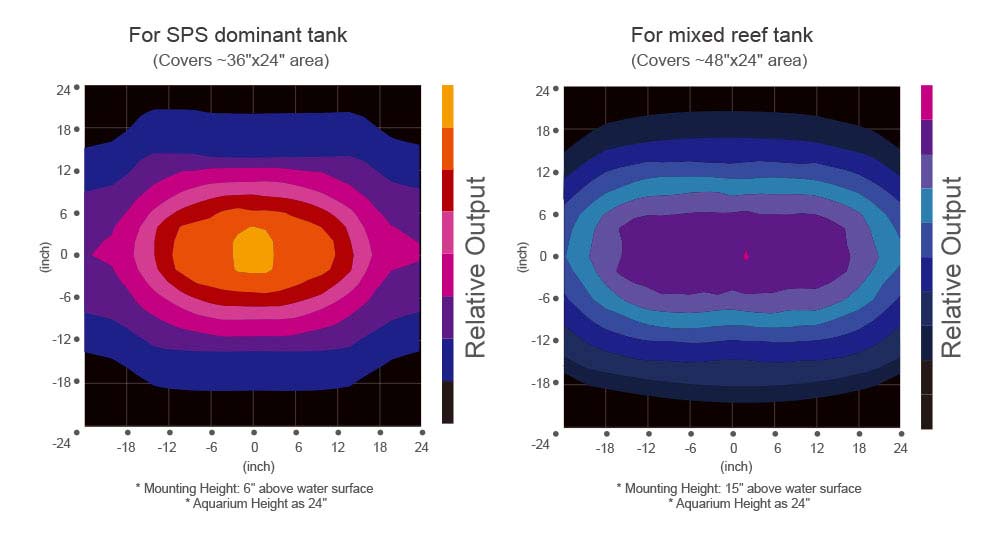 Superior Illumination
Redesigned optics provide an even light distribution that blankets your aquarium with up to 48" of coverage. This uniform coverage minimizes hotspots and creates an effect similar to that of a metal halide / T5 combo. 
Spectrum
In addition to Kessil's signature Tuna Blue spectrum, the AP9X features a full range of individually adjustable color channels (red, green, purple) that can be accessed via the Kessil app. Kessil Logic™ ensures that cosmetic color settings do not interfere with the core spectrum, allowing users to dial in a preferred color without disturbing coral health. The AP9X also includes 395nm LED chips, which emit True UVA light for maximum coral coloration. 
PAR Efficient
PAR measures all visible light (400-700nm) unweightedly, but coral health primarily relies on the 425nm (violet) and 455nm (royal blue) wavelengths. Kessil LEDs focus on these essential wavelengths, prioritizing coral growth and propagation over inflated Shimmer. The signature Kessil shimmer effect gives your tank a beautiful, natural, sunlit look comparable to the shimmer of a Metal Halide fixture – replicating your own piece of the ocean.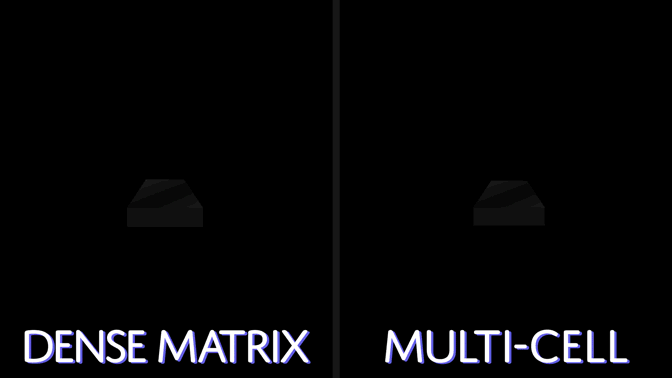 Densest Matrix Yet
The latest iteration of Kessil's Dense Matrix array enables Kessil to place the chips closer than ever before. More chips in a tighter space results in better color mixing and a brighter single point source – just like the Sun on a natural coral reef. 
Perfect Color Mixing
Kessil's patented Dense Matrix Array allows Kessil to pack 55 LED chips into a space smaller than a quarter. With 110 LED chips in two arrays, the AP9X has the best color mixing in the industry – no diffuser necessary and no disco-ball effect! 
More Light, Less Heat
More efficient LED chips and better heat management result in less energy being lost as heat. This means more light for your reef with the same power draw as before. The AP9X sports a newly redesigned heat sink and an efficient vortex fan that reduces the accumulation of dust and debris – extending longevity and enhancing efficiency. Such an advanced heat management system also contributes to the low profile form factor.
Kessil Ecosystem
With two K-Links and two 0-10V control ports, the AP9X can be easily wired to adjacent Kessil fixtures. Lights in a wired group can then be app-controlled via the AP9X's WiFi connection. A single AP9X can act as the wireless access point for up to 32 X-Series lights and 20 0-10V lights. Ap9X has advanced dimming features: it mimics natural day/night cycles and lunar phases with smooth dimming down to 0.1%—from a gentle sunrise to the faintest moonlight. Penetration: 55 LED chips in a single array create a powerful light source with wide coverage. Maximum penetration reaches up to 30″ beyond the water's surface for most reefs. Penetration can be further enhanced by positioning units closer together.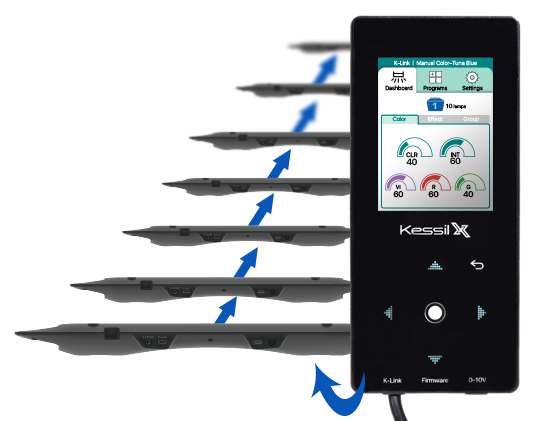 K-Link + WiFi
Multiple-fixture setups can be controlled via individual WiFi connections or daisy-chained together to access up to 32 lights via one master fixture.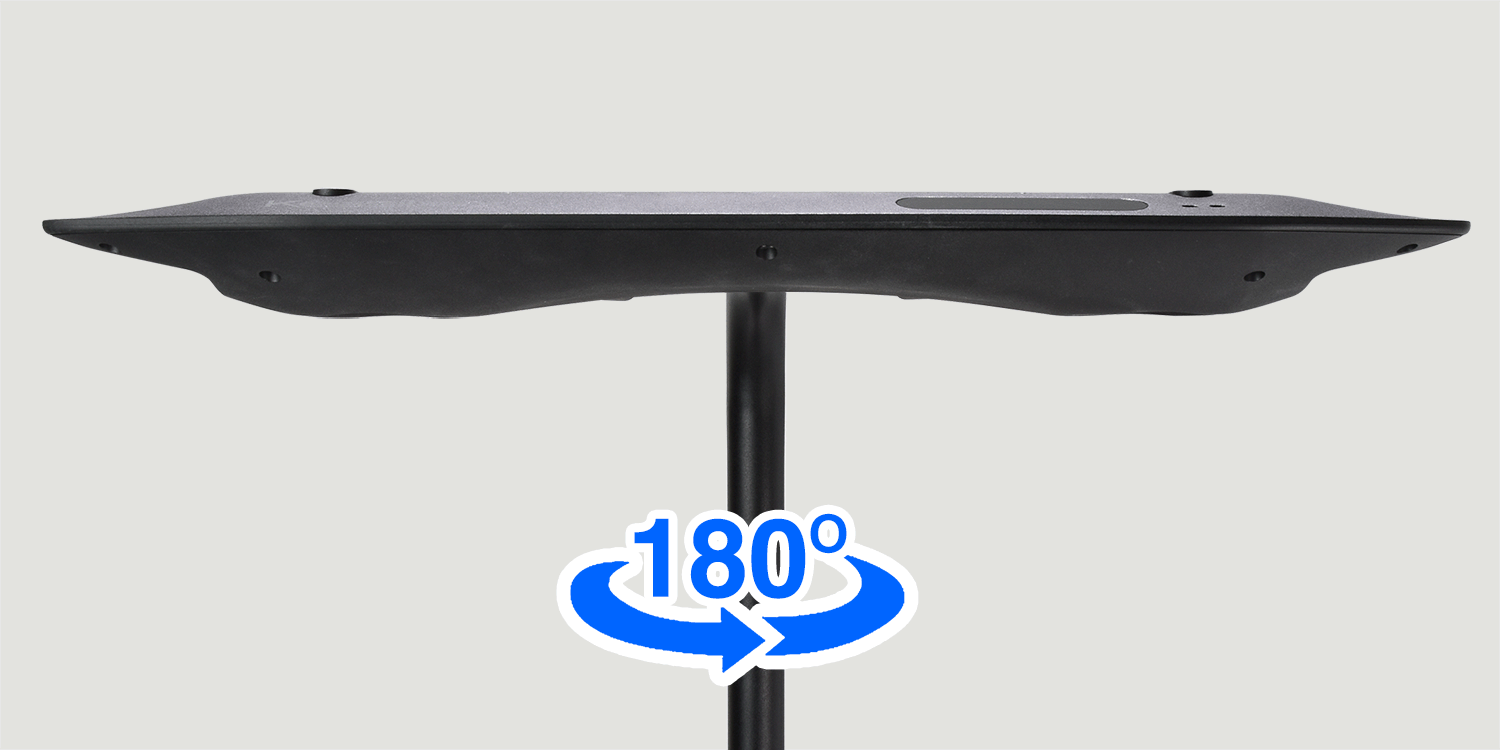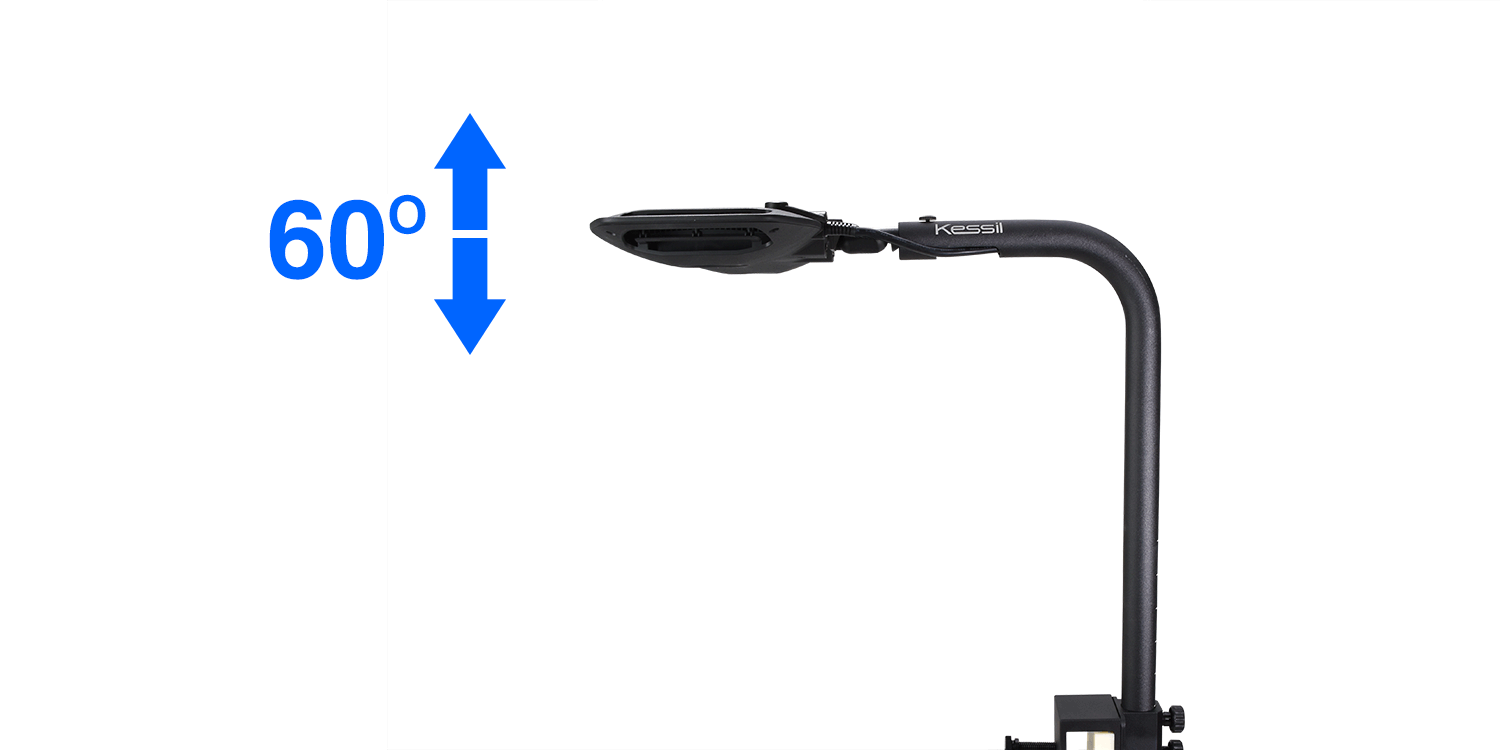 Single Arm Mount
The new AP9X Mounting Arm lets the fixture be mounted with a single arm – the most light spread from a single arm mount fixture on the market. The integrated swivel joint allows 60 degrees of vertical rotation and 180 degrees of horizontal rotation, allowing you to adjust your light to the orientation best suited for your tank.
The light has only just hit the market with a limited supply of units but I'm pretty sure that reviews and videos from users are just around the corner.
Technical Specifications
Dimensions: 16.46" x 5.71" x 1.42" (41.8cm x 14.5cm x 3.6cm)
Unit Weight: 2.05lbs / 0.93kg
Spectrum: Tuna Blue + Red +Green + Purple (Violet+Indigo)
Coverage: Up to 48" x 24" (122cm x 61cm)
Power Adapter: 100-240V AC/ 50-60 Hz (Input), 48V DC (Output)
Power Consumption: AC 185W Max.