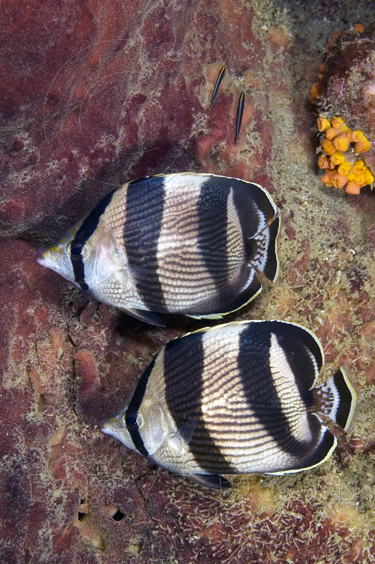 Good morning, we have an overcast day on tap and it looks like it wants to rain but I think it just forgot how. We continue to do our early morning "save the wildlife" by bringing in water and bird food every morning to our two big feeding areas out in the desert.
I have a pair of beautiful Banded Butterflyfish for you all today that were found parked up against a monster sized barrel sponge in around 70 feet of clear Caribbean H2O.
Banded butterflyfish adults are most often seen in male-female pairs and may be monogamous throughout life. Courtship between the two is drawn out and energetic; the fish circle each other, head to tail, then chase each other around the nearest coral reef, shooing away other fish that dare to approach. Spawning takes place at dusk as the female releases 3,000 to 4,000 small, pelagic eggs. The larvae , which hatch within a day, are characteristic only to the butterflyfish family, with the head encased in bony armor and bony plates extending backwards from their heads. The larvae are gray and almost transparent, useful adaptations for any species growing up in the water column. Butterflyfish spend weeks as pelagic larvae before undergoing final settlement to the reef and attaining juvenile coloration.