With the advent of a whole range of affordable underwater cameras, for both stills and moving image, taking photos below the waves has become incredibly easy.  To the point where, for a lot of folks, a selfie underwater is nothing special.  But it wasn't always this easy.
As I drool over the latest equipment available from GoPro, I think back to when I started out in underwater photography.  Film cameras were still very much the norm, and the Nikonos brand reigned supreme.  I should add that some folk still maintain these cameras; they, and more specifically their lenses, are superb.
Nowadays, digital is the norm of course.  You can shoot 4K video and hundreds of images using a single camera body.  Looking back to my youth, I'd have regarded a GoPro or my trusty D800 as nothing less than science fiction.
The pioneers of underwater filming couldn't buy housings from EBay – they had to make their own.  Legendary photographers such as Peter Scoones have shared with us images and information about the early days of underwater photography and making their own camera housings.  And in that vein, I thought I'd share these pictures with you of an exhibit I came across in a museum in the north of England.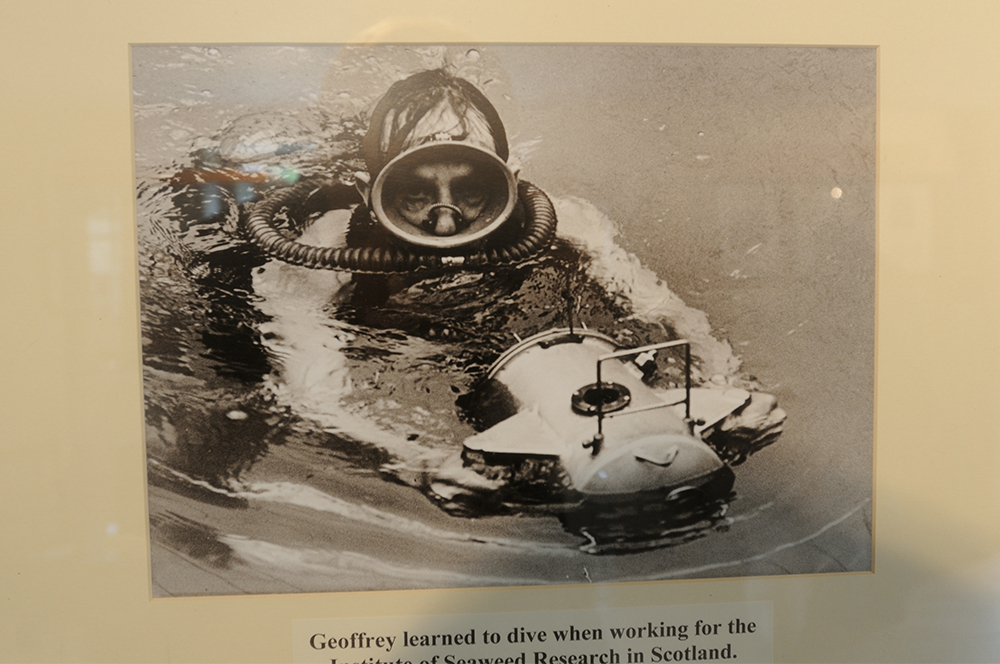 The camera housing shown here belonged to a chap named Geoffrey Willey, and it held a 16mm Kodak Cine camera, (for young people, this was film, and it's where the term 'footage' comes from). The housing was made for him to use when he was employed to photograph seaweed by the Institute of Seaweed Research, in Inveresk, Midlothian, Scotland.  In order to do this, he had to learn to dive!  I think the purpose of the research was to see what use could be made of seaweed after the war, when rationing was still in place.
Seaweed was already used as a fertilizer by coastal communities and was gathered and shipped to the cities for the chemical industries, but the thinking at the time was 'could we use something the UK has in abundance for food?'
So next time you're splashing around in the shallows or dunking your GoPro, think back to how hard it was, to see how far we've come.