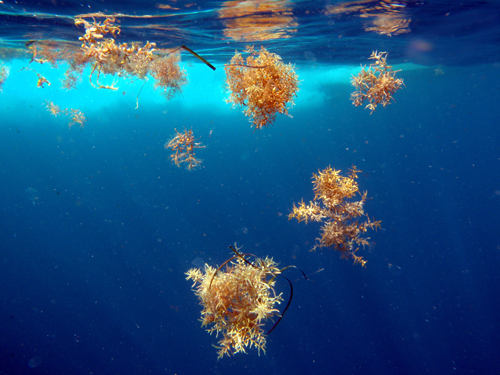 With a huge mass of Gulf Stream water much closer to shore than usual, we've had a rare opportunity here in New York to examine Sargassum communities.
Out on an excursion with Reel Science Charters last week, Captain Greg Metzger was accommodating enough to let me jump in and spend some time collecting and photographing marine life in a line of Sargassum weed (Sargassum natans). The weed lines we get around here pale in comparison to the enormous masses that can be found in tropical locations like the Gulf of Mexico or its namesake, the Sargasso Sea. By the time they reach this latitude they have been fragmented by waves and largely picked clean of animals by predatory mahi-mahi, amberjacks, and triggerfish.
Occasionally however, when the currents are in our favor, we get a larger-than-usual dose of Gulf Stream water, making for a great year for collecting tropical strays and some interesting near-shore fishing.  Here are some of the small invertebrates we encountered in the weed. Many of them are obligate members of the Sargassum community. Others, like the gooseneck barnacle, are opprotunistic and will cling to any drifting object.
In the next installment, we'll look at some fishes commonly associated with Sargassum weed.