Fluval, part of Rolf C. Hagen Group, is a well known Canadian company started in 1955 by three German immigrants. Their recent brand redesign has resulted in a generation of products for aquarists' specific needs. Fluval Sea is a branch of the company that makes items targeted for the saltwater side of the hobby, and includes products like salt mixes and additives, as well as electrical equipment such as protein skimmers, return pumps, powerheads, and light fixtures. The final category is making a comeback with a slew of second-generation LED lights, targeted for wide range of fish tank environments.

One such product is pictured above – the Fluval Sea Nano HALO High Performance LED Lamp. This compact fixture is designed for saltwater nano tanks up to 10 gallons in volume. There is some exciting technology packed in Fluval's newest offering, let's find out what's hiding behind its (almost) square-shaped LED panel…
Fluval Sea Nano Halo LED is a direct successor to the Fluval Sea Nano LED light, though the two are very different products –  it has a similar overall design and dimensions, but everything inside has been engineered from scratch. The most exciting new feature is its chip-on-board technology; Fluval is the first major aquarium LED light manufacturer to use this.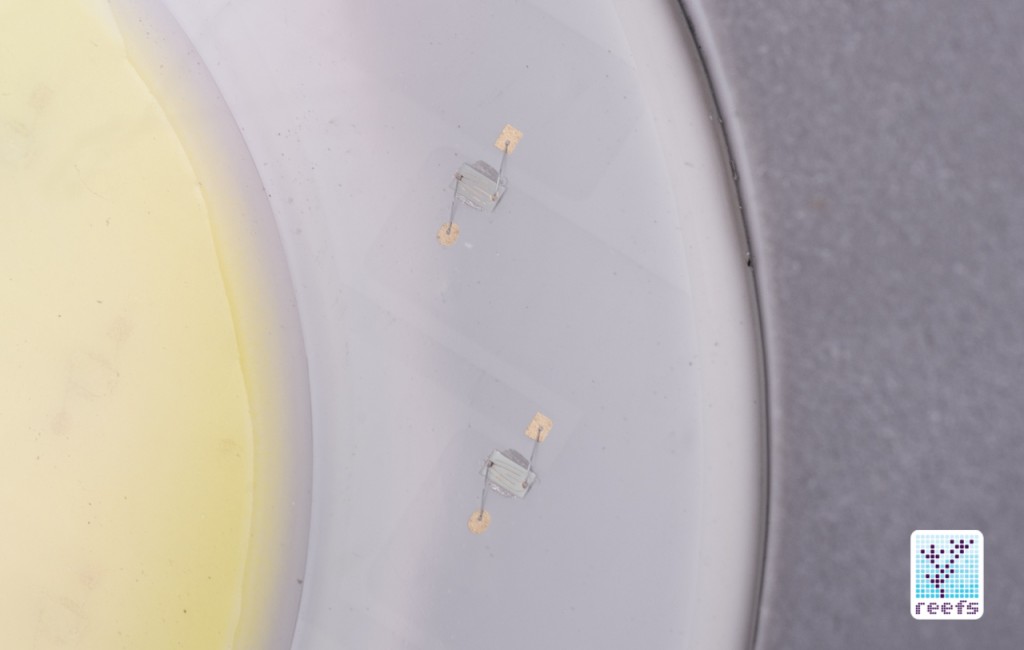 This interesting new feature involves mounting LED chips directly onto the PCB board rather than surface-mounting and soldering them after the board is finished. There are a couple of advantages, both economical and performance- related, to producing LED arrays in such fashion. First of all, chip-on-board (COB) technology allows for much a denser packing of individual diodes, which in turn provides a brighter light output and more uniform blending for multiple color LEDs; up to 342 low-power LED emitters can be istalled on a 10mm x 10mm board.
This kind of LED-packing streamlines production and reduces costs, which keeps the end product economically competitive in the LED scene. There are 42 COB LEDs on the Fluval Sea Halo (manufacturer did not specify the number of different color LEDs) with a total output of 1,050 LM, 22W maximum power draw and a 120 degree angle of light spread. Given the light wattage, it mostly likely uses 0.5W emitters, which is common in lower-end LED fixtures
Another interesting feature of the Fluval Sea Nano Halo is its IP67 waterproof rating. The light is completely sealed, including the power cord adapter, and can actually be submerged in water for short periods of time.
UNBOXING
Fluval Halo comes in a nice, colorful cardboard box with a bunch of useful information printed on it. Fluval advertises the light as being optimal for a 5 to 10 gallon (20-40 l) tank with PAR ratings as follows:
762 at 3″ from light source
233 at 6″ from light source
73 at 12″ from light source
Color temperature (according to the manufacturer) reads 25000K, which is a little confusing, because the daylight setting has a Kelvin ratio of around 14000K when measured with my camera's custom white balance check. I believe the 25000K reflects the actinic color temperature, but that would put it outside the boundaries of visible light. Anyway, the color spectrum printed on the side of the box lays heavily on the blue side, peaking at around 460nm, which informs customers that Halo is a saltwater-specific fixture.
Inside the packaging is the light itself, a power adapter, a tank mount, and a printed manual. Handling the LED panel for the first time, I have an overall positive impression- it's built well and looks extremely sleek. It's also very compact, measuring only 5.5 " wide x 6″ long x 1.125″ thick (140mm x 155 mm x 28 mm).
The light has a plastic bezel which transitions smoothly into an aluminum heat sink that provides passive cooling to the LED cluster below. A single button on the top front turns the light on and controls all its functions (more on that later).
The bottom looks even more interesting- it has a dual-colored LED array grouped in a circular fashion, with white LEDs packed in the inner circle and blue emitters surrounding them, and they are all sealed under a clear, water-proof glass cover. The fact that individual LED emitters are almost indistinguishable from the board they sit on gives the light an almost futuristic look, and will please anyone that care about the aesthetics of their aquarium setup.
The mounting arm, made of steel and treated with a polished chrome finish, matches the light perfectly. The arm connects to the light via a single threaded hole on the top of the fixture and does not require any tools to put together. The hole assembly slides back and forth, allowing for horizontal positioning of the light when hung above the tank and the whole arm swings left to right for unobscured access when working on the tank.
There is double-sided tape glued to the vertical portion of the arm where it is supposed to be adhered to the rear glass panel (Fluval included a spacer for rimmed tanks). It is industrial-strength tape and it should hold the light securely for years, and can be removed and replaced with a mounting bracket should one desire to change positions or switch tanks.
CONTROL
There is a single touch button that controls all the functions of  the Fluval Halo. Upon connecting the power adapter into wall outlet, a red LED on the button turns on. Tap it once, all 42 LEDs turn on, a second tap brings up the actinics only, and one more turns the light off. Tapping and holding the button dims the two channels. That's all the control the light offers. On one hand, that's a good thing, because Halo couldn't be simpler to operate, but on the other, there is no built-in in timer, so the light fully manual. That being said, Halo remembers its last settings, including dimming percentage, after you cut power from it, which allows one to use third-party timers or controllers. Switching from different modes is instant, though the touch button can be somewhat unresponsive, and I've had to tap it more than once to change the output. While I wish Fluval included a flat physical button rather than a touch-sensitive one, the included button does allow the unit to be waterproof, which is a great attribute.
I hung the light temporarily above my 34g, 20″ cube to check the light intensity and spread. Obviously, Halo cannot cover tank this size, but its angle of spread can be easily observed when used on an oversized tank. In the picture below, adjusted to the ambient light in the room, you can see the "cone" of light Halo outputs.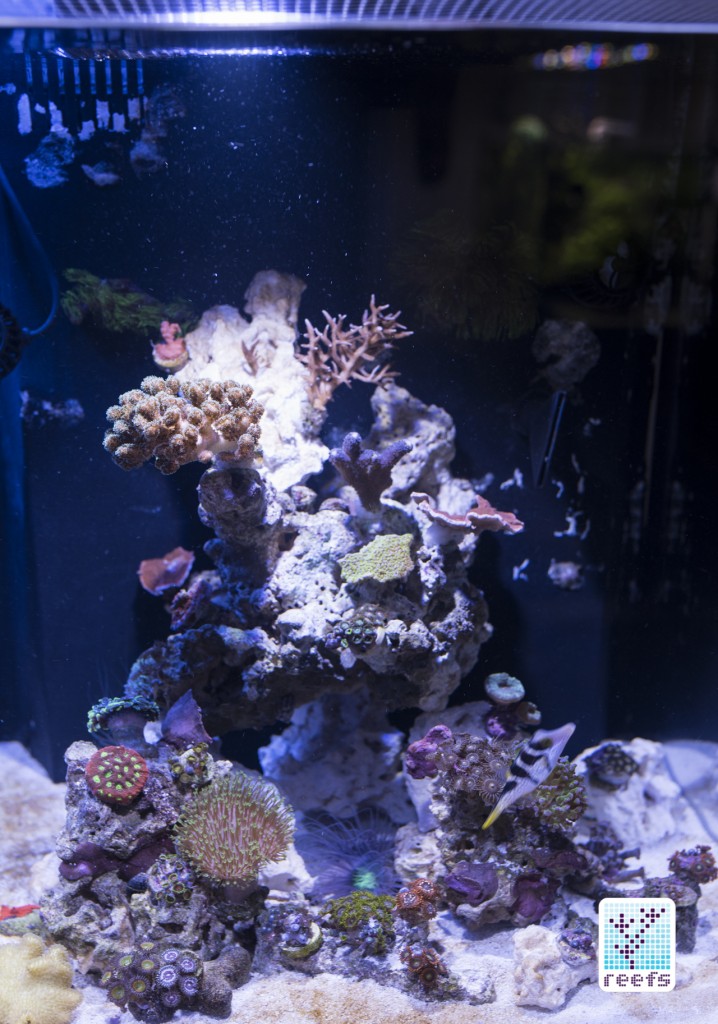 From my observation, I found that the Halo can cover a 12″ diameter area at 14″ from the LED cluster, and therefore would be perfect for nano tanks up to 12g in volume. Color rendition for the full spectrum setting reads around 14000K and although not spectacular, the corals look quite good under Halo. After running the light for more than 2 hours on full settings, the heatsink stayed warm to the touch, a good thing for those who need a light that doesn't double as a heater but hate the hum of running fans.
CONCLUSIONS
Second-generation Fluval Nano Reef lights are capable and good looking fixtures, albeit not without flaws. The aquarium industry is flooded with nano LED panels these days and it will be hard for Fluval to reach a wide audience with their offering. That being said, when reviewing any product in this category, we have to take into account its retail price. Halo is not yet widely available in the USA, but given its previous generation's affordable, sub-$100 price tag, we can expect this fixture to follow the same fashion, making it more attractive to potential customers. The light itself looks really nice, and has a uniform, bright spectrum that makes corals pop. I wouldn't hesitate to put it on a soft corals & LPS tank if I was on a very tight budget.
In summary:
What I liked:
+ Fluval Nano Halo is a compact, nicely built light fixture featuring sleek design and a minimalistic approach
+ the light output and spectrum gives little to desire and the light spread matches manufacturer's claims
+being completely waterproof, you don't have to worry about ruining Fluval Halo with saltwater spills
+price is expected to be very competitive (though I am not sure if my price tag assumption is 100% correct)
What I didn't like:
* The holding arm has a very nice polished chrome finish, but I'm not fond of the mounting mechanism provided
* The power/functions touch button is occasionaly unresponsive
* Lack of control over photoperiod
Thanks to Fluval USA for providing us with the light for this review.
You can find out more about Nano Halo LED light and other Fluval Products by visiting Fluval's website, here.
All photos by author