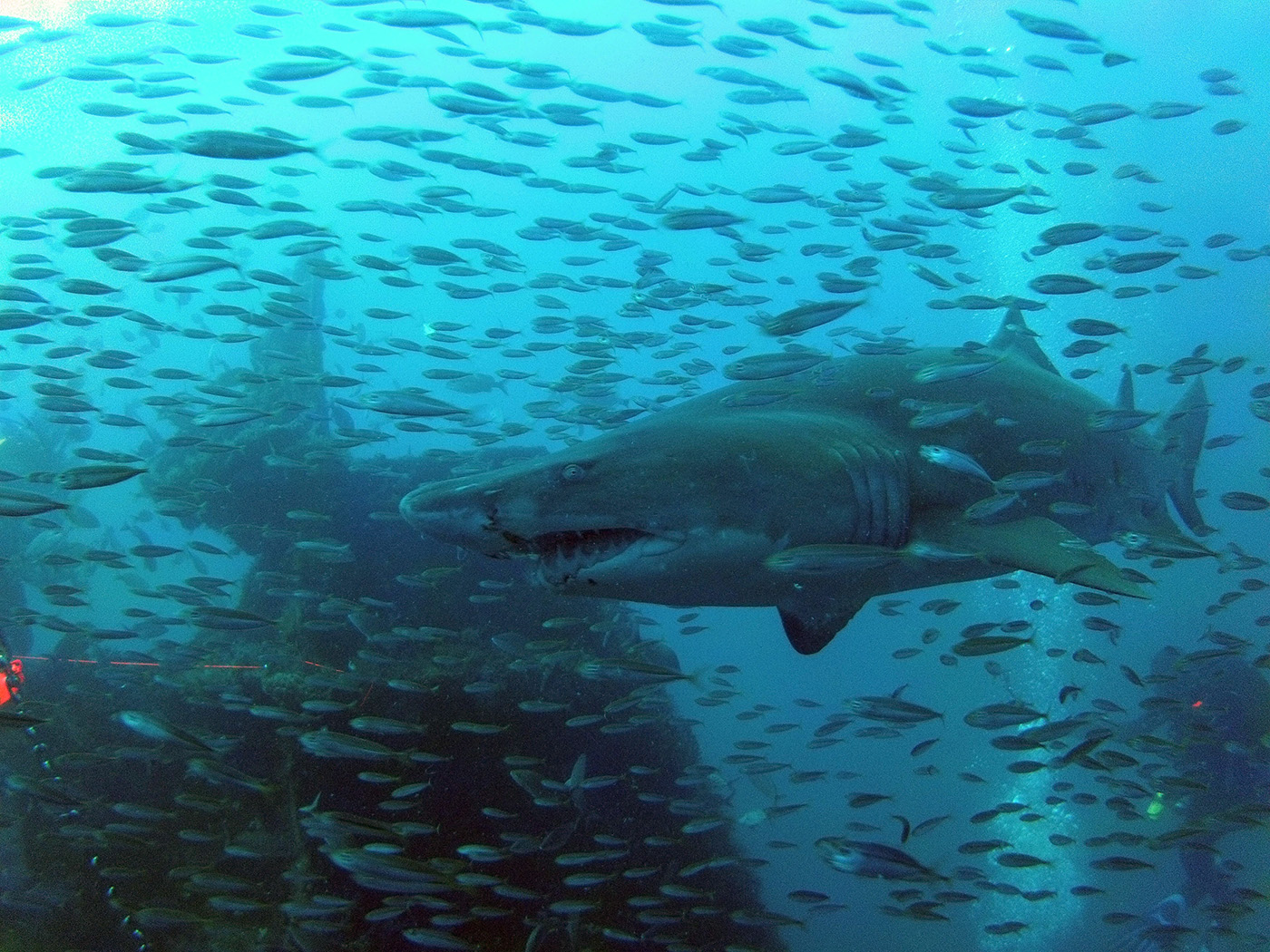 Recently I had the pleasure of diving on the wreck of the Atlas Tanker with Olympus Dive Charters out of Morehead City, North Carolina. Here is a brief account and some video highlights of what turned out to be one of the most memorable dives of my life.
For most people, the phrase: "world-class diving destination" conjures images of remote tropical islands surrounded by calm turquoise water. Coastal North Carolina, while famous for its ocean beaches and fishing, presents some big challenges to SCUBA divers. Rivers and coastal wetlands, common throughout the southeast, transport copious amounts of sediment into nearshore ocean waters. Obviously, this places a major limit on visibility. Additionally, the southeast orientation of most of the Carolina coastline places it in a position to receive maximum wave energy from almost any tropical storm activity in the Atlantic. So, lots of sediment and big waves – not exactly appealing conditions for most divers.  The generally-treacherous marine conditions have led to a high occurrence of maritime disasters in the area, which certainly has added fuel to Bermuda Triangle legends and inspired the nickname, Graveyard of the Atlantic for this section of the continental shelf.  Whether it's morbid curiosity, a fascination with their history, dreams of treasure chests, or an attraction to the marine life that invariably settles on them, shipwrecks are an irresistible target for many divers.
The SS Atlas was a tanker in transit from Houston, Texas to Seawarren, New Jersey, carrying a cargo of gasoline.  On April 9, 1942, it was struck by two torpedoes from a German U-boat off Cape Lookout, NC. Miraculously, only two of the 34 crewmen perished in the incident. Today, the Atlas rests on its keel in approximately 120 feet of water. For obvious reasons, this site is not suited to novice divers, but the expert staff at Olympus does a wonderful job placing its guests at ease with a thorough orientation and placement of descent/ascent, decompression, and navigation lines.
As I boarded the boat at 6:00am and began speaking with the other passengers, I got the distinct feeling I was in for an exciting day. I was surrounded by professional photographers and experienced divers from around the world – people who had travelled from South Florida, Hawaii, and even Palau to come on this trip, including the one and only Frank Baensch!  As I descended the anchor line, my premonition was realized. Before even reaching the wreck, I thought: This is already the best dive of my life. The fish were so abundant, it was difficult to see the 450-ft tanker at times. There were so many sand tiger sharks, it was a challenge to swim without bumping into them. Many of the sharks were shrouded in schools of small jacks called scad. Presumably, they were trying (not always successfully) to avoid being preyed upon by their larger relatives, the amberjacks and blue runners. The chaos and beauty of this scene is beyond description, and probably beyond the ability of my meager Intova video camera to capture, but I tried. Here are a few of my favorite scenes from the day. Enjoy!