Hikari Marine is  a pellet-type fish food that comes in two sizes: A and S. "A" is for fish over 10 cm length while "S" is for under 10 cm fish. I tried out the "A", but unfortunately, most of my fish are shorter than 10 cm: I tried to give it to them anyway, and they were attracted by its smell and played with it, but they couldn't easily eat it.
Hikari Marine pellets have a spongy texture and they're chock-full of spirulina, which promotes bright coloration and good health, and vitamin C, which is a natural anti-stressor and a great barrier against diseases.
The pellets were very appealing to the fish, but I didn't like how quickly they fell to the bottom. The pellets stay on the surface until the fish come to eat them, and then, as soon as the water tension is disturbed, the pellets start to sink. They never reach the bottom of the aquarium, but stay in the middle…it was interesting to watch the smaller fish chase and eat them.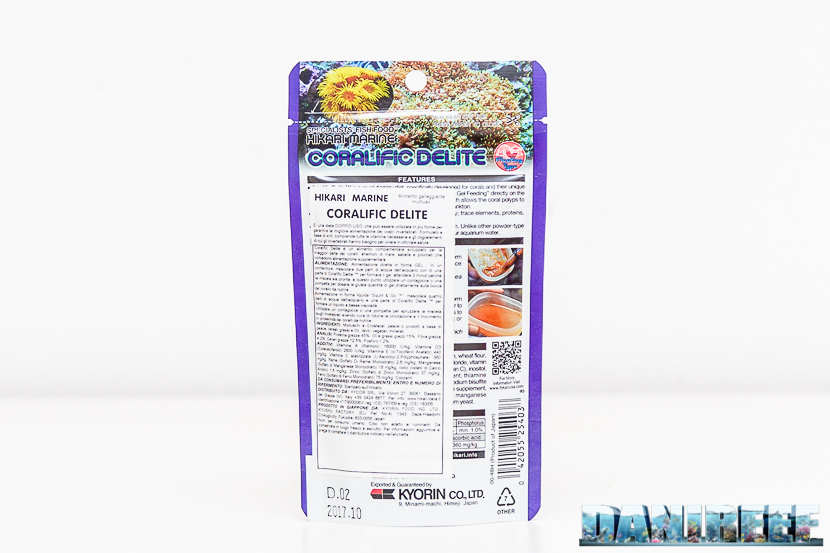 Composition
The food is composed of these ingredients:
Fish meal
Krill meal
Wheat flour
Yeast
Seaweed (spirulina, Arthrospina platensis, dried seaweed meal, Undaria pinnatifida, Porphyra yezoensis ueda, Porphyra tenera Kjelmann)
Vegetables
Fatty and mineral oils
OGM soy
Below is a close-up photograph of the food; you can see the variety of ingredients that compose this unique product: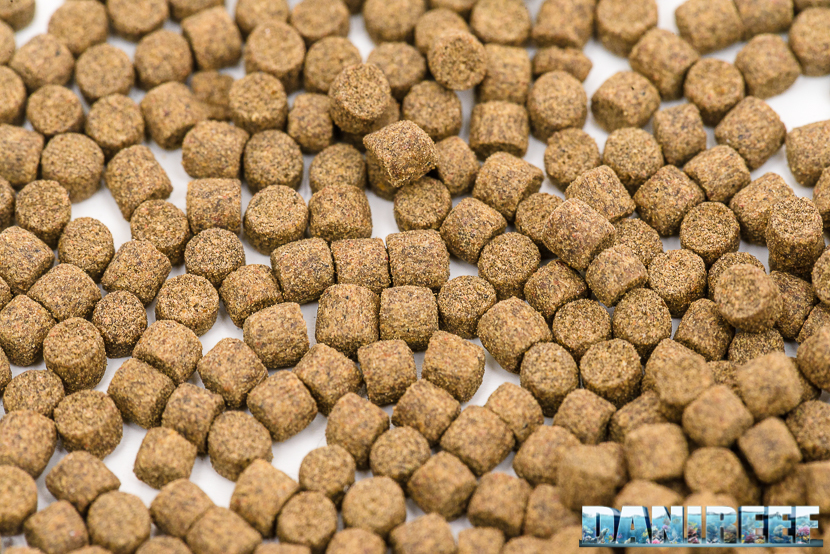 The nutritional analysis:
Crude Protein 50%
Crude Fat 7%
Crude Fiber 2.5%
Ash 15,2%
Phosphorus 1%
It doesn't contain a large amount of phosphorus, but it has a good amount of fiber. Ashes are a bit high, but fats are just right. The "Other" slice may represent moisture and mineral salts, but I'm not certain. Overall, it's a well balanced food, with a good, but balanced, protein level.
Here are the additives:
Vitamin A (Retinolo) 19.000 IU/kg.
Vitamin D3 (colecalciferolo) 2.800 IU/kg.
Vitamin E (alfa-tocoferolo acetato) 2000 mg/kg.
Stabilized vitamin C (L-ascorbyl-2-polyphosphate) 490 mg/kg
Copper (copper sulfate) 6 mg/kg.
Manganese (manganese sulfate) 50 mg/kg
Iodine (calcium iodate) 4 mg/kg
Zinc (zinc sulfate) 40 mg/kg
Ferrous (ferrous sulfate) 210 mg/kg
Coloring
As you can see, the main additives are Vitamins, while the various sulfates are only present in small amounts.
Hikari Marine food comes in a resealable, airtight container.
The price
Hikari Marine A comes in two sizes: a 3.87 oz package that retails for $9.99, and a 2.2 lb container for $64.29; Hikari Marine S is similar: a 1.76 oz package is $5.29 and a 2.2 lb container is $71.49. This translates to $1.83/oz for A and $2.03/oz for S.
For a detailed study about fish feeding, follow this link to an article from an older, but still quite relevant, article: fish feeding.
[Translated by Agnese Poggi]