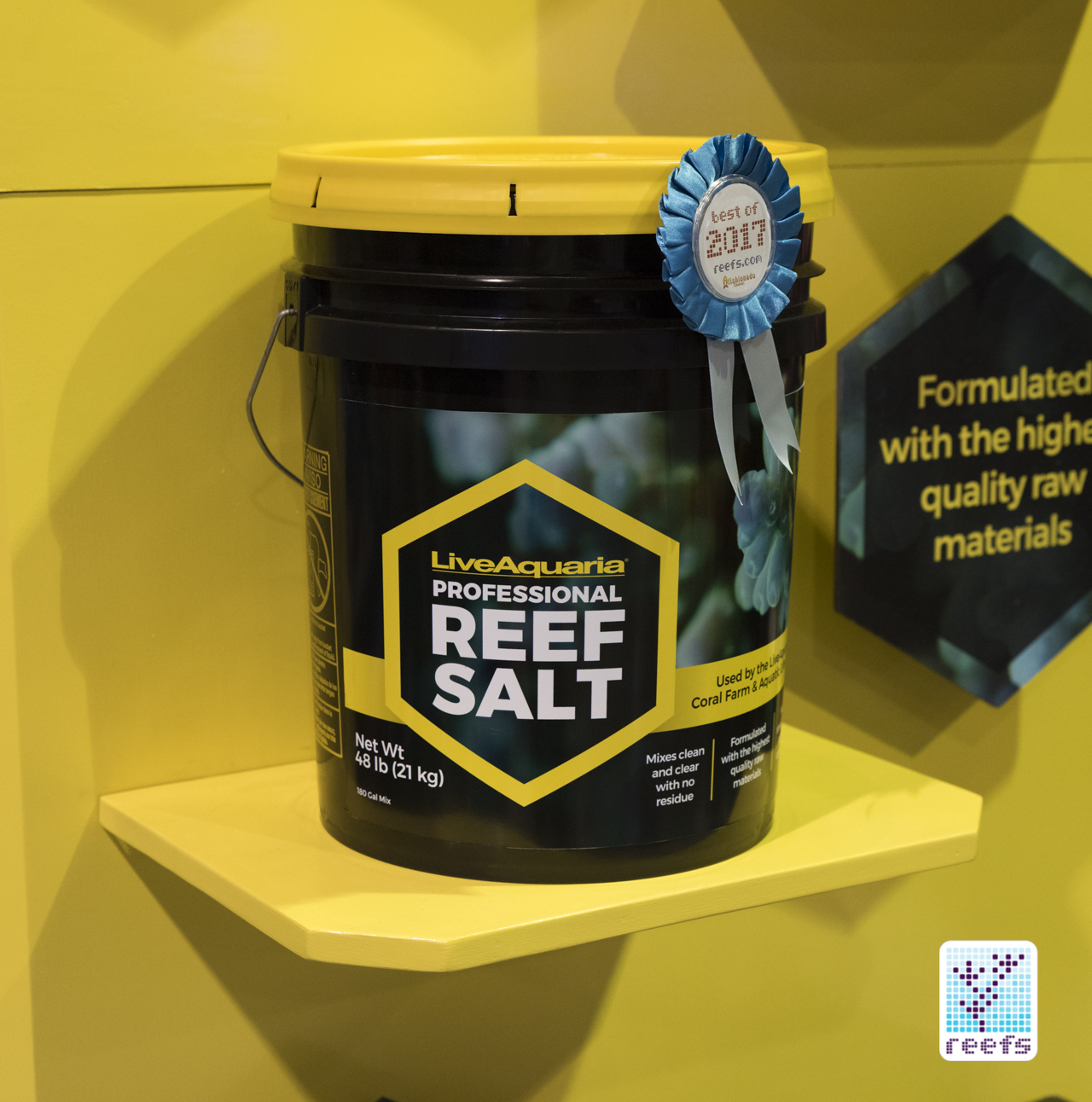 LiveAquaria, a company that is viewed as a staple for quality marine and freshwater livestock and an internationally recognizable source of rare and exotic ornamental fish, is broadening its offerings by introducing a brand new salt mix called LiveAquaria Professional Reef Salt. It's a move that seems almost organic for a company that probably uses thousands of pounds of salt every year maintaining livestock in their Wisconsin facility; Professional Reef Salt is a result of years of research and rigorous testing.
Kevin Kohen, the company's director, explained to us at the MACNA 2017 booth that the main goal when researching for a perfect salt to use in LiveAquaria tanks was to find a salt that would mix quickly and uniformly, leaving no residue in the process. The result is a reef salt made in small batches to ensure consistency, with parameters optimal for growing stony corals and other reef-building organisms.
We recognized this important new step for a company we all love and respect by awarding their newest escapade with a "Best of Show" award. Congratulations!
Professional Reef Salt comes in three different sizes, a 53 g mix bag, a 180 g mix bucket and a 205 gallon box and will be priced at $24.99 for the bag, $64.99 for the bucket, and $64.99 for the box. Each package comes with a barcode that identifies the batch number, and a consumer can scan this barcode to check test results of that particular batch of salt. LiveAquaria advertises the parameters as follows (at salinity of 35ppt or 1.026 sg):
Calcium between 400-450ppm
Alkalinity between 8.0-9.0dKH
Magnesium between 1350-1450ppm
Stronium 9PPM
Potassium 400ppm
Liveaquaria Reef Salt will be available through local retailers, as well as online stores like Drsfosterandsmith.com, LiveAquaria's parent company, at the end of September. The company will offer an introductory deal for people subscribed to the LiveAquaria newsletter, so if you want to take advantage of this yet undisclosed offer, follow this link to subscribe.